Walking in Cowal - by a local
Fraser Smith lives in Dunoon and spends most of his free time enjoying the great outdoors exploring the hills, lochs and shoreline of Cowal. He's been known to make a summit and return in time for work at 9am. He writes about it all in his blog www.explorecowal.com. In his posts he'll share his knowledge about cycling, walking, kayaking and wild camping in Cowal.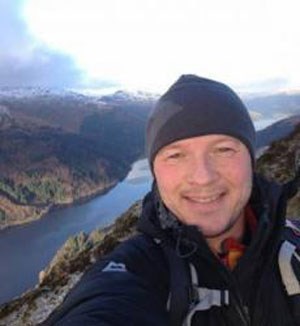 Image: Local Fraser Smith
Fraser's Top Walking Routes in Cowal
While Dunoon is best known for its coastal location, the wild woodland of Bishop's Glen is just a 10-minute walk from the town centre. This fabulous forested area offers a moderate circular walk, which takes in the reservoir, as well as additional trails leading to the Upper Glen through natural woodland.
If Bishop's Glen isn't enough to get your blood pumping, try one of Forestry Commission Scotlands's way-marked trails. There are three to choose from, each detailed on the information board at the Corlarach car park. The trails wind their way through the commercial forests with strategically placed benches for that all-important picnic. No matter which trail you choose you'll be rewarded with views over Dunoon and the mountains beyond.
South of Dunoon, Ardyne provides more spectacular walks, with views over to the Isle of Bute and the Isle of Arran never disappointing. Check out the Chinese Ponds, with their ornate stone bridges.
Travelling north of Dunoon, there are two great woodlands to visit - Puck's Glen and Glenbranter. Puck's Glen is an atmospheric walk and a jewel in Cowal's crown. Follow the trails through the gorge with its tumbling waterfalls and moist shady undergrowth. Your camera will never return to your pocket!
Glenbranter is the base for further varied walks. Woodlands of oak and birch are navigated on the well-maintained paths, stairs and bridges. A gorge walk to visit the waterfalls is a must. It's best visited after (or during!) rainfall. There's a maze of forestry roads readily available, from lochside to hillside - the choice is yours.
There are walks for everyone in Dunoon's forests, each featuring something different, from bridges to waterfalls. Don't take my word for it; check them out for yourself.