Leave your car at home and explore Argyll by bus and train!
Travelling in Argyll & the Isles is all part of the adventure. Whether you're driving through mountain passes, sailing to the islands or taking the coastal road you'll pass through stunning landscapes, see incredible views and you might even get the chance to spot some wildlife. So why not leave the car behind and enjoy the journey by train? Argyll is surprisingly well served by public transport, with a network of trains linking to ferries and busses. Here are our top six Argyll destinations that are easy to reach by train and bus.
Top 6 Spots to Discover with Public Transport
Argyll & the Isles is a region that lends itself to romantic journeys and perhaps the most romantic of all is by rail from Glasgow to Oban. It's part of the world-famous West Highland Line and must be one of the most scenic journeys in the world. Although not exclusively within Argyll, most of the route lies inside the region, with stops at Dumbarton Central, Helensburgh Upper, Garelochhead, Arrochar & Tarbet, Ardlui, Crianlarich, Tyndrum Lower, Dalmally, Loch Awe, Falls of Cruachan, Taynuilt, Connel Ferry and Oban. It takes around three hours, so you can sit back and enjoy this famously scenic Scottish train journey.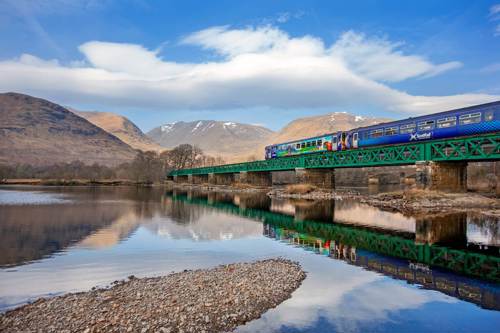 Scotrail Trains travelling to Oban, Credit: Scotrail
Oban
The bustling fishing port of Oban is a lovely Victorian resort that's full of life. Known as 'Scotland's Seafood Capital', it's the place to sample fresh seafood. Walk up to McCaig's Tower, a prominent landmark in Oban, visit Oban Distillery or explore Dunollie Castle. Oban is known as the 'Gateway to the Isles'. CalMac, Scotland's largest ferry operator, provides an extensive service from Oban to the Inner and Outer Hebrides including Lismore, Mull, Iona, Coll, Tiree and Colonsay. Lots of other companies such as Seafari Adventures, Sealife Adventures, Basking Shark Scotland and Stravaigin Sailings offer experiences on the waters around Oban. Just over the water from Oban, Explore Lismore offers tours of the small Isle of Lismore not too far from the shores of Oban. So, if you fancy an island adventure on the west coast of Scotland, there's no better base than Oban. And to make travelling even easier, the train station is located right next to the ferry terminal where you have easy access to explore the Isles.
Stunning Dunollie Castle, Credit: Dunollie Castle
Helensburgh
Hop on the train at Glasgow's Queen Street and in just 45 minutes you'll be in the beautiful coastal town of Helensburgh. With broad tree-lined avenues, piers, promenades, shops and eateries, it's a fabulous place to spend a day or two. Don't miss Hill House, universally regarded as Charles Rennie Mackintosh's finest domestic creation (due to some closures this year, do check the website before travelling). Helensburgh's planned grid of leafy streets contains a huge range of other architectural attractions. The Helensburgh Architectural Trail is a great way to discover these gems, covering 25 buildings across the town centre, dating from 1853 to 2015. There are also some fine walking and cycling opportunities in the area, as well as boat trips on nearby Loch Lomond.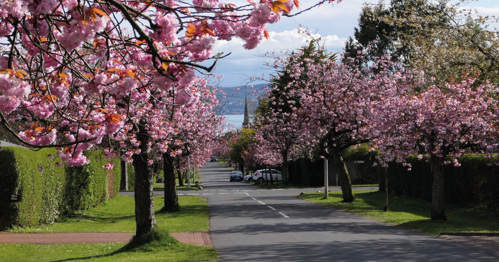 Helensburgh Cherry Blossom Season, Credit: Wild about Argyll
Arrochar Alps
Catch the train from Glasgow to Arrochar & Tarbet Station (which sits between Tarbet and Arrochar) to discover the range of hills known as the Arrochar Alps. They include the famous Cobbler, one of Scotland's most iconic and best-loved peaks. And all this is just an hour away from Glasgow. If you're bagging Munros (Scotland's mountains over 3,000 feet) then you'll find a good few peaks to tick off your list near Arrochar, including Beinn Ime, Beinn Narnain and Ben Vane. There are plenty of low-level walks near Arrochar too, or you could walk down to nearby Loch Lomond for boat trips on the loch or further along explore people-powered adventures, which provide a range of water activities on Loch Lomond.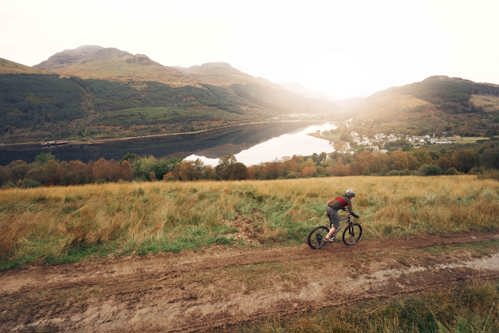 The Arrochar Alps are ideal for Gravel Biking. Credit: Wild About Argyll
Loch Awe
From Arrochar & Tarbet, the West Highland Line continues to Oban stopping at some fabulous places along the way. Hop out at Loch Awe to see the Scottish baronial-style St Conan's Chapel which was built in 1883. On to the Falls of Cruachan and you're just 200m from one of Scotland's most amazing engineering projects. Hidden deep within the mountain of Ben Cruachan on the shores of Loch Awe is Cruachan Power Station. You can take a tour inside 'Hollow Mountain' to witness this marvel of modern engineering with your own eyes. Next up is Taynuilt, home to the Bonawe Iron Furnace, the most complete charcoal-fuelled ironworks in Britain. Here you will also find Kevin Mcgarry's Art Studio, a fantastic chance to meet with Kevin and further find out about the art that's offered.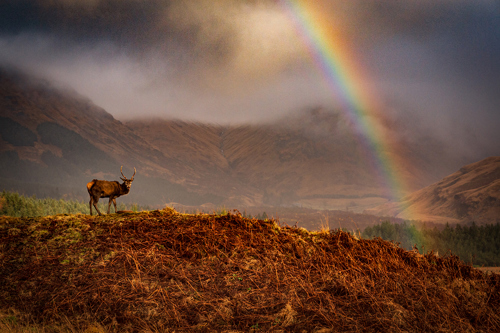 Rainbow shining over a deer, Credit: Kevin McGarry
Dunoon
Dunoon, 'Gateway to the Highlands', is a brilliant base for outdoor adventures and getting there is easier than you might think. The train from Glasgow to Gourock takes around 40 minutes. From here, it's a mere 20-minute ferry ride with Argyll Ferries across the Firth of Clyde to Dunoon. It may be a hop, skip and a jump from Glasgow, but it feels like a world away. Once there, Argyll Forest Park is on your doorstep and the town is surrounded by hills and large tracts of forest. No wonder then that Dunoon has become something of a magnet for mountain bikers. Bishop's Glen, a 10-minute cycle from the centre, has some excellent technical trails, as well as routes that all the family can tackle. If you are looking for a more relaxing break, take a trip to Bookpoint Dunoon, a small independent bookshop where you will find a range of books to delve into. If art is more your type of relaxation, then book an experience with Wild Arts Scotland which offer arts and craft workshop holidays and retreats.

Book shop in Dunoon, Credit: Bookpoint Dunoon
Bute
If you fancy an island adventure, then Bute is for you. The train journey from Glasgow to Wemyss Bay takes around 50 minutes. From here, the ferry crossing to Rothesay on Bute takes about 45 minutes. Rothesay is a fantastic seaside resort brimming with character, Italian cafés and good old-fashioned shops. Don't miss the Victorian toilets, located on the beachfront, a masterpiece of marble, ceramics, and brass. Follow the coastal road south and you'll find Mount Stuart, a spectacular neo-gothic palace set amid acres of lush woodland. Bute is a lovely island to explore on foot or by bike, you can hire bikes from Bike Bute for a fee. As the island is low-lying, there are fantastic panoramic views and a few strenuous climbs but remember, bikes go free on CalMac ferries.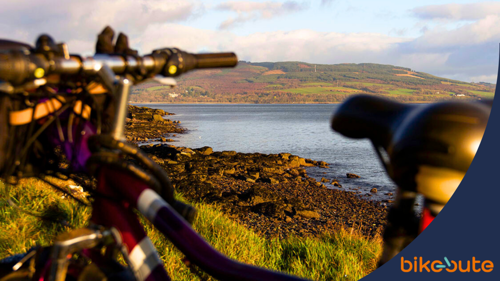 Bikes for hire on Bute, Credit: Bike Bute
Further afield
West Coast Motors have been bringing people together for over 100 years and are proud to uphold family values and commitment to serving the local communities, with their local bus services around Argyll & the Isles. West Coast Motors also operate a network of private coach hires across the West Coast of Scotland and beyond, making them one of the most accessible in Argyll. West Coast Tours is a branch of West Coast Motors and offers tours around the Isles, with their most popular one being their Three Isles Tour, which takes visitors to Mull, Iona and Staffa, where you can see the breath-taking beauty of Fingal's Cave. There is a range of tours, which take place across the Isles, and they even have a wildlife cruise and a tour of the Treshnish Isles and Staffa, perfect for those wanting to see Kittiwakes, Herring Gulls, and Puffins!