7 Argyll Gardens to Visit
Argyll & The Isles is home to some magical gardens. You'll find an array of glorious gardens across the region set amid spectacular coastal landscapes. Explore historic estates, discover sheltered walled gardens and wander amid wonderful woodland grounds. Argyll's mild climate - warmed by the Gulf Stream - provides the perfect growing conditions for an incredible range of native and exotic plants.
Why visit Argyll's Gardens in Spring?
There's no better season to visit than spring, when you'll be treated to carpets of bluebells and a riot of rhododendrons and azaleas. A number of the gardens are part of historic estates, so you can discover history as well as enjoy the beautiful blooms. The gardens are home to some incredible wildlife too, including red squirrels, butterflies and an array of birds. So this spring, go green and visit some of these Argyll gardens.
1. Arduaine Garden, Kilmartin
Arduaine Garden near Kilmartin lies on the southern slope of a promontory that reaches out into the beautiful Loch Melfort. This oasis of green is simply stunning, with a dazzling array of plants. The rhododendrons and azaleas are particularly attractive in April and May. The location is glorious, looking out across the Sound of Jura to the Hebridean islands of Scarba, Luing and Jura. The Loch Melfort Hotel is just a short stroll away and is a lovely place to stop for refreshments after your tour of Arduaine Garden.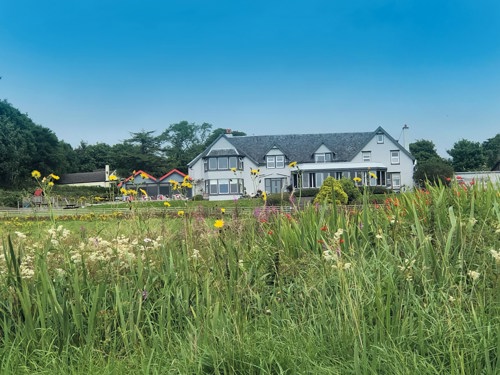 2. Mount Stuart, Bute
Mount Stuart on the Isle of Bute is a spectacular stately house with glorious gardens and grounds, all set against the backdrop of the Firth of Clyde. The grounds are home to atmospheric woodlands and colourful vistas. Woodland glades and a shoreline wilderness contrast with the meticulously measured beauty of the formal lawns and gardens. In spring, the wooded areas are carpeted with daffodils and bluebells. There's also a fantastic adventure playground for kids. Don't miss your chance to see inside Mount Stuart too. The ancestral home of the Marquess of Bute, it features magnificent Victorian Gothic architecture and design together with stunning craftsmanships.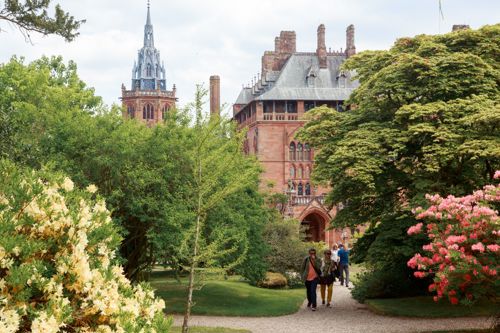 3. Ardencraig Garden, Bute
Anyone planning to visit the island of Bute in spring should make time to visit Ardencraig Garden. This large walled garden with glasshouses is used to cultivate flowering plants for Rothesay's numerous civic floral beds and baskets. It's full of colour, with displays of favourite bedding plants such as begonias, fuchsias and chrysanthemum. It's open from 1st May.
4. Lip na Cloiche, Mull
For another island horticultural adventure this spring, head to Lip na Cloiche on Mull. This beautiful garden sits on a hillside on the north coast of the island overlooking Ulva, the Treshnish Islands and Ben More. From the seating area at the top of the hill you can enjoy breathtaking views. There's also a small nursery where you can buy plants.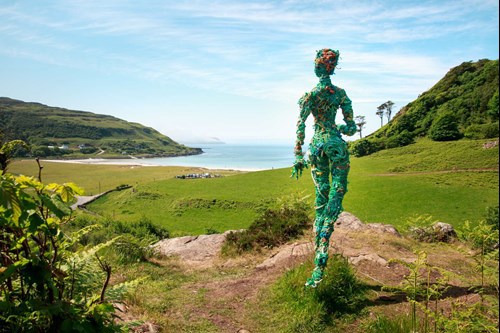 Calgary Bay on Mull is another fantastic spot.
5. Ardchattan, Loch Etive
History tells us there has been a garden at Ardchattan for more than 700 years. The Valliscaulian monks were the first to settle here on the north shore of Loch Etive. Facing south, there are spectacular views over Loch Etive, east to Ben Cruachan and west to the hills of Mull. Ardchattan Priory Gardens has herbaceous borders, roses, a rockery, ornamental trees and a wild flower garden. A profusion of bulbs and early wild flowers marks the start of spring, while May and June see the flowering of the azaleas and rhododendrons, as well as some early roses.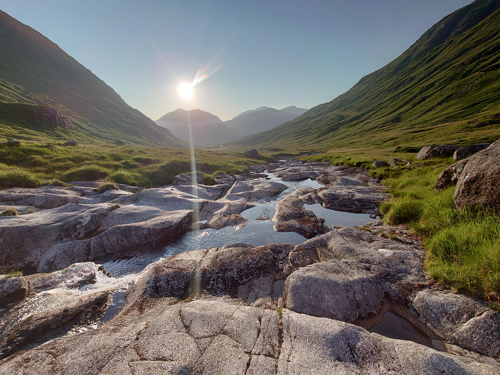 6. Benmore Botanic Garden
Benmore Botanic Garden is set in a magnificent mountainside location near Dunoon. Springtime visitors to Benmore will be met with a blaze of colour as one of the world's finest collections of rhododendrons puts on the most spectacular display. Benmore is a great place to explore by foot. Seven miles of trails throughout the garden lead to a dramatic viewpoint. In spring, the woodlands are full of bluebells and a great place to spot red squirrels and small birds.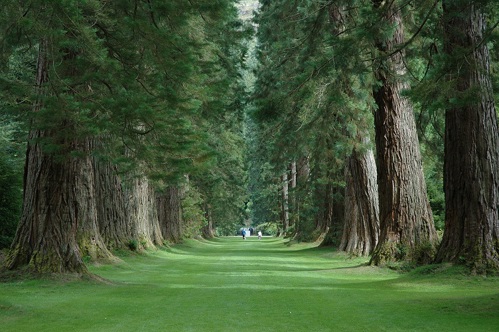 Credit: Benmore Gardens
7. Glenarn, Helensburgh
Glenarn, near Helensburgh, lies in a protected hollow with a steeply sloping glen running its length. Early in the spring, tall Asiatic magnolias flower on bare branches to dramatic effect, together with many large-leaved rhododendron species and hybrids developed at Glenarn. Rhododendrons provide colour throughout April, May and June, with a wide range of shapes, leaves, trunks and flowers. It's a beautiful place to enjoy a spring stroll.
Rhododendron are one of the most vivid signs of spring in Argyll. Many of Argyll's gardens hold special events and activities. A highlight is the chance to visit the normally private Ladies Garden at Ardkinglas to see the flowering of the Ghent and Rustica Flore Pleno azaleas.


Discover more about the Glorious Gardens of Argyll & Bute.