Four places to try stand-up paddle boarding in Argyll & the Isles
Stand-up paddle boarding (SUP) in Scotland has experienced huge growth and there's no better place to paddle than the stunning inland and coastal waters of Argyll and the Isles.  A network of freshwater and sea lochs offers flat, sheltered waters for beginners and those seeking calm and relaxation. For the more adventurous, the coastal waters are ideal for an exhilarating workout in the waves. There are stacks of places to hire equipment, take lessons or book a guided tour. 
Image: Stand-up paddle boarding in front of Castle Stalker.
Why Try Stand Up Paddle Boarding?
Stand-up paddle boarding, a paddling/surfing hybrid, is fantastic fun. You basically stand on a paddle board and propel yourself along with a single-bladed paddle. From the shore it looks like you're walking on water as you glide effortlessly along on a big surf board.
Stand-up paddle boarding is the perfect water sport for all levels of ability and fitness. It's easy for beginners to try, especially on calm water. It can be as relaxed or as adrenaline-fuelled as you please. You can enjoy some sedate paddling in Argyll's inland lochs and protected sea lochs or catch waves as they thunder in from the Atlantic. Whatever level you're at, you'll find it's a great workout for your core and legs. It's also an ideal 'no wind' option for windsurfers, kitesurfers and sailors and a 'small swell' alternative for surfers.
Because you're standing up, stand-up paddle boarding is a fantastic way to spot marine life – and that's something Argyll & the Isles has in abundance. Our waters are famously clear and you'll be able to look down on a fabulous underwater world of swaying seaweed and scurrying crabs. Other sea creatures can be spotted too. Look out for seals, otters and porpoises as you paddle along.
Let's look at some of the best stand-up paddle boarding destinations across Argyll & the Isles.
Loch Lomond National Park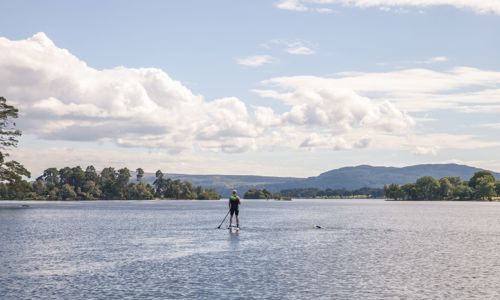 Image: Loch Lomond Holiday Park is an ideal paddle boarding destination.
Loch Lomond is a brilliant place to try stand-up paddle boarding, with breathtaking Loch Lomond views guaranteed. The calm waters of this inland loch are perfect for beginners. Why not stay directly at the shores of Loch Lomond in a fabulous glamping pod or a traditional cosy log cabin complete with sauna? Loch Lomond Holiday Park is the ideal base for all your outdoor adventures.
The Isle of Tiree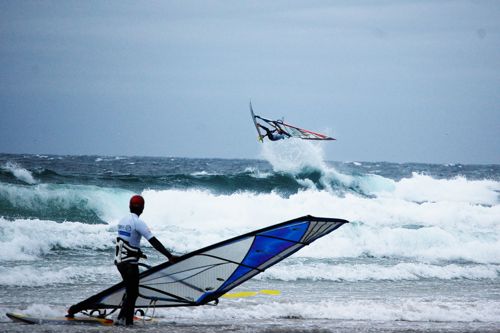 Image: Gott Bay on the Isle of Tiree is a beautiful paddle boarding destination.
With its pristine white beaches and near-guaranteed wind and waves, the Isle of Tiree – sometimes called the 'Hawaii of the North' – is Argyll's top spot for water sports. Surfers, windsurfers, and kite surfers all flock here. But it's fabulous for stand-up paddle boarding too, with an abundance of stand-up paddle boarding locations within 10 miles of one another.
The calm waters of Loch Bhasapol, one of Tiree's inland lochs, are perfect for learning, before heading to Gott Bay, Crossapol and eventually the larger and more challenging surf on the west coast of the island. Crystal-clear waters, sandy beaches and small rocky islands create a wonderful coastline to paddle round. You might be lucky and spot a basking shark!
Loch Goil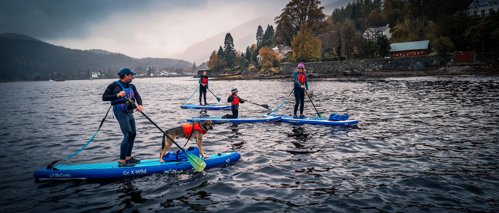 Image: The Drimsynie Estate Holiday Village is located right on the shores of Loch Goil, making it an ideal water sports destination.
Loch Goil in Cowal is another top spot for stand-up paddle boarding. Hire a paddle board and explore this sheltered sea loch surrounded by hills and forests. When staying at Drimsynie Estate, outdoor guru Scott will be taking you out on an unforgettable adventure. Here's what Scott says about the experience of paddle boarding on Loch Goil:
It's a chance to experience a real immersion in nature and the breathtaking beauty we have on our doorstep –  we have a local seal colony, frequent porpoise sightings and slightly rarer minke whales.
You can also hire equipment and get stand-up paddle board lessons directly at the holiday park. Ready to invest? You can buy stand-up paddle boards for affordable prices at McConks.
West Loch Tarbert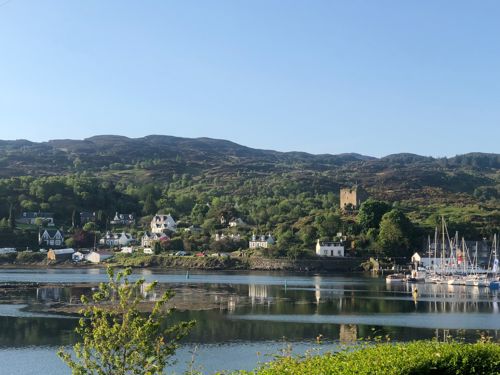 Image: West Loch Tarbert is perfect for paddle boarding beginners.
West Loch Tarbert is a long and narrow sea loch on the western side of the Kintyre peninsula. It's the ideal spot for watersports, with clear water, plenty of wildlife and fabulous views and scenery. The warm, shallow waters of Escart Bay are perfect for honing your stand up paddle boarding skills. After a day on the water, head into the buzzing village of Tarbert down the road for a dinner at Lulabelles.
Are you looking for your next big adventure? Visit Argyll & the Isles this year to immerse yourself in stunning scenery, historic towns and excellent local cuisine. Discover our destinations and things to see & do today.