7 Wellness Experiences in Argyll & the Isles
We all have those times when the world feels overwhelming – our minds may be caught up thinking about the past or planning for the future. We might find ourselves looking for an escape from the daily hustle and bustle and give our minds a well-deserved break. Here are seven wellness experiences in Argyll & the Isles for you to reconnect with yourself.  
1. Experience wild swimming
Water has immensely calming qualities. So what could be more relaxing than to immerse yourself, quite literally, in Argyll's 'blue spaces'?! Once you've become accustomed to the refreshing chill of the water, a sense of calmness, and later accomplishment, will wash over you.
If you're unsure about wild swimming safety rules, it's best to join a qualified wild swimming coach and push your boundaries in a safe environment. Argyll is home to multiple wild swimming coaches, such as Dan the Merman and Bekah Wild Swimming, who offer wild swimming classes and groups. If you're an experienced wild swimmer, you might want to join Swim Dynamics on their Swim Retreats to the spectacular Hebridean islands of Mull and Iona.
So, head to one of Argyll's phenomenal lochs, set in the shadows of ancient mountains and castles, and try one of the most Scottish wellness experiences.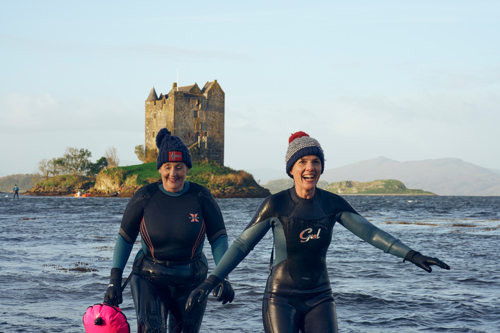 2. Open your mind whilst foraging 
The simple activity of walking has so many powerful health benefits, especially when combined with breathtaking views over Argyll's stunning landscapes. From gentle beach strolls over family walks in woods to epic long-distance routes, Argyll & the Isles offers something for all levels of walker.
Want to pick up a new skill whilst exploring our greater outdoors? Join Heather from Heathery Heights on one of her foraging walks to learn more about the nature surrounding you. The Little Foragers Kitchen offers similar foraging tours near Oban and Glasgow.
Islay Outdoors is another fantastic walking guide, who will take you on an unforgettable adventure on Islay, Colonsay and Jura. Some interesting options include seashore foraging, beach combing, or guided wildlife photography days while walking.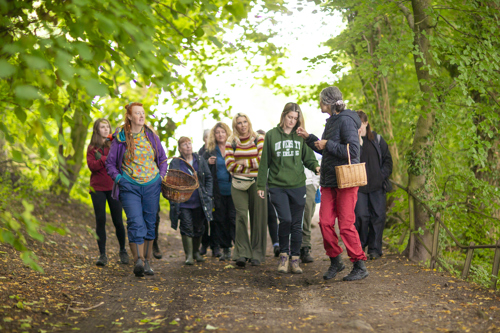 The Little Foragers Kitchen runs foraging tours near Oban and Glasgow.
3. Be mesmerised by Argyll's wildlife 
There's no better way to improve your state of mind than watching our wildlife in their natural homes. See white-tailed sea eagles swooping for fish off the Isle of Mull. Head to the Isle of Staffa with West Coast Tours to watch Puffins dive off the steep cliffs. Take a relaxing stroll along Ronachan point in Kintyre to spot some seals. Or join a summer boat trip from Oban where you might see basking sharks and if you're lucky, Minke whales.
Argyll has a healthy population of red squirrels, with its many woodlands and forests, there are many great places to spot them. The best time of year to see red squirrels is in spring when they're out and about getting their dreys ready high up in the trees and autumn when they're gathering food for the winter. Puck's Glen, a magical woodland world of gorges and tumbling waterfalls, is a flourishing habitat for red squirrels and a great day out.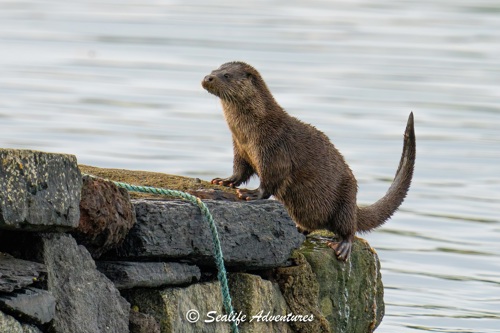 Image Credit: Sealife Adventures
4. Discover Argyll's Rainforest 
Argyll is home to more than 50% of Scotland's rainforest. But with sweeping vistas across Loch Crinan to Duntrune Castle and the Argyll coastline, there are few woods with a more breathtaking outlook than Crinan Wood. This ancient Atlantic oakwood is a wonderful example of Scotland's rare and special rainforest. The wood is also brimming with wildlife, including the iconic red squirrel. A stroll through Crinan Wood will most definitely soothe your spirits.
Another wonderful rainforest walk is through the Dunollie Woods. Hazel trees drip with rare lichens, mosses and fungi, bluebells carpet the woodland floor in spring, and the view over Oban Bay to the isles is something special. Take a stroll along the woodland edge path to Dunollie Castle, historic seat of Clan MacDougall.
It's surprising how easy it is to be surrounded by nature without really noticing its beauty. But if you look closely, you'll find every colour of the rainbow! Whilst walking or sitting, look around you – how many colours can you see?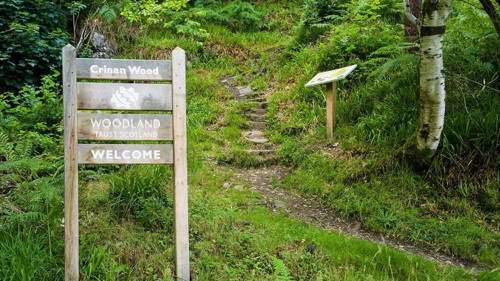 Image Credit: Niall Benvie / WTML
5. Get lost in ancient stories
Did you know that storytelling is beneficial for your mental health? Just by telling stories, listening to stories and sharing stories we are doing something good for our mental health. Luckily, Scotland is known for its fantastic stories!
Immerse yourself in stories from times long gone at one of many historic sites within Argyll, such as Duart Castle or Historic Kilmun, or find your imagination sparked when discovering the secrets of ancient standing stones of Kilmartin Glen.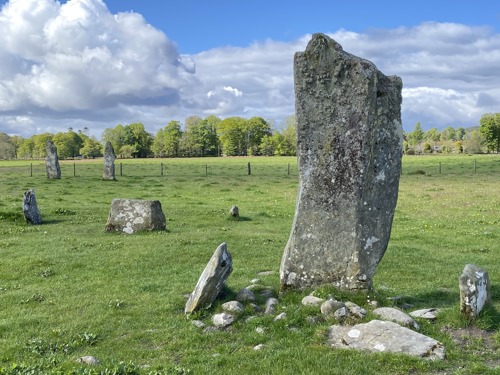 6. Find balance on a paddle board
Paddleboarding is one of the UK's fastest-growing watersports and with so many amazing places to explore, Argyll & the Isles is clearly the best place to enjoy it. It's also an ideal way for families, and even four-legged family members, to bond in the great outdoors.
For beginners, we'd always recommend that you join an instructor-led session to learn the basics and to pick up those all-important water safety tips. Once you've mastered your balance, paddleboarding is quite possibly the best way to explore Argyll's quieter lochs and waters, and let your cares sail away.
Just remember to plan ahead, check weather reports - especially if it's looking windy, paddle in a group or with a buddy and #respectthewater.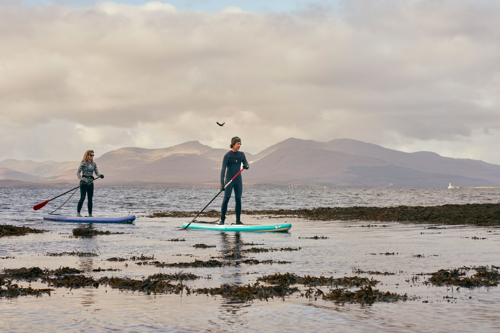 7. Treat yourself to a luxury Spa Retreat
Seeking a more classical form of wellness? Head to Cameron House Spa at Loch Lomond to experience luxury and relaxation at its finest. Treat yourself to some luxury spa treatments and succumb to tranquillity and restoration whilst taking in the breath-taking views of four hundred acre grounds that sprawl across Loch Lomond. From weekend spa breaks to day spa packages and romantic couple spa escapes, a visit to Cameron House Spa will be an unrivalled wellness experience.
Another great spa escape is the award-winning Hotel & Spa Portavadie in Cowal. Spend an afternoon in Scotland's only heated infinity pool overlooking Loch Fyne to the Isle of Arran before enjoying a delicious meal in the Marina Restaurant and Bar whilst watching the yachts sail by.