Coast, forest, loch or hill - Discover your next walk in Cowal
The Cowal Peninsula is a stunningly diverse region of Argyll offering fabulous walking for all abilities. Argyll Forest Park stretches across much of Cowal where you'll find miles and miles of woodland along with hills, glens, moorland, tumbling rivers and waterfalls. Cowal has a magnificent coastline too, with Loch Long to the east and Loch Fyne to the west. And hugging the shore, there are pockets of ancient oak woodland in which to wander. So whether you fancy a hill climb, a woodland walk, a coastal amble or a loch side stroll – or all four – Cowal is your perfect Scottish walking destination.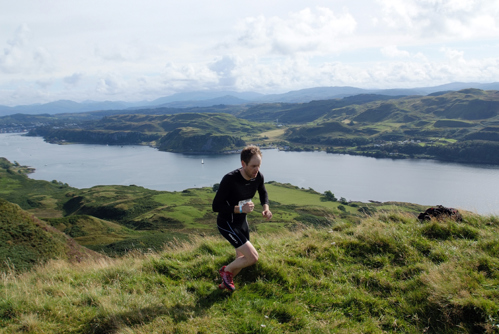 Coastal Walks in Cowal
Stunning stretches of water characterise Cowal's coastline, from the sparkling sea lochs of Loch Goil and Loch Striven to the breath-taking beauty of the Kyles of Bute. The coastline is long and varied, with rocky coves, wild and remote sandy bays. There are so many options for coastal strolls in Cowal.

Loch Lomond and Cowal Way
The first section of the Loch Lomond and Cowal Way from Portavadie to Tighnabruaich takes you through Argyll's Secret Coast. Prepare for some magnificent coastal scenery. The views of Loch Fyne are beautiful and you'll be treated to incredible views of the Kyles of Bute as you stroll along the coastal road through Tighnabruaich. The second section from Tighnabruaich to Glendaruel takes you along a lovely coastal track via Caladh Harbour. Look out for otters, seals and porpoises all the way along.
There are a number of other great coastal walks on Argyll's Secret Coast, including a wonderful walk from Portavadie across the headland at Stillaig to the isthmus at Ascog Bay. Look out for the standing stones along the way. The walk to Ostel Bay is a real treat. This beautiful stretch of golden sand makes for a brilliant beach walk with views across the water to Arran.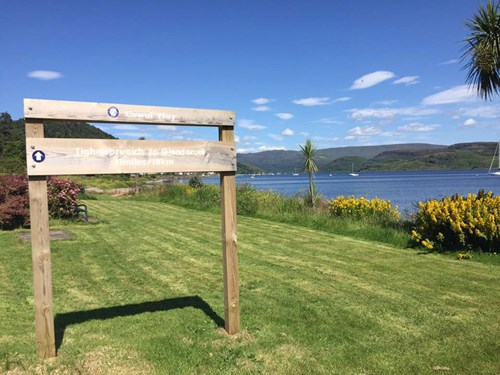 Ardentinny to Carrick Castle
This fabulous seven-mile linear walk follows the western shore of Loch Long and Loch Goil from Ardentinny to Carrick Castle. Setting off from Ardentinny Beach, a lovely local picnic spot, you'll follow forest tracks offering incredible view of the sea lochs. The track continues to Bay of the Pig where you are likely to see gulls, cormorants, eider ducks and oystercatchers. From Ardnahein Farm a single track road leads into Carrick Castle village.
Walk along a Loch
Cowal may be famed for its sea lochs, but there are some stunning fresh water lochs too.
Loch Eck
The narrow seven-mile long stretch of Loch Eck is located north of the town of Dunoon. Set within Loch Lomond and The Trossachs National Park, it's a beautiful location with craggy hills rising steeply above the serene water. From Inverchapel car park you can walk along the eastern shore of Loch Eck to Whistlefield. You'll climb up through woodland at one point, but the views across the loch are still stunning. It's also possible to walk along the western shoreline on the Loch Eck Loop. This 21-mile route through remote terrain is a full day for fit and experienced walkers only. The section of forest track along the western shore of Lock Eck to Benmore Botanical Gardens is delightful, passing through peaceful forest and past many tranquil beaches.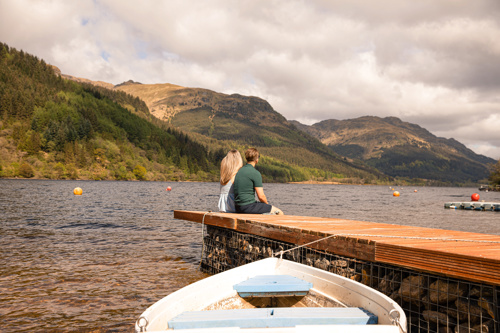 Loch Ascog
This small loch on Argyll's Secret Coast makes for a lovely short lochside stroll. It's a tranquil spot and there's even the ruined Ascog Castle to explore. This was a stronghold of Clan Lamont, dating from the fifteenth century.
Loch Fad
Located just south of Rothesay on the island of Bute, Loch Fad is a fresh-water fishing loch surrounded by stunning scenery. It's classified by Scottish Natural Heritage as a Site of Special Scientific Interest for its huge diversity of wildlife. The walk around the loch, roughly four miles, is hugely scenic. It's just a two-mile walk from Rothesay.
Go Hill Walking in Cowal
You can enjoy world-class hill walking among Cowal's majestic mountain scenery.
Beinn Ruadh
Head for the hills around Loch Eck just north of Dunoon for some fantastic walking. Beinn Ruadh is a great option. Starting out from Inverchapel, this rough cross-country hill walk is wonderfully scenic, with breathtaking views over Loch Eck. After walking up the mountain's south-western flank you'll reach a broad ridge before hitting the summit where there are even more incredible views. You can see the other Loch Eck hills of Clach Bheinn, Beinn Mhor, and Beinn Bheula as well as Ben Cruachan and the 'Arrochar Alps' in the distance.
Ben Donich
Ben Donich, at 846m metres, towers over Lochgoilhead. It's a fantastic hill walk that should take around two hours. At the summit you'll be rewarded with views of the Arrochar Alps, down Loch Goil to the Clyde Estuary and west towards the Paps of Jura.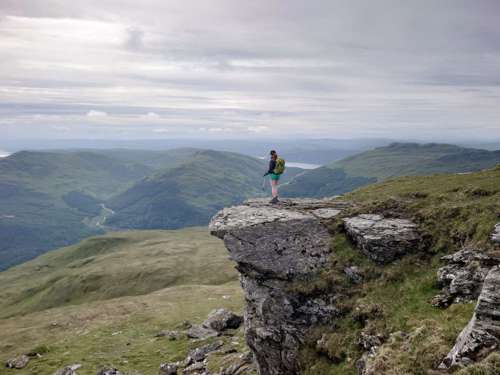 Beinn Mhor
Neighbouring Bein Mhor is Cowal's highest peaks (741 metres) and offers wonderful views of Loch Eck, the Clyde Estuary and north and west to the Highlands and islands. Starting at the car park at the top of the Glen Massan road, the route takes you through farmland, forests and moorland. You'll also get the chance to see the spectacular Massan Falls.
Walk in the Cowal Woodlands
Take your pick from any number of wonderful woodland walks in Cowal. There are stacks of them!
Pucks Glen
This magical woodland near Dunoon is the perfect place for a walk – whatever the weather! After rainfall, the tumbling waterfalls are even more magnificent. There are two walks to choose from: The Puck's Glen Gorge Trail and the Eckford House Trail, which climbs to offer wonderful views across Strath Eachaig to the mountains beyond. Benmore Botanic Garden is nearby offering even more fabulous forest walks.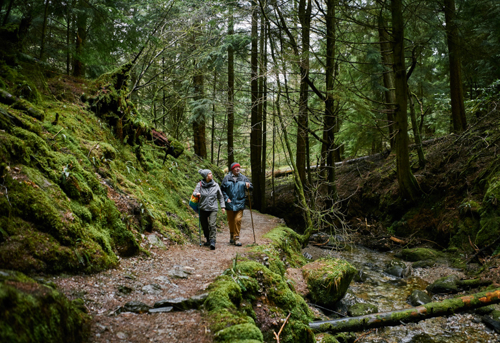 Glenan Wood
Glenan Wood near Portavadie is a fantastic example of the ancient oak woodland that once fringed the coastline. Although the wood is relatively small, there are some cracking walks contained within it. The circular route through takes about 1 - 1.5 hours hours to complete and takes in coastline, woodland and the lovely Glenan Bay. If you're feeling fit, you can carry on up the forest path to an old deserted village. It's a haunting place that dates back to at least 1309, when it first appeared in the records.
Why not try foraging in Argyll?
Take a mindful wander through the countryside and meet the plants that nourished and sustained our ancestors. Join Vicky from the Little Foragers Kitchen on one of her foraging walks to learn more about the nature surrounding you.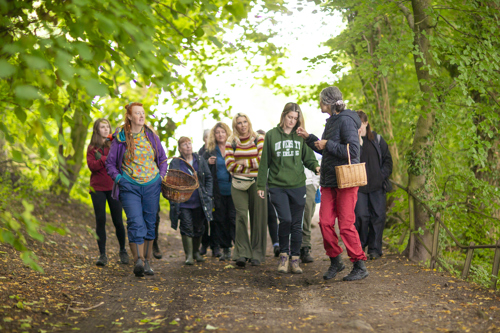 Discover more things to see & do in Argyll & the Isles.