The Waverley
By Robin McKelvie
The PS Waverley, the world's last passenger-carrying seagoing paddle steamer may have been born on the River Clyde, but to me she is really in her element in Argyll and Bute. I've been lucky to sail on her over a dozen times and the most memorable voyages have always been in and around Argyll and Bute, through some of the most spectacular cruising waters on the planet.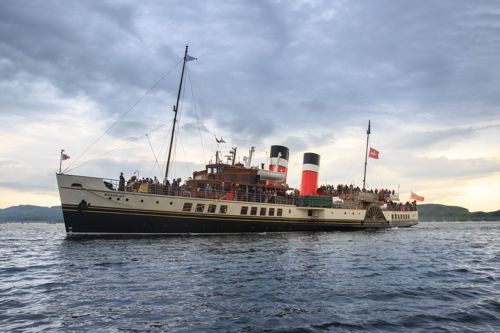 The PS Waverley's Story
The Waverley's story delves deep back into the mists of time – the current vessel you see today is the 16th incarnation of the Waverley, the name itself of course borrowed from Sir Walter Scott's novels. The last Waverley was ill-fated, sunk by the enemy while serving at Dunkirk.
Today's Waverley was born in 1947, built to serve Argyll, based at Craigendoran doing the 'Three Lochs' route deep into Argyll's wondrous, fjord-like sea lochs. Her thrashing paddles thrusting up the tree and hill shrouded lochs were a welcome sight, as was her pace, as she is still as fast as much of today's CalMac fleet. Back aboard again recently Captain Dominic McCall summed her up for me:
"Everything is unique about the Waverley, there really is nothing quite like her anywhere in the world"
He beamed proudly on a bridge that still uses a Chadburn to signal instructions to the engine room, steering a tricky and expert task given the lack of bow thrusters. "People come on board the Waverley to enjoy themselves. No other vessel offers the coastal cruising experience she offers today around so many places in Scotland and the wider UK, and, of course, around Argyll and Bute."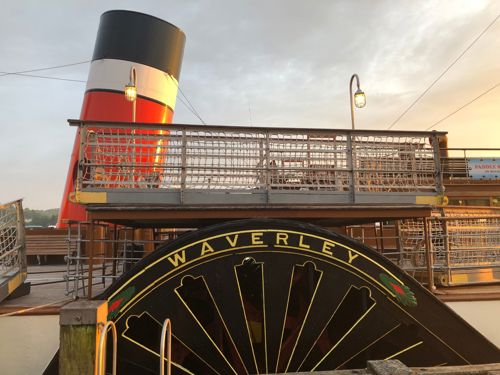 Fond Memories 'Doon the Watter'
My own childhood memories of the PS Waverley are steeped in serious nostalgia that tugs at my adult heart. My sailor dad was never happier than when he was out on the water and he loved these waters in many ways – he met my mum in Dunoon in Argyll. I think he was more excited than my brother and I boarding, and that is saying something as my heart leapt as soon as I saw those distinctive twin gleaming red funnels, and my spirit soared when we went down into the engine room to see the giant pistons hard at work in a scene more thrilling than any kids TV show.
Some of my most memorable childhood sailings were around Argyll. We sailed through the narrow Kyles of Bute more than once – I was amazed to be so close to land and felt like I could almost touch the shore. We also burrowed further south of Bute bound for the edge of the Atlantic proper at Campbeltown. That was a treat as we went ashore there to get sweeties. I remember those sweeties, the accordions playing, the irresistible smell of fish and chips in the ship's restaurant that; real sense of adventure and of doing something really different.
A trip on the PS Waverley is an adventure for all ages!
A family-friendly adventure
As an adult I didn't waste too long getting my own children acquainted with this grand old sailing dame. My eldest Tara was on as a baby;  her sister Emma followed suit. They love the Waverley too and both have wee painted wooden models of her sitting in pride of place in their bedrooms still. I hope one day they will take their own kids aboard to sail with the Waverley back through the years and the generations in Argyll and Bute.
The 'Four Lochs' Tour with the Waverley
When it came to booking my recent Waverley excursion there was only one possible destination – Argyll and Bute. I booked the 'Four Lochs' itinerary. This started and finished in Oban with a bus transfer from Glasgow included. It was straight off the bus and on to the Waverley to slip our lines and head out of the busy harbour, leaving startled onlookers and bemused CalMac passengers in our joyous wake. The Waverley is a celebrity everywhere she goes, greeted with smiles and waves – we had those all day as we made our way around Argyll's coast and islands.
First Stop: Craignure
Our first stop was a very special one at Craignure. It was the Waverley's first call here for almost forty years and it was great to cruise by Duart Castle and pick up more excited passengers at Mull. It was even more dramatic as her shallow draft let us get very close to Duart Castle on our way out of the Sound of Mull bound for an exploration of Mull's wild east and southern coastline. Gannets and guillemots splashed the waters all around us and we caught sight of seals too. More wildlife was to come - in spectacular fashion.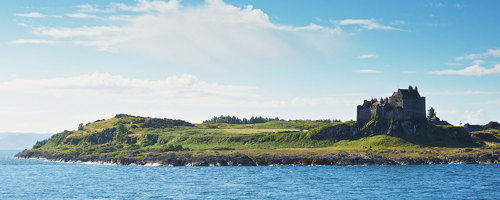 Stop 2: Gulf of Corryvreckan
Clear of Mull, we hit the open sea for a traverse to the Garvellachs, once home to St. Columba's mother. En route the waters broke off the bow to reveal the unmistakable hulk of an adult minke whale, to gasps of joy from the passengers; amazement in some quarters. Argyll and Bute is famous for its world-class wildlife so it was no surprise for me to see this glorious leviathan put in a breath-taking appearance.

A close pass of the Garvellachs was just an appetiser for the main course – funnelling through the notorious Gulf of Corryvreckan. The third largest whirlpool in the world is treacherous in the wrong tide and swell. Our captain, though, had it sussed and we eased through with just a few swirls of whitewater to get us excited. That left us to focus on the isles of Jura to the south and Scarba to the north, two rugged, brooding isles that see little tourism and tempt the adventurous. In Argyll there are always options to get away from it all.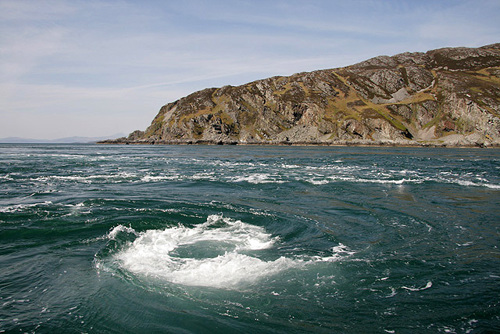 Stop 3: The Slate Islands
We turned tail to the north now taking in the low-lying Slate Islands, then furrowed on with Mull leading the way back to Oban. We had been in Argyll all day, but the scenery just kept changing – it was like Scotland in microcosm with highlights like the sinewy sea loch of Melfort, the fertile slip of Luing and the hulk of the distant Ross of Mull. 
We steamed all too soon into Oban and my latest Waverley voyage was over. If you've not been on her for a while, or never, we all know she won't be around forever. So get aboard and make sure you book a trip that takes in Argyll and Bute as everyone knows they are the sailings that bring the best out of this unique, life-affirming maritime timewarp.
Factfile
In this current sailing season the PS Waverley sails to various ports in Argyll and Bute, including Oban, Craignure, Rothesay, Dunoon, Tighnabruaich, Tarbert and Blairmore. Book your tour here.