Celebrating Hogmanay in Argyll & the Isles
Scotland is the place to be when it comes to seeing in the New Year. No other nation celebrates the New Year with as much fun and passion. Here's our guide to having a Hogmanay to remember in Argyll & the Isles.
Hogmanay Traditions in Scotland
Across Argyll & the Isles there are Hogmanay celebrations and traditions galore, from day-time family events to ceilidhs that go on into the wee hours.
Céilidhs
Walk into any of the pub or hotel bars in Argyll & the Isles on New Year's Eve and you can expect a warm welcome and a great night. Many of the hotels, bars and village halls organise special events, dinners and ceilidhs that you will need to book ahead to enjoy.
Oban, Argyll's biggest town, is a brilliant place to party on Hogmanay. The streets buzz with folk out celebrating and the local ferries and boats always bring in the New Year with a fanfare of fog horns which creates a unique atmosphere. Most of the town centre pubs have a late licence to 3AM, and you'll find plenty of live music – both traditional and contemporary. Crowds head to the pier or the esplanade for the bells at midnight. The Hogmanay Ceilidh at The View in the centre of Oban is an epic night of music and dancing. The legendary event sells out quickly so you'll need to get booked up. There are plenty of hotels in Oban offering New year packages as well as rural pubs and hotels near Oban offering Hogmanay parties. 

Argyll's islanders certainly know how to celebrate Hogmanay in style too. On Islay, the Laphroaig Distillery is running tours during the day on Hogmanay to 'warm you up!' for the night. Port Charlotte Hotel on Islay has a fabulous Hogmanay banquet in the restaurant and live music in the bar, followed by a bonfire and firework display outside the hotel after the bells. Looking for something a little more luxurious? Head to the Machrie Hotel for a unique Hogmanay experience.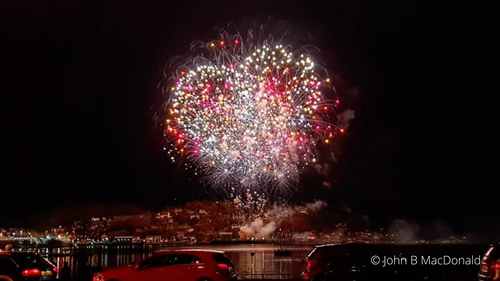 Toast the bells
In communities across Argyll people gather at midnight to 'toast the bells' together. Whether you're celebrating at home with family and friends or enjoying a spot of revelry in the local pubs and restaurants, you can join locals and visitors alike to countdown to the New Year and enjoy a spot of bonhomie. In Tobermory on the island of Mull, everyone gathers at the clock tower at midnight for the annual fireworks display. In Dunoon folk get together at the foot of Ferry Brae to countdown the bells and celebrate.
In Bowmore on Islay, locals gather at Bowmore Pier for a fireworks display at midnight. The bells of the famous Bowmore 'Round Church' ring in the New Year accompanied by a piper. Then there's a céilidh in Bowmore Hall which is free and open to all. Just bring a bottle and expect to be dancing long into the night. In the tiny village of Kilfinan everyone wanders up to the local church at midnight to hear the bells being rung by the oldest inhabitant of the community before heading back to the hotel for a dram. Wherever you are, ask around and you'll soon find out what the local Hogmanay tradition is.

As for a local tipple to toast the bells, well you're spoilt for choice! Argyll is home to 14 world-class distilleries as well as some cracking micro breweries.
New Year's Day
After all that partying, you might need something to clear your head on New Year's Day. What better way than an icy plunge into the water? A number of Argyll communities organise New Year's Day dips (also known as 'loony dooks'). In Campbeltown the Dip for Dosh involves a dash and a splash into the water at Dalintober Beach. Showers, hot drinks and a bite to eat are available for all participants at Campbeltown Sailing Club afterwards. In Kames on Argyll's Secret Coast you can take part in an en-masse dip into the Kyles of Bute. Warm up in the Kames Hotel afterwards with drinks and soup (free for the dippers!). There's an annual New Year's Day swim at Rhu Marina to raise money for RNLI Helensburgh.

And if you fancy a New Year's Day walk to clear your head, there are some fantastic coastal rambles, forest trails and mountain hikes in Argyll.

If you're planning to spend New Year in Argyll, then you'll be pleased to hear that there are many places to stay that offer special seasonal rates and packages.