Cycle from Campbeltown to Oban on the Caledonia Way
Head on the National Cycle Route 78
The Caledonia Way, National Cycle Route 78, runs from Campbeltown to Inverness. The section from Campbeltown to Oban is a 122-mile, mainly on-road route offering adventurous cyclists the chance to explore the spectacular Argyll regions of Lorn, Knapdale and Kintyre. You'll see castles, stone circles and jaw-dropping coastal views as you pedal along. And with an extensive network of forest trails and ferry connections to the islands, there are lots of opportunities to extend your adventure. So if you're looking for a challenging bike ride through stunning Scottish scenery, the only way is the Caledonia Way!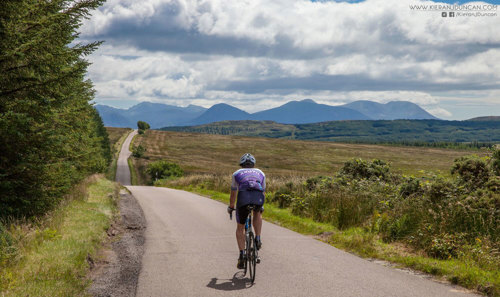 Campbeltown to Tarbert - 36 miles
Start your journey in Campbeltown, Kintyre's major town. It sits at the southern end of the peninsula and is packed with things to see and do. Campbeltown is home to three whisky distilleries (Glen Scotia, Springbank and Glengyle), so you could toast your journey with a local dram! From Campbeltown you follow the B842 road up the east coast of Kintyre. It's a stunning ride, with wonderful views to Arran. You'll pass Davaar Island, Saddle Abbey and the turn-off to Carradale. At Claonaig head left along the B8001 towards Kennacraig (or turn right to visit Skipness Castle or catch the CalMac ferry to Lochranza on Arran). Then cycle along the A83 past Kennacraig (where the CalMac ferry to Islay departs) towards Tarbert.
Tarbert to Ardrishaig - 32 miles
Just before you get to Tarbert, take the B8024 to Kilberry. This minor road follows the west coast of the Knapdale peninsula and must be one of the highlights of the journey. It's truly stunning, with incredible views to the island of Jura. You'll pass the Kilberry Inn, which is a great place to stop for a drink and a bite to eat. While you're there it's worth visiting the Kilberry Carved Stones. You'll then join the A83 to Ardrishaig, where the famous Crinan Canal ends. Route 78 doesn't go into Tarbert itself, but it's a short diversion to the shops, cafés, Tarbert Castle and galleries here. You can catch a ferry from Tarbert to Portavadie to explore Argyll's Secret Coast and the Cowal peninsula.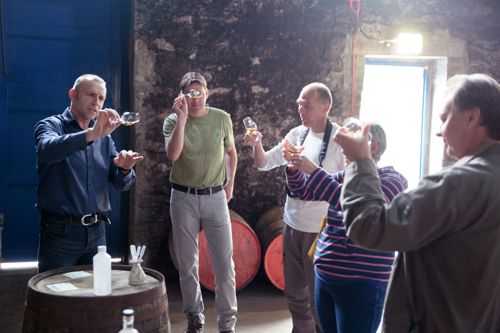 Ardrishaig to Ford - 15 miles
This next section takes you along 'Britain's most beautiful shortcut', the Crinan Canal, and through the Heart of Argyll.Follow the towpath for six miles to Cairnbaan. If you want to make a short detour to the harbour village of Crinan, then continue along the towpath. Otherwise, cross the Mhoine Mhor to Kilmartin and follow a traffic free- section through Kilmartin Glen. This beautiful Glen is one of Scotland's richest prehistoric landscapes. Within six miles of Kilmartin village there are over 350 ancient monuments, including cairns, standing stones and stones circles, so keep an eye out as you cycle along. Kilmartin Museum is an excellent way to find out more about the history of this fascinating area. Then follow the A816 north towards Ford.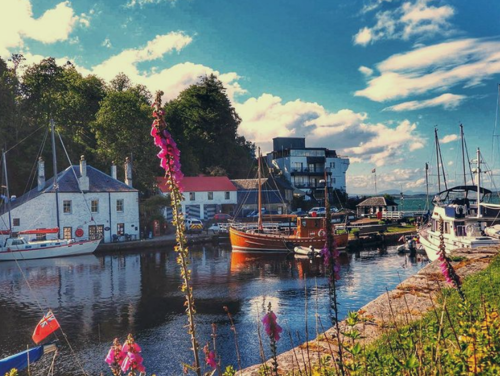 Ford to Oban – 36 miles
This final sections takes you north to the port town of Oban. From Ford follow the road that runs parallel to Loch Awe for 18 miles. There are some lung-busting, steep stretches, but the awe-inspiring scenery makes it all worth it. And if you want to test your off-road skills, there are some great trails in the surrounding forest. At the top of the loch you'll follow a minor road through lovely Glen Lonan to Taynuilt and then head west to Oban, unofficial capital of the West Highlands and gateway to the Western Isles. This buzzing coastal town is the perfect place to celebrate the end of your adventure. Known as 'Scotland's Seafood Capital,' it's the place to sample Argyll's fresh seafood. Fancy heading to the islands? Oban has ferry links to the isles of Colonsay, Islay, Lismore, Mull, and the Outer Hebrides.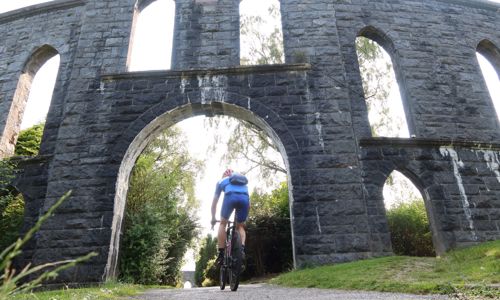 Bike shops
If you need to pick up a bit for your bike en route, try Carradale Bikes and Buggies in Carradale, Crinan Cycles in Lochgilphead, RCS Cycles in Taynuilt and Oban Cycles in Oban.
Getting there
There are train stations at Oban and Taynuilt and ferry connections at Kennacraig, Claonaig, Tarbert, Campbeltown and Oban.The Caledonia Way is easily accessible from the central belt of Scotland. You can catch a ferry to Campbeltown from Ardrossan in Ayrshire, which is connected to Glasgow by a regular rail service. Then catch a the train back from Oban. Or continue along the Caledonia Way to Fort William and Inverness, both of which have train connectins to Glasgow. 
Places to Stay in Oban
Looking for a place to stay in Oban? The bustling town has many accommodations that cater to everyone's preferences. Here are some of our top recommendations for places to stay in and around Oban: