Discover UK's First Vegan Trail in Argyll and the Isles
The Taste of Place Trails: #2 Vegan Trail
Robin McKelvie, Award-winning Travel Writer & Broadcaster experiences the UK's first Vegan Trail - part of the Wild About Argyll Taste of Place Trails.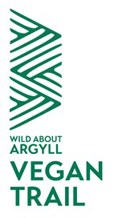 Atop the rugged crag of Dunadd – Argyll's ancient seat of power; in many ways the birthplace of Scotland – I walk with the ghosts of the kings of Dalriada imagining them savouring banquets stuffed with freshly hunted game as they surveyed their lands. And wonder what they would make of the nearby cafes offering vegan food, cafes that are part of a delicious Argyll revolution that has seen the UK's first vegan food trail open in this wild and wildly beautiful corner of Scotland.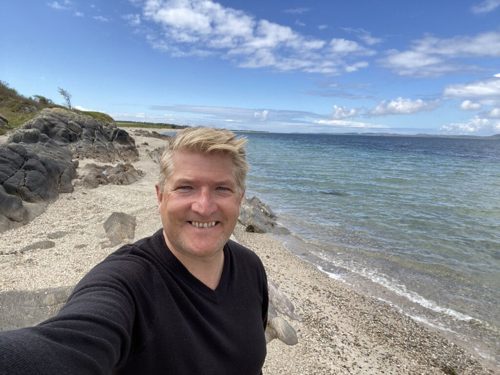 In these health and environmentally conscious times the ethics and provenance of the food we eat have come sharply into focus. In Argyll the quality of ingredients and purity of them has always been a backbone of the cafes, restaurants, B&Bs and hotels. As demand for vegan food has risen existing businesses have responded, turning the same sourcing and energy on not just catering for vegan diners, but really looking at what they want, conjuring up vegan dishes and whole menus. Brand new creatives have opened up across the region too.
The Vegan Taste Trail – just one of five new Taste Trails – now links these vegan oases together. Download the whole vegan trail map here.
Vegan experiences with picturesque views
Easing into Argyll we come to the Lodge on Loch Lomond where Johnny Aitken is director of Food and Beverage. Settle in at a table at Colquhoun's with a sweeping view over Scotland's largest inland loch and enjoy their ZA'ATAR roasted cauliflower, baba ghanoush, spiced lentils and green chilli chutney. Taking the High Road up the Rest and Be Thankful we descend to picturesque Lochgoilhead and the welcoming arms of the Boat Shed Café. Watch out for pine martens and red squirrels as you enjoy freshly brewed coffee and vegan bakes – their blueberry and lemon loaf is delicious.
Continuing our journey through the Argyll lochs we come to the Whistlefield Inn overlooking Loch Eck. Symbolic of the changing face of the vegan offer in Argyll this old drover's inn now serves more than just the odd vegan dish. They always have at least three main courses and light bites on their menu, as well as a trio of tempting vegan desserts, with oat milk always available for hot drinks. They sell vegan wine and soft drinks too.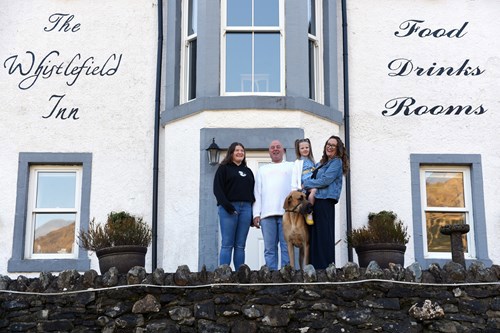 Serving up vegan treats in Dunoon & Cowal
On Loch Long, great vegan things are afoot at The Blairmore. Here the mercurial Helen Dick – who has been involved in the pulling together of the Taste Trails – has really upped her vegan offer in the new café, which opened in May 2021. It's in a lovely spot too, overlooking this spectacular sea loch. You can pop by when the PS Waverley has its weekly paddle up Loch Long and stops at Blairmore Pier.
Also on the Cowal Peninsula, Eco Nature Holidays in Glendaruel have created the complete package: stay over, embark on a wildlife experience, visit their eco shop, join a retreat and savour vegan delights. They grow much of their own 100% organic veg in their polytunnel and garden. Down the road in Dunoon, Coast Coffee is a café down at the old Victorian Pier. Tuck into fresh vegan dishes as you enjoy the sea air. It's the little things here like their homemade ketchup and pickles. We always pop in when we're in Cowal and have never been disappointed.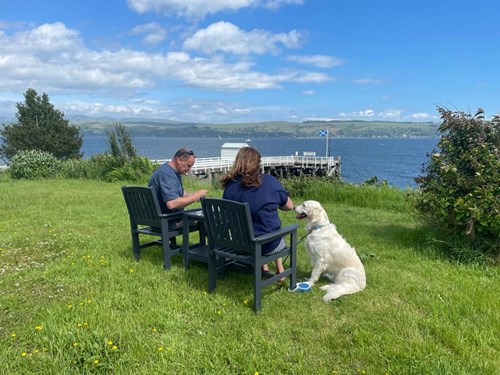 Oban & Lorn have it all on offer
Pushing out to the Atlantic coast we arrive in Oban. It may be known as the 'Seafood Capital of Scotland', but Oban is fast becoming one of the vegan capitals of Scotland. Food from Argyll at the Pier is a co-operative that pulls together food from producers throughout Argyll. You can pick up vegan goodies to go, but I recommend joining me in their café as you treat your body to a healthy refuel and watch the ferries in the harbour. Baab wins plaudits too and not just from me – The Times declared this Eastern Mediterranean escape one of the 'Top 30 best places to eat by the sea'. You'll agree to enjoy their baba ghanoush, awash with smoky smashed aubergine, garlic, chunky tomatoes with a dash of lemon.
Also on the pier, the Corryvreckan Wetherspoons is named after the notorious Argyll whirlpool. I didn't realise they served vegan food here until I popped in for a pint and wifi on the pier. "We like to give people what they want and that increasingly means vegan dishes. We're about more than just seafood in Oban these days," the barman serving me explained. He was right. As I gazed out at the fishing boats I savoured a vegan roasted vegetable pizza awash with mushroom, roasted pepper, courgette, onion, basil. Delicious and at only 710 kcal, reasonably waistline-friendly too.
Where island life and vegan life meet
Heading down into the Slate Isles Garragh Mhor is a real oasis, a welcoming B&B well set up for vegans. "We don't expect you to be vegetarian or vegan, but we hope that you will enjoy our offering. If this is something new to you, we invite you to try different options from the menu during your stay," stress the owners. Jan is a nutritionist, which works well for those interested in the benefits of a vegan diet as she is more than happy to talk guests through their dishes.
Choices for everyone
Loch Melfort Hotel is a favourite of mine on so many levels and I've brought my family here a few times over the years to enjoy the fruits of what the family team have conjured here in a magical spot overlooking the Argyll isles. Chef Richard Young is a keen part of Argyll's vegan revolution:  "As veganism grows as a life choice, it is important that we embrace it. We planted our own small vegetable and herb beds. They have been a great success. The Nasturtium Pesto was a revelation! The garden provides interesting home-grown items for our vegan menu, which are an integral part of the dishes – all freshly picked and delicious!".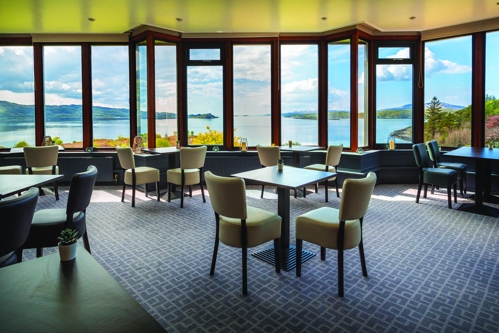 Lucy's Ardfern is a cafe and bakery in Ardfern. They've recently opened up two catering units further south at Kilmartin too, giving those Dunadd Celtic kings yet more vegan choice. I'm a huge fan of the original venue – you won't regret trying any of their vegan desserts or cakes. Also in Kilmartin is the Kilmartin Museum Café, which peers out over a glen strewn with prehistory – cairns, standing stones and circles. The museum is currently undergoing a major overhaul, but they plan to back offering vegan treats by 2023.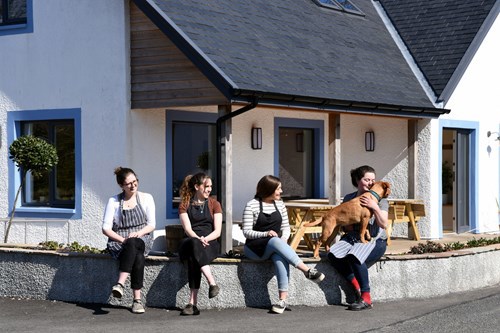 Plant-based options everywhere you go
Pushing south down Loch Fyne we come to Lochgilphead and a brace of vegan delights. The Smiddy in Lochgilphead creates both vegan savoury options, as well as tempt with vegan cakes. It's an atmospheric setting too, again echoing the changing times and tastes in Argyll as it's set in an old blacksmith's workshop in a historic stone building. Salty Dog meanwhile excels with its ever-changing vegan specials in the same town overlooking Loch Fyne.
Eking ever furth south we drop into the Kintyre Peninsula, home of the new Kintyre 66 driving route. The Argyll Hotel Kintyre is set in an epic location, overlooking its own sweeping Atlantic beach. It's a life-affirming experience dining here in their conservatory restaurant or on their outdoor seaside terrace. It's a family-runned there is a good chance you'll meet their Dalmatians Struan and Talaidh. A drive just a few miles south brings you to Fetcha in Campbeltown, a must for anyone with any lingering doubts about Vegan chocolates as I found out earlier this year. Their delicious chocolates – how about salted caramel or dark chocolate honeycomb? - are free-from dairy and other animal products, palm oil and plastic packaging.
Pushing to Argyll's far north the Vegan Taste Trail continues at the luxurious Pierhouse Hotel in Port Appin. I was back up recently and they've just changed ownership, but they are as good as ever. If not better. As well as enjoying a lovely setting in this wee village overlooking Lismore there is a dedicated three-course vegan menu with four options for each course. Look out too for vegan specials, which they flag up on social media. Dairy-free milk alternatives are offered as standard.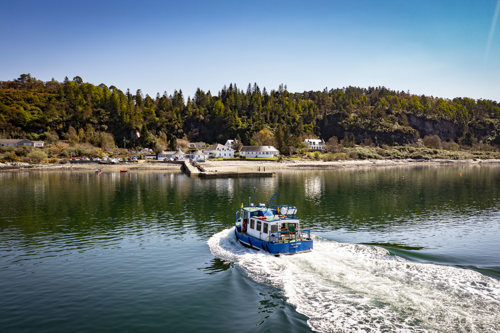 No need to mull it over - vegan choices are on offer
Catch the ferry across to Mull more vegan cuisine awaits. I went to MacGochans in the island capital of Tobermory earlier this year on a distillery visiting tour seeking a healthy option. I found vegan options aplenty. The waitress explained, "we've always got vegan options on, usually at least one or two vegan starters, mains and desserts. We're pretty flexible too and will always try to accommodate requests." The setting could scarcely be better overlooking the Sound of Mull at Arle Lodge. They have private rooms and two cottages, with vegan breakfasts on hand. You get the personal touch here and will likely meet the family - AJ, Hannah, Hamish, Pat, Hazel and Tina.
Vegan delights all day, every day
Moving isles, at Colonsay Pantry nab some vegan savoury or sweet goodies then enjoy them on one of the island's sandy beaches. Tigh na Mara Guest House on Coll meanwhile do everything from vegan salads and scones, or whole packed lunches. It's all gloriously homemade too. You can take them away to enjoy on one of the isle's necklaces of sandy beaches. I used to write there are 23, but everyone I meet on the island seems to have a different number. Safe to say there are over 20!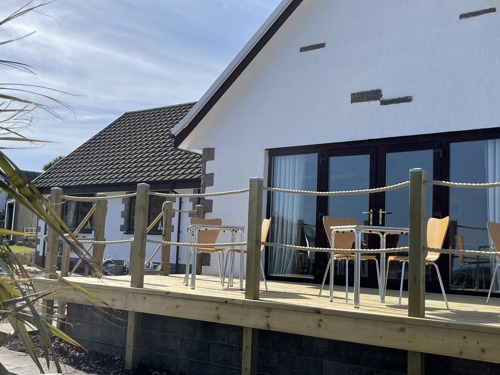 Back atop Dunadd I think of those Celtic kings again presiding over Argyll. I reckon if they tried the range of vegan delights today they'd be converted to the delights of Argyll's Vegan Taste Trail. And the more I think about it living off the land and its bountiful Argyll fruit and vegetables, perhaps those Celtic kings were already sewing the seeds of today's bountiful vegan Argyll.
Want to explore the vegan food trail in Argyll & the Isles? Download the vegan trail map.