Flying to Islay? Here's all you need to know!
The island of Islay, know as the 'Queen of the Hebrides', is renowned for its natural beauty, its wildlife and, of course, its distinctive whiskies. It's a destination for all seasons, attracting visitors throughout the year. Most people arrive by boat; CalMac operates a great ferry service to Islay from Kennacraig on the Kintyre peninsula and from Oban. But the quickest – and perhaps the most spectacular – way to travel to Islay is by plane. The views over the inner Hebridean islands and Kintyre can be breath-taking.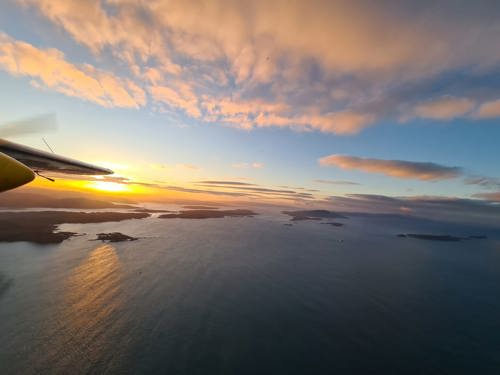 Picture by Hebridean Air Services.
The History
Islay, like many Hebridean islands, was always ripe for an air connection to the mainland. With a decent sized population and a topography that was suitable for an airstrip, the island had a regular air service even in the very early days of aviation. In fact, it appears that the first ever sustained, scheduled air service in Scotland was a route from Glasgow to Campbeltown, Islay and back. Passengers would start their journey at 8.30am in central Glasgow travelling first by bus to the Renfrew Aerodrome – today we know it as Glasgow International Airport. The bus must have deposited passengers right next to the plane, which departed at 9.00am arriving forty minutes later at the Campbeltown Aerodrome. On the ground for just 10 minutes, it flew on to the Duich Aerodrome on Islay, arriving there at 10.15am. Even without the Campbeltown detour, you would be hard pressed to complete a journey from central Glasgow to Islay in this length of time today!
The Duich Aerodrome would have been little more than a grass strip in a field. In 1935 a better facility was opened a little way to the south at Glenegedale which is the present day airport. This too stated off as a grass landing strip but the advent of World War II saw it requisitioned and renamed RAF Port Ellen in 1940, with three concrete landing strips being built to accommodate aircraft used for patrolling the North Atlantic and for training pilots. In 1947 the RAF vacated Islay and the airport returned to commercial operations, but now with much improved facilities. The remains of wartime buildings still lie dotted around the airport, which back then was home to hundreds of military personnel and some of the wartime infrastructure is still in use to this day, albeit considerably updated!
The Airport Today
Today, Islay Airport is operated by the Highland and Island Airports Ltd. With just under 30,000 passengers a year using the facility, it remains a vital link between the Islay and the mainland, as well as its near neighbour, the tiny island of Colonsay. 
Disabled passengers are fully accommodated at Islay Airport thanks to specially designed toilet facilities, wheelchair friendly access points and walkways. The Gate 1 Café sells teas, coffees and light bites and there's free WiFi throughout the airport.

Inside Islay Airport passengers may notice a series of intricately assembled hanging which are made from hand cut lino. They depict different scenes, stories and myths. One proclaims: "May the birds of friendship of the Gael be forever woven into the web of your life" with the same text written on the floor in Gaelic.
Getting Around Islay
Once you're out of departures there are various options for getting around Islay. You can hire a car, use the island's bus services, or go for a combination of taxis, hired bicycles and foot. And remember, once you've got as far as Islay, it would be a great pity not to make the short hop on the ferry across to its very near, but altogether different neighbour, Jura.
Places to Stay
There's a good supply and variety of accommodation on Islay all year round from bed and breakfasts to hotels to self-catering options. Some of our top recommendations would be:
Find out more about things to see and do on Islay & Jura.