Family-friendly Fishing in Argyll - by a local
Duncan lives in Inveraray and runs Fishinguide Scotland, a guided fishing service providing hassle-free trips to lots of hidden corners of Argyll. Trained as an biologist and then as a teacher, Duncan has found the perfect blend for his skills in guiding. In his posts he'll be sharing his infectious passion for fishing and the wildest kinds of outdoor adventure.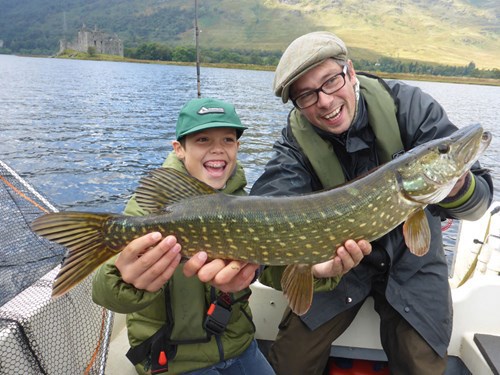 Duncan's Top Family-Friendly Argyll Fishing Spots
Personally I love getting bookings from families for my fishing adventures. I feel it's a great opportunity for bonding and there are few things more fulfilling than seeing a passion for fishing ignite in my young guests - and that's especially rewarding when their parents share it. The other delightful thing is nurturing an interest in the natural world. In a time when screens fill our lives, getting out there and catching a fish, spotting a dipper or a kingfisher doing it's thing in the river or even just being out in a downpour when you've got waterproofs and waders on is an enriching experience. Helping to facilitate both family bonding and a connection with nature is my favourite kind of day!
Here are my top tips for having the best possible fishing adventure with your family - and why Argyll is best suited to providing it.
Top Tips for Family-Safe Fishing
I feel with kids it's important to keep them engaged, and as we're fishing for wild fish, which can't necessarily be relied upon to bite when we want them to, then a venue with other interesting distractions is a good option. When I take a family fishing on a river we will change pools often, just the change of scene and maybe use of a different fishing tactic from nymphing to dry-fly fishing for example, can keep that attention going for longer and maximise the chance of catching before the interest dwindles.
Once that first catch has been made then the sheer wonder of being able to access the mysteries that lie beneath the surface has youngsters fascinated. It's like a new world has opened to them, and when they feel they can do it for themselves it's an empowering experience. I think it also reminds us of more primal instincts, being able to provide food to those you love, if ever you need to, is one of those skills that provides a new kind of confidence.
Whilst fishing for trout or pike on a loch being out in a rowing boat is great as the youngster can have a go on the oars, it's always fun to be the driver particularly if you've never done it before. The other good thing about boats is that the kids are captive, there's no running off, and you've got none of the stress of a car. Boats lend themselves to relaxing experiences, especially if you're with a guide and expert boat handler.
If the fish aren't co-operating then a break to look under rocks for insects or under stones in the water to discover stonefly, upwings or caddis nymphs is a great way of building up the picture of what ecology is and how animals interact with their environment. For example do you know that caddis larvae will build themselves a tube shaped house out of whatever substrate is available? If you look closely at them you can see there's some sand, some gravel and often bits of snail shell and wood fragments in the mix all stuck together to make their home. Upwings (sometimes called Mayfly) have been around since before the dinosaurs and some of their species will stay in their nymph form for years before eventually hatching as a short lived adult, one species in particular only lives as an adult for 38 minutes, after having been a nymph for 4 years!
A good guide will be able to teach these things while keeping an eye out for the fish coming on the feed, when that happens it's back to the fishing! On the way to the venue I always try to steer the importance away from actually catching fish and towards observing your surroundings and appreciating views, bird calls, flowers and other plant life.
The Best Time and Place for Family Fishing
Having said all that it is important to choose a time and place where catches are going to be fairly easy, most of us were quite impatient when we were younger and if there's no result within the first hour or two then the window for making the most of their enthusiasm and converting it to passion may close. Argyll has excellent fishing from May to October and if you know what species to go for and where they can be caught then you're half way to an amazing day. Each year is different and the only way to know what fishing is best at any given time is to ask a guide or sometimes fishing tackle shop staff can be very helpful. Local knowledge is the key.
As a very general guide the species to go for from May to October are: brown trout in May, pike in June, sea trout in July, mackerel in August, salmon in September and pollack in October. This is a very flexible guide and all of those species can be caught in all of those months, but the best time to target them is usually the month mentioned. Rainbow trout, a stocked (non-native) species are also available to bridge any gap.
With brown trout in almost every freshwater loch in Argyll, fantastic sea trout fishing in multiple rivers from Ardfern to Dunoon, some of Scotland's biggest pike in Loch Awe, rainbow trout in Inverawe, arguably Scotland's most easily caught salmon in Argyll's wee rivers and finally mackerel and pollack all along our extensive coast Argyll truly has it all, and in abundance!