Winter Fishing in Argyll - by a local
Duncan lives in Inveraray and runs Fishinguide Scotland, a guided fishing service providing hassle-free trips to lots of hidden corners of Argyll. Trained as an biologist and then as a teacher, Duncan has found the perfect blend for his skills in guiding. In his posts he'll be sharing his infectious passion for fishing and the wildest kinds of outdoor adventure.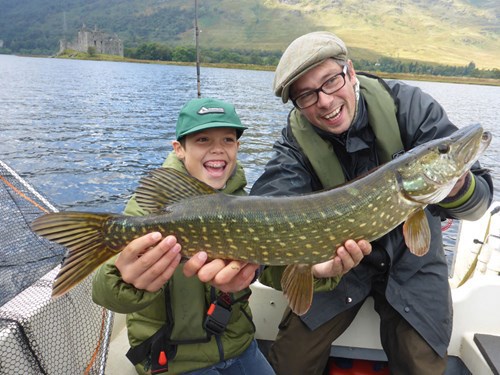 Top Winter Argyll Fishing Spots
Winter is the time I tie up lots of flies, service all my reels and lines and do all the things with Fishinguide that I've been putting off all year, some fun things like editing and collating videos and some not so fun things like the dreaded tax return! When the weather isn't too awful I sometimes manage some fantastic days of fishing.
Days out on Loch Awe with the fish finder searching for shoals of perch are great fun. When we find the perch, we have our fun using the drop-shot method. You can find videos on YouTube for how to set up the drop shot. Basically you have a weight on the end of your line, a hook tied on a couple of feet above the weight and usually a soft plastic worm or fish imitation on the hook. You need a light rod with a very flexible tip to work the drop shot right. If you have LRF gear (light rock fishing) this will do nicely.
Generally speaking perch aren't very fussy, if they're in the mood they can be caught on a bare hook. Perch are an excellent species to take a youngster fishing for. They're relatively easy to catch, beautifully coloured, live in stunning locations and are shoaling fish, so when you catch one, you're likely to get many more.
When I've had my fill of perch I go on to fish for pike. They're rarely far away from the perch shoal so getting some pike flies down to where the perch are can be very effective, I tend to use a fast sinking line at this time of year when pike fly fishing, the Rio Outbound sink six 9 weight is a joy to cast with a Grey's 'Carnivore' pike fly rod. You'll need to retrieve the flies much slower than you would in summer, as the pike are a little more lethargic. That's true at least until you hook them, when all hell can break loose.
The there's the good old pollack which can be caught with reasonably consistency up until mid February-ish. The one in the photo was a late November fish.
Choosing the right day is the key. A winter's day when the wind isn't going to whip the surface up into white horse madness is best. Check the inshore forecast before you go, and the swell height. It can be treacherous if the conditions turn so be very careful on the rocks if there's a big swell running. It's usually around this time of year that I make surprise species catches when pollack fishing, sometimes the beautiful ballan wrasse will turn up, sometimes sea trout, very often you'll catch coal fish too.
It all makes for a good reason to get out there and embrace all that winter offers