5 Destination in Argyll to Reach By Plane
Did you know that you can fly to some of the most beautiful and remote parts of Argyll & the Isles? Leave the city behind and in no time at all you could be discovering the distilleries of Islay, playing a round of golf at Machrihanish or surfing on Tiree's beaches. And did we mention the journey? If you're flying on a clear day, the bird's eye view over Scotland's hills, lochs and coastline is simply stunning. You'll be awestruck as the Argyll landscape unfolds below you. This summer, take to the skies and discover Argyll & the Isles by plane.
Coll & Tiree
Sitting far out in the Atlantic Ocean, the remote islands of Coll and Tiree give a real taste of Hebridean life. The flight to these islands provides spectacular views of the myriad islands below. Tiree is the most westerly of the Inner Hebridean islands. Sitting 60 miles west of Oban, this beautiful isle is officially one of the sunniest places in the UK! It's also home to some of the best beaches in Scotland. With its pristine white sands, sparkling water and near-guaranteed wind and waves, Tiree – sometime called the 'Hawaii of the north' – is a mecca for surfers, windsurfers and kite surfers.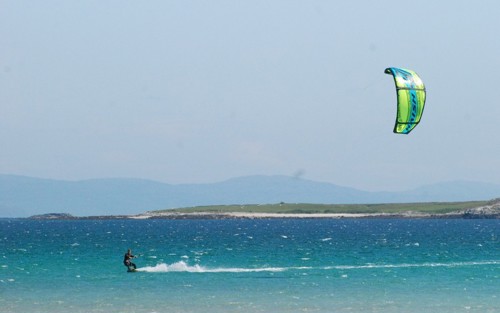 With a population of around 220, Coll is a place to really get away from it all. The white-washed cottages of Arinagour greet you as you arrive. You may recognize the scene - this is the island that inspired the Katie Morag stories. Wild-life lovers will have a field day on Coll. Much of western Coll is an RSPB reserve, and a vast variety of birds can be spotted, including the corncrake, one of Britain's rarest birds.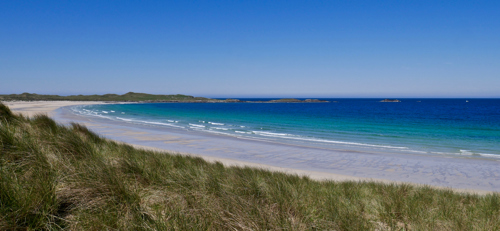 Hebridean Air Services runs scheduled flights to Coll and Tiree from Oban Airport, first calling at Coll and then flying onwards to Tiree. The flight to Coll takes around half an hour. From Coll to Tiree it's a short 15-minute flight. This gives you the opportunity to spend time on both islands. Another option is to fly to Tiree from Glasgow Airport with Loganair, which takes around an hour. To visit Coll, you can then pick up the Hebridean Air Services flight from Tiree.

You can hire a car or bike or take a taxi on Tiree. There's also an on-demand bus service called 'Ring 'n' Ride'. To book the service call 01879 220419. On Coll you can hire bikes from the Post Office.
Islay
The island of Islay, know as the 'Queen of the Hebrides', is renowned for its natural beauty, its wildlife and, of course, its world-class whisky distilleries. It's also home to one of Scotland's most famous golf courses – The Machrie Links. Originally designed in 1891 by Willie Campbell, this 18-hole championship course has recently been fully modernised by D J Russell, and is now open for the season. Most people arrive by boat. But the quickest – and perhaps the most spectacular – way to travel to Islay is by plane. The views over the inner Hebridean islands and Kintyre can be breath-taking.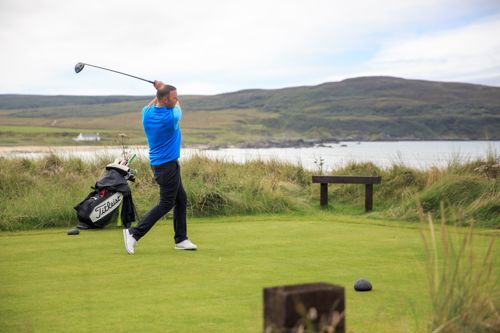 Loganair runs a 35-minute scheduled service from Glasgow International Airport to Islay. Once you're out of departures there are various options for getting around Islay. You can hire a car, use the island's bus services, or go for a combination of taxis, hired bikes and foot.
Colonsay
Islay may be called the 'Queen of the Hebrides', but the title of 'Jewel of the Hebrides' is reserved for Colonsay. It's a gem of an island, just 10 miles long by 2 miles wide, with some fabulous beaches, walks and wildlife. Head to Colonsay Holidays to find your perfect match in accommodation. Visitors are welcome at the Colonsay Golf Course, which offers a fantastic round of golf in a stunning location.
Hebridean Air Services operates scheduled flights from Oban to Colonsay. In the summer you can also fly between Islay and Colonsay with Hebridean Air Services. It's just a short 20-minute hop. Once you're on the island, you can explore by foot or hire bikes. 
Campbeltown
Campbeltown is the capital of Kintyre, the long finger of land that stretches south towards Ireland. It's a stunning place to visit, with miles of deserted sandy beaches. Campbeltown itself is full of character and home to no less than three distilleries, including the renown Glen Scotia Distillery. Whilst in Campbeltown make sure you add a visit to the historic Campbeltown Picture House to your list.
Further south still is the Mull of Kintyre, immortalised in song by Sir Paul McCartney. But the area is perhaps best known for its golf courses. Kintyre packs in three of Scotland's best links golf courses within 20 miles - Machrihanish Golf Club, Machrihanish Dunes and Dunaverty. The award-winning Machrihanish Dunes shares breathtaking views and a majestic dunescape with neighboring Machrihanish Golf Club, a world-top-100 course laid out in 1879 by Tom Morris.

Loganair flies from Glasgow Airport to Campbeltown twice every weekday. Loganair also offers day away and overnight golf packages to play the Machrihanish links course and also Machrihanish Dunes. Car hire is available from Campbeltown Airport.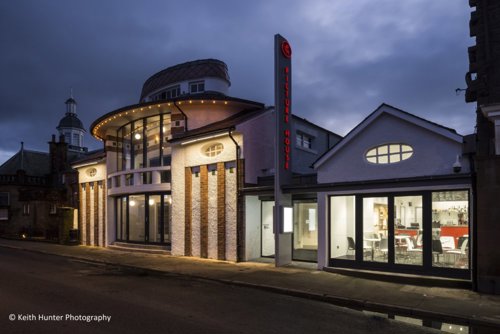 Take the high road
If you just fancy flying high to enjoy the views, then why not get airborne with Loch Lomond Seaplanes, the UK's only seaplane airline? Choose between a 40-minute Discovery Flight over Loch Lomond and the west coast or a 55-minute Explore Journey that takes you a little further afield. Your pilot will point out the mountains, glens, lochs, castles and islands as they appear beneath you. After you get to enjoy a glass of champagne by the dock. Hebridean Air Services and Fly Scenic Scotland also offer scenic trips.