Four Fantastic Artists from Argyll - by a local
Artist Robbie Baird lives and works is the village of Tighnabruaich in Argyll's Secret Coast. Tighnabruaich has been home for 10 years and he previously ran Tighnabruaich Gallery. Robbie finds inspiration in the wild beauty of the landscape and the seasonal changes.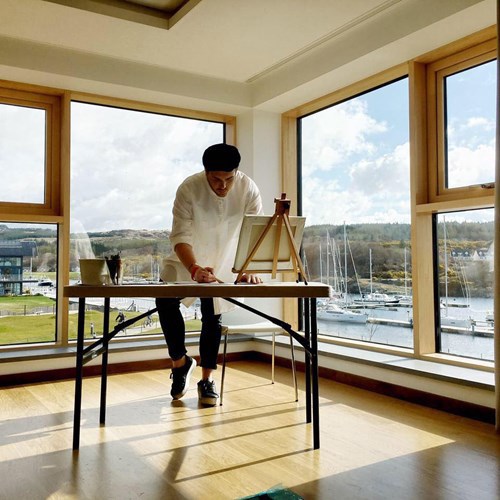 Image: Local artist Robbie Baird
Robbie's favourite local Scottish artists
With Argyll being the wonderful coastal region that it is, there's no wonder that artists from all over Scotland gravitate to the area to find inspiration. Argyll has been an inspiration to artists since ancient times, with some of the most prolific ancient rock art in Europe found in and around Kilmartin Glen and has been linked to a plethora of renowned Scottish artists throughout history. But for those with a notion for the more contemporary, here are some of my favourite artists who live and work in Argyll today. They're not to be missed!
1. John Lowrie Morrison (Jolomo)
We couldn't start this list without recognising that Scotland's leading male artist resides in Argyll. Jolomo has painted the west coast of Scotland since the early 1960s and is one of Scotland's best loved artists. His work is instantly recognisable for its strong and bold use of colour and texture to express the light and atmosphere of a scene. I love the way he dipicts the seascapes, crofts, landscapes and people of Argyll.
2. Sian McQueen
Living and working in Kilmartin Glen, the landscape of Argyll is often Sian's inspiration. If not the focus, it's requently found as the backdrop in her work. She uses texture, materials and light beautifully and I love the quirky details in her work. Sian captures the ever shifting weather fronts and tides of Argyll.
3. Sarah Ross Thompson
Sarah, a Fine Art Printmaker, made the move to the Lochgoilhead in Argyll in 2013 and I've been following her journey as she dipicts the wild beauty and scenery of the area. She specialises in hand-inked, collagraph prints, inspired by her surrounding landscape. Using carefully built collage blocks, her work combines the vibrant colours of oil-based printing inks with tthe textures of the materials she uses. She captures the Argyll landscape in such a unique way.
4. Frances Macdonald
From her studio, Frances looks across the Sound of Jura to Scarba and the mountains of Mull and the Atlantic beyond. Her painting is based on her intimate understanding of the landscape around her and this shines through in her work. Her knowledge of sailing informs her of approaching weather patterns, and she captures fleeting bursts of sunshine alongside the winter squalls. A selection of Frances' paintings are usually on show and available to buy at the Crinan Hotel.
Local Art Galleries & Events
The above is just a few outstanding Argyll artists. Art events such as Cowal Open Studios and the amazing array of fabulous art galleries we have in Argyll are great places to both see works but meet artists. A fantastic gallery is the local Tighnabruaich Gallery, which is known for its incredible curation of UK art.  Be sure to keep your eyes peeled for any opportunity – I guarantee you will not be disappointed with our 'local' talent.