Saddell Bay - Kintyre's Artist Spot
If you hanker after wild and remote places, then you'll love Saddell Bay on Argyll's Kintyre peninsula. Here you'll discover splendid isolation at its best. This beautiful pebble bay stretches along the sheltered eastern coast of Kintyre looking out over the Kilbrannan Sound to hills of Arran and Ailsa Craig. Beech forest sweeps down to the bay for added drama.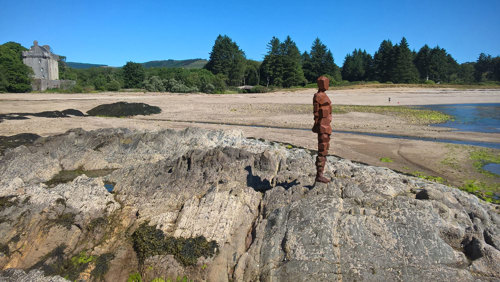 You're unlikely to encounter many other people on Saddell Bay. You won't, however, be completely alone. Look to the far end of the bay in front of Saddell Castle and you'll see a tall, brooding stranger standing on the rocks staring out to sea. This is one of five sculptures by world renowned artist Anthony Gormley. The life-sized figures, together known as Land, were originally commissioned by the Landmark Trust to mark their 50th anniversary. They were due to have been moved in May 2016, but the Saddell sculpture was bought by a benefactor and now has a permanent home here on the beach.
You might also experience a slight sense of déjà vu as you amble along the beach, taking in the wonderful views, peace and tranquility. This is where the famous video of Wings' Mull Of Kintyre was filmed with the Campbeltown Pipe Band seen marching along the shore.  Walk to the northern end of the bay and you might also recognise a small bothy that featured prominently in the video.
Stay in Saddell Bay
If you want to stay in Saddell, Landmark Trust renovated the historical properties here, including Saddell Castle, and they now rent them out as self-catering holiday accommodation. There's also stunning self-catering holiday accommodation at nearby Torrisdale Castle Estate.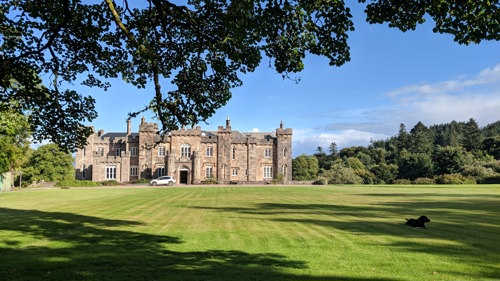 Getting to Saddell Bay
To get to Saddle Bay, you can park up in the car park for Saddell Abbey in the tiny hamlet of Saddell. Cross over the road and follow a wonderful tree-lined track until you reach Saddell Castle which overlooks the beach. A lovely river enters the beach here, and it's a fine spot for a picnic. Take a stroll, have a paddle or relax and enjoy the magnificent views.
It's worth taking a look at Saddell Abbey. A Cistercian abbey was established here in 1148. Nothing much remains of this once important complex, but it's a fascinating and atmospheric place to visit. There's a fabulous collection of medieval grave slabs is on display. Many of them were carved here at Saddell. Or how about heading just along the road to Torrisdale Castle to discover Kintyre Gin? Take a tour of the distillery, meet 'Big Don', the copper pot gin still and enjoy a gin and tonic in the beautiful tasting room.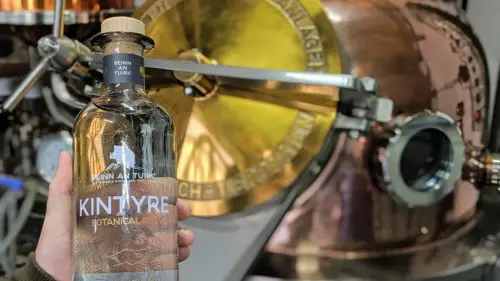 Discover the Surrounding Areas of Kintyre
The east coast of Kintyre is an undiscovered and very special part of Argyll. The B842 winds its way along the coastline, providing stunning vistas. North of Saddell is the beautiful sandy Carradale Bay. You can hire mountain bikes and all-terrain buggies from Carradale Bikes and Buggies to exploring the surrounding countryside. Carradale is also home to Carradale Golf Course, a nine-hole course with stunning panoramas across the Kilbrannan Sound to Arran and Ailsa Craig.
Further north still is Skipness, with the fascinating Skipness Castle and Skipness Seafood Cabin. Head south from Saddell and you'll come to Campbeltown. You'll pass Davaar on the way. This tidal island is linked to the mainland by a natural shingle causeway. The island is famous for its cave painting, a life-size image of the crucifixion which was painted, in secret, by local artist Archibald MacKinnon in 1887. It is said he had a dream telling him where to paint it. And don't miss An Ceardach Garden at Peninver near Campbeltown. Five acres of long-abandoned rough grazing and hazel wood have been transformed into a beautiful garden.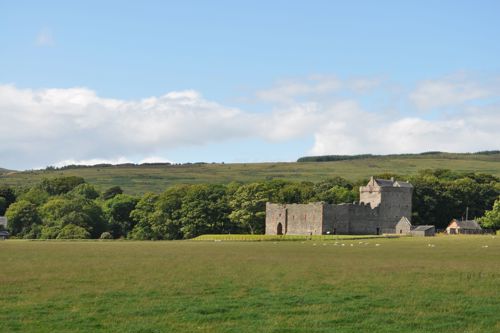 From Campbeltown you can head up the Atlantic west coast of Kintyre to see the stunning sandy surfing beaches. 
If you want to visit the islands accessible from Kintyre, you'll find CalMac ferry connections to Arran from Claonaig, Gigha from Tayinloan and Islay from Kennacraig. All in all, Saddell is a great base for exploring this stunning part of Argyll. You can also catch the ferry from Tarbert to Portavadie to explore the Cowal peninsula.
Find out more about things to see and do in Kintyre and Gigha.