Whether you like to hit the hills on two wheels or four, you need to discover Dunoon on Argyll's Cowal Peninsula. In the heart Argyll Forest Park, it's a brilliant base for a mountain- or gravel-biking adventure. The seaside town of Dunoon – which is under an hour from Glasgow – has some of Scotland's best mountain bike trails right on its doorstep. And it's also home to Action Argyll, which provides you with in-depth information on biking trails & action-packed activities in and around Dunoon . If you fancy a pedal-powered or motorised biking adventure, make sure you make a date with Dunoon this year!
Mountain biking in Dunoon
Over the past few years, Dunoon has become a magnet for savvy mountain bikers who've discovered the area's fantastic forests, great routes and amazing scenery. It's still very low-key though and you're pretty much guaranteed to have the trails to yourself – for now! But the secret's getting out. In May this year Dunoon hosted Round 2 of the prestigious Scottish Cross Country Mountain Bike Series and in September the POC Scottish Enduro Series is coming to town.

This recent recognition is thanks to members of the Cowal Mountain Bike Club, who've been busy developing some awesome trails in Bishop's Glen, a wooded, hilly area just behind Dunoon. Hop off the ferry at Dunoon (bikes go free on both Western Ferries and passenger-only Argyll Ferries) and you'll be there in under 10 minutes. Plentiful flowing, natural single-track and some tricky technical descents to test your downhill skills awaits. If technical, gnarly trails aren't your thing, there are gentler options on offer. The 20k Corlarach Loop starts at Bishop's Glen and takes you through Corlarach Forest. It's a great route for all the family along undulating forest track. Kids will love the excitement of exploring a forest by bike – you never know what wildlife you might encounter around the next corner!

Other top places for mountain biking near Dunoon include Glenbranter, Ardgarten and Glenmassan. The 11km Glenshellish Loop is a good introduction to off-road cycling and you can enjoy splashing through a ford at the head of the glen! The 35km Loch Eck Loop, meanwhile, is for those who fancy a challenge. This epic route (with epic views) takes you through the forests fringing Loch Eck. The 32km Ardgartan Peninsula Circuit is another one for the fit and determined. This grand tour requires serious stamina, but you'll be rewarded with amazing views of the Clyde and surrounding mountains.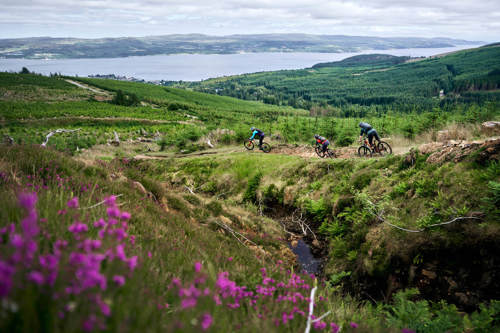 Image by Action Argyll.
Gravel Biking in Dunoon
Dunoon is already a must visit destination for gravel biking, thanks to events like the Dunoon Dirt Dash and the Wild About Argyll Trail. We offer an amazing mix of trails, with routes available for all abilities, so get here pronto! Whether it's a day visit, or you are planning to explore on a bikepacking adventure, Dunoon is the perfect destination for your next gravel biking adventure. head to Action Argyll to plan your route and discover other adventure-packed experiences.
You can also explore the open hillside and rugged forest terrain around Lochgoilhead with Argyll Holidays at Drimsynie Estate. Enjoy panoramic views while blasting through the countryside.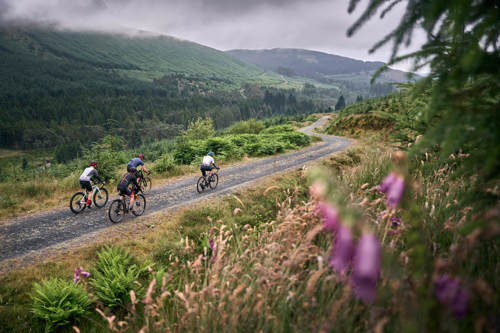 Image by Action Argyll.
Where to Stay in Dunoon
The Douglas Park Guest House is located in the centre of Dunoon and is the perfect place to recharge after a day outdoors. Innellan Cottages near Dunoon offer a fantastic self-catering alternative with the beach and secluded forest tracks close to the accommodation.
If you're looking for a more outdoorsy self-catering accommodation Ruskin Lodges are the perfect match for you! Only half an hour bike ride from Dunoon, these woodland lodges offer a great escape from the hustle and bustle.
After a hard day's biking you're bound to feel a bit peckish. Dunoon is a cracking wee town with loads of great places to eat and drink. Head to the 51st State for superb American, Tex Mex cuisine.
Find out more about things to see and do in Dunoon & Cowal and check out Dunoon Presents, which organises outdoor events throughout the year.