6 Ways to Get Creative in Cowal
The unique landscape and light of the Cowal peninsula have inspired generations of artists and craftspeople. From the seaside town of Dunoon to the villages of Argyll's Secret Coast, you'll find a vibrant, friendly and welcoming cultural scene with everything from open studio events to art workshops on offer. Here are six ways that you can get creative in Cowal.
1. Follow the art trail
One of the major events of the year is the Cowal Open Studios, when over 40 Cowal artists – painters, potters, sculptors, furniture makers, jewellers, textile artists and photographers – throw open the doors of their studios to the public. It's a great way to meet the makers, see their work and experience the landscape that inspires them. Some of the artists offer workshops too. 
2. Make your art escape
Set your creativity free with an Art Escapes Argyll residential art workshop on Argyll's Secret Coast. Run by Tighnabruaich Gallery, the five-day workshops are led by some of the gallery's leading artists. They're held in Waterside, a unique studio space built, literally, on the seawall at the back of the gallery overlooking the Kyles of Bute. The views from the outdoor deck are just stunning. It's the perfect place for watching the ever-changing light and weather over the surrounding landscape. You'll also head out to the area's forests and beaches to seek inspiration. Art Escapes Argyll runs day workshops too (how does 'A Day To Meet With Clay' sound?) and a number of other creative collaborations and projects.

3. Get creative at Cowalfest
There's plenty of opportunity to flex those creative muscles at Cowalfest, Cowal's walking and outdoors festival. As well as guided walks and outdoor activities, there will be dancing, music evenings, art-based events, exhibitions, poetry, meditation and more. And don't miss the chance to take part in the Cowalfest photography competition, which runs throughout the festival. 
4. Check out the gorgeous galleries
Cowal is home to some fabulous art galleries. Tighnabruaich Gallery on Argyll's Secret Coast showcases a fantastic range of contemporary art and crafts from established and emerging talents, both local and national. The gallery is run by artist Robbie Baird, who firmly believes that art should be engaging and challenging – so don't expect twee west coast scenes! Pay a visit to The Hayshed Gallery at Carry Farm near Tighnabruaich too. Fiona McPhail produces knitted textiles using yarn from her Hebridean sheep. She creates a variety of beautiful objects from cushions and tea cosies. Her sister Karen makes fabulous, functional pottery. 
5. Pop into the pop up
Dunoon's cultural hub, Dunoon Burgh Hall, is currently undergoing a major refurbishment. In the meantime, it's delivering its exciting programme of creative events, exhibitions and workshops at the Burgh Hall Pop Up Gallery & Shop on Argyll Street, Dunoon. The current exhibition, 'Elsewhere and Other Places', featuring the work of a group of four artists with connections to Cowal, is a gem. The Pop Up Shop also showcases work from The Collective Cowal, a co-operative of artists and makers who live and work in Cowal, Argyll.
6. Stay the night
Seeking a quiet escape to get creative? The Studio on the Shore is an artist escape in Cowal, welcoming artists to get away from the hustle and bustle of daily life.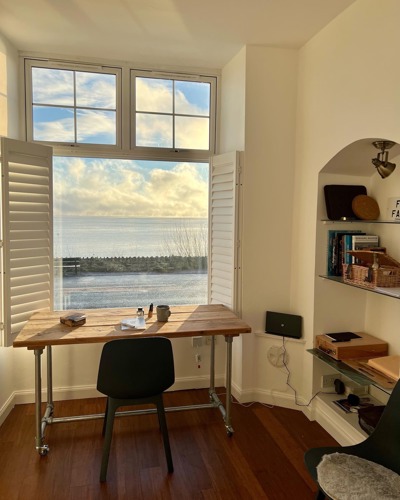 Find out more about things to see and do in Dunoon and Cowal.