There's something about Cowal by Robin McKelvie
There's something about Cowal; there must be as I've been over 50 times. Yes, my mum was born in Dunoon, but it's more than that. I've returned with myriad friends and take my young family west as often as I can. Indeed I'm writing this now in Cowal after a breakfast of locally smoked haddock and a dip in an infinity pool right on the shore, with an afternoon alive with local produce, wee art gallery walks and artisan coffee to look forward to. Maybe a sunset stroll later looking for otters, before dinner and stargazing. Sound like you'd enjoy Cowal too? Then join me now for a tour of this criminally under-explored peninsula.
One of the biggest appeals of Cowal is that it feels rugged; wild and remote like the distant Hebrides, but at the same time easy to reach from all of Scotland's Central Belt. Getting there is half the fun by ferry or over the mighty Rest and Be Thankful. This time we swept over with Western Ferries to Dunoon, the only real town on Cowal. I nipped in for a quick coffee, just enough time to learn about the trio of producers markets that are gracing foodie Cowal this winter.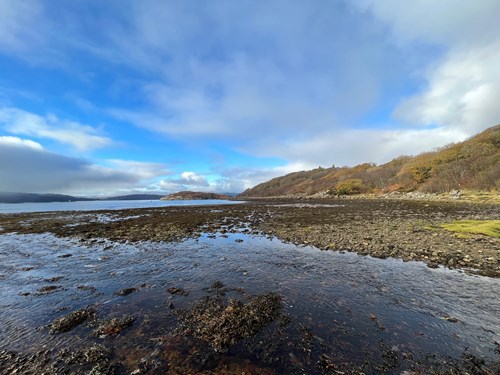 Cowal landscape, Credit: Robin McKelvie
Dunoon & Blairmore
Head around Holy Loch and you get to the little-visited western shores of lovely Loch Long. We'd heard great things about Blairmore, where the people behind the excellent old café at Benmore have been doing great work. This brilliant café right on the shores by a ferry pier dates back to the Golden Age of doon the water tourism. They really appreciate the quality of fine Argyll produce here and it is at the heart of their home baking, and light meals with vegetarian and vegan options.
We were in search of the wilds and pushed on west inland deeper into the thick forests and rolling hills of Argyll. We skirted the sea lochs and curled around the Kyles of Bute, stopping to take in the jaw-dropping viewpoint overlooking these famous narrows. It's a great introduction to Cowal, a breath-taking spot with the peaks giving way to plunging waterfall and gorge slashed slopes, and then thick forests, as your eyes descend towards the rugged coastline where the salt waters of the Firth of Clyde await with their myriad wildlife.
Portavadie
Back heading west arriving at Portavadie felt like the end of the line and it is. Cowal comes to an abrupt halt on the shores of Loch Fyne, Scotland's longest sea loch. If you'd been here a little over a decade ago there would have been just the detritus of a failed oil industry white elephant. I've witnessed the transformation into a fully-fledged resort first-hand. We're talking a marina with over 200 berths, a swish range of accommodation options and a variety of dining options too. Then there is the superb spa, which not only boasts treatments but an infinity pool right down on the shores of Loch Fyne and a brace of bubbling spa pools – also outdoor.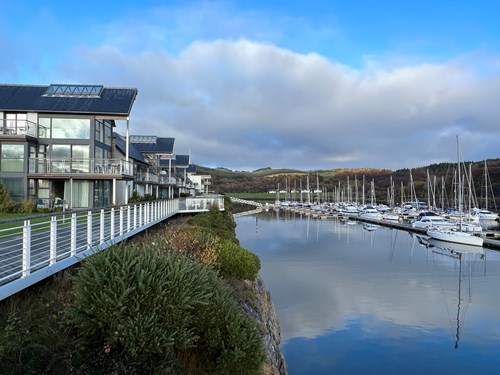 Portavadie Marina, Credit: Robin McKelvie
Managing Director Iain Jurgensen is a man with serious passion, who has always put people and community first, an attitude I find all over Cowal. "Now more than ever we're investing in our team at Portavadie," he explained. "We want to bring people in from all over, offer them paid training and get them invested in this lovely part of Argyll." It is working as everyone was lovely to us over our weekend, from the waiting staff dishing up boat-fresh langoustines from just across the water in Tarbert, to the spa reception filling us in on the easy Covid protocols.
Tighnabruaich
We'd heard good things about developments on the other eastern side of Cowal at Tighnabruaich just a five-minute drive away. It's worth coming here for Tighnabruaich Gallery alone, with its striking range of art for sale from both local artists and talents from further afield. We liked the Five West coffee shop with its play table, dolls house, colouring sheets and puzzles – genuinely family-friendly touches.
Eking a little further south we came to Carry Farm. I knew about the acclaimed sailing school here, but not about the wee Hayshed Gallery that features creations made from wool and sheepskin tanned on site from the farm's Hebridean sheep. This is very much an exciting new space for exhibiting textiles and ceramics from other local creatives too. It's joined at the hip with a cute wee café run by the people behind the truly brilliant Argyll Coffee Roasters from Tighnabruaich. I challenge you to find a better cappuccino in Scotland, complete with delicious melted flakes of chocolate. Argyll Botany Company sits just across the road in ultra-creative Cowal.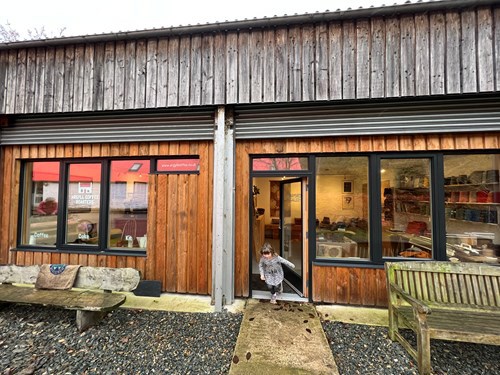 Hayshed Gallery at Carry Farm, Credit: Robin McKelvie
Over a cup of that glorious coffee, I chatted to Carry Farm and the Hayshed's Fiona McPhail, who summed up the appeal of Cowal: "We're a unique corner of Scotland – it feels remote and Hebridean here in a very good way, but we're still very easy to get to". Fiona smiled as she talked about the local spirit of community and collaboration. "As you can see here with Eve from Argyll Coffee Roasters we all work very closely together. There is a real sense of all the small independent producers working together and sharing our mutual passion for Cowal," she enthused.
The Ark
A recent arrival that has really hit the headlines is the Ark. This fantastic piece of public art by David Blair is a giant ark that looks like Noah will be back with his mates to finish things off for his animals any minute. It caught the eye of some of the COP26 delegates who made a pilgrimage here from Glasgow especially. It's very close to the Kilfinan Community Woodland in Tighnabruaich. We spent an hour wandering around their pioneering community forest exploring the trails, checking out the roundhouse, playing on the swings and looking for red squirrels. Community woodlands are big news in Argyll these days – great to see.
Wondering around both the Ark and the community woodland I started to think again about why I like Cowal so much. Partly I think it's because it's a place that makes you think about different ways of doing things, different ways of living, the real positives that come from being closer to the natural world around, and indeed about the human beings sharing the space and community with you. In short, Cowal makes you think about the bigger things, in a gentle and unassuming way.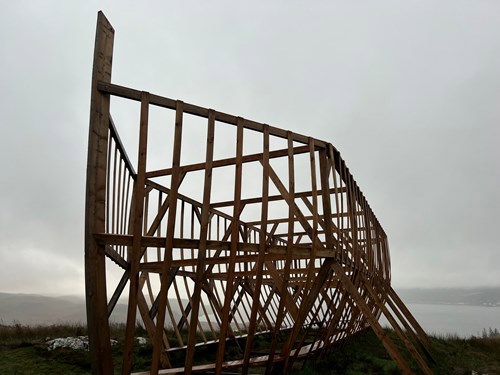 The Ark, Credit: Robin McKelvie
I started by saying there is something about Argyll, and there really is. Even on this weekend-long visit, I discovered new cafes, galleries and gems to visit. And I'm already looking at walking the newly extended Loch Lomond and Cowal Way next year. I've already booked to come back to check out the Hollies. This gorgeous looking self-catering escape is the new face of Cowal, a grand Victorian stone building with eight bedrooms resurrected in Grand Designs style with its own table tennis and pool table. I'm looking forward to a fun, action-packed, life-affirming break in Cowal. Or I should say, yet another one!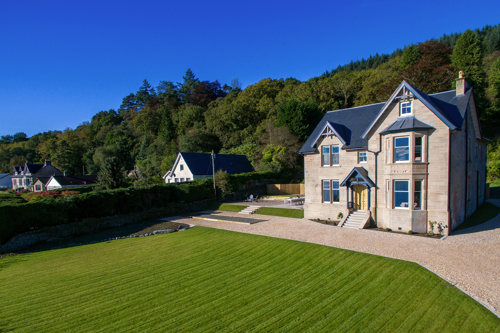 Looking for more places to stay in Cowal?
Head over to our accommodation section to find your perfect stay.