Discover Scotland's Big 5 at Argyll's Secret Coast
Scotland's BIG 5 are five iconic, indigenous wild animals - the red squirrel, the red deer, the harbour seal, the otter and the golden eagle. And did you know that you have a good chance of seeing all five of them right here on Argyll's Secret Coast? Who would think that under two hours from Glasgow you can see all these distinctive animals in a wild setting?
The Tufted Acrobat…
…also known as the Red Squirrel. The 'amber acrobat' of the woods is able to make death-defying leaps between branches. These shy little creatures spend most of their time up in tree canopies in woodlands. There's a healthy population of red squirrels on Argyll's Secret Coast, and at the right time of year you have a good chance of spotting one in the woodlands. In spring the squirrels are out and about feeding and getting their dreys ready high up in the trees. In autumn they're gathering food for the winter. Kilfinan Community Forest has a Squirrel Trail. Glenan Woods and Caladh Estate are other good places to see red squirrels.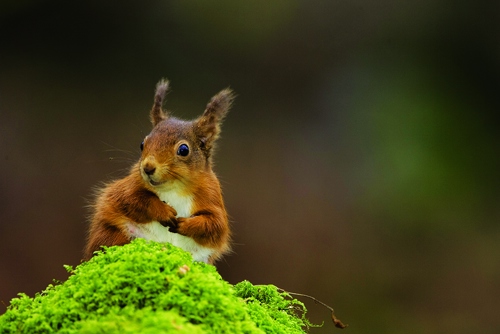 The Roaring Monarch…
…also known as the red deer. These are Britain's largest land animals, and the fourth biggest deer species in the world. During the rutting season (late September to early November) the hills of Argyll's Secret Coast come alive to the sound of the stags bellowing. They're competing for access to the hinds – the female red deer – by engaging in elaborate displays of dominance. It's an amazingly atmospheric sound. Winter is also a good time to spot red deer, as the harsh weather forces them down off the hills to seek food. Take a stroll along the forest tracks around Portavadie and you might be lucky enough to see one!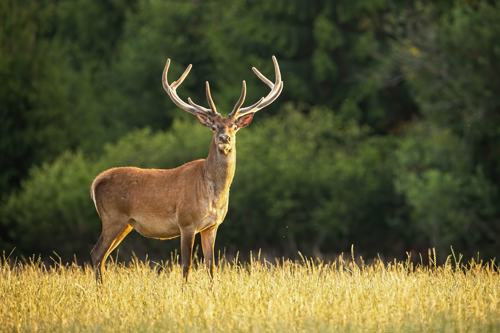 The Curious Seadog…
…also known as the harbour or common seal. They're cute-looking creatures with rounded heads, big flippers, whiskery muzzles and large, dark eyes. At 135 – 145cm long, they're much smaller than grey seals which are around 2 metres, nose to tail. Their coat is mottled with lots of small spots whereas the grey seal is blotchy rather than spotted. We don't have any grey seals on Argyll's Secret Coast, so if you see a seal you can be sure it's a harbour seal! You'll often see them basking on the rocks along Carry Point, swimming in the Kyles and popping up in bays. There are colonies on Ardlamont Point, Inchmarnock and the Burnt Isles. A great way to get up close to the seals, and other wildlife, is to take a boat trip on The Morag.

The Whiskered Diver…
…also known as the otter. These playful creatures are a joy to see in the wild. They seem to radiate a zest for life! Coastal otters are concentrated in the west and north of mainland Scotland, the Hebrides, Orkney and Shetland Isles and we have a good population here on Argyll's Secret Coast. Coastal otters are active by day, so you've a better chance of seeing one of them than their river-dwelling cousins who are usually nocturnal. However, the best time for an otter spot is dawn or dusk. Look for a V-shaped wake behind its head as it swims. When they dive, watch for their tail lifting out of the water. Stay still and look for it resurfacing. You can see them right along the shoreline of Argyll's Secret Coast, including near Tighnabruaich Pier.
High Flyers…
…also known as the Golden Eagle, this is the feathered superstar of the Scottish uplands. Around 440 pairs of golden eagles live in Scotland today, making it one of the top countries in Europe for this rare predator. Although we don't think we have any golden eagles living here on Argyll's Secret Coast, you often see them soaring high above the hills. Look for fairly rectangular-shaped wings held in a shallow 'V' shape, with finger-like ends to the outermost feathers. Eagles are often easier to see from September to February outside the breeding season. If you do see one, it's an experience you'll never forget!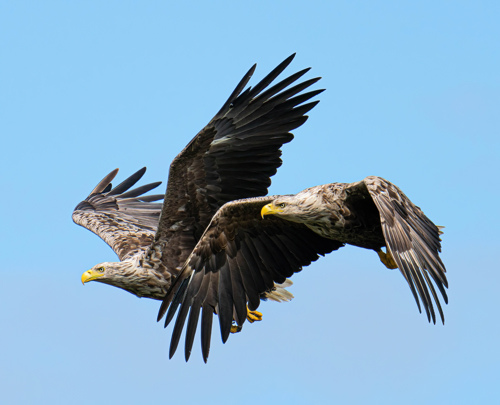 And remember, it's not just the BIG 5 you can see. There's loads of other fascinating wildlife to look out for all year round on Argyll's Secret Coast, from pine martens to adders, bats to butterflies. Plus, all those amazing seabirds. So why not get out there and explore the great outdoors on Argyll's Secret Coast? Even if you don't spot any of the BIG 5, you'll have a lot of fun trying.

Always watch wildlife responsibly. Birds and other animals can be easily alarmed or distressed if you don't take care. Some plants can be easily damaged. It's best to view all wildlife from a safe and respectful distance, be patient, and just enjoy what you see.