Ten ways to experience the natural wonders of Colonsay
The beautiful Hebridean island of Colonsay is tiny – just 10 miles long by two miles wide – but it will wow you with its wildlife. It's the perfect place to immerse yourself in nature. The island's sandy bays, moorland, machair, cliffs and shoreline support an incredible array of flora and fauna, from beautiful wildflowers to iconic Scottish creatures such as otters and eagles. There's even a herd of wild goats! As you explore the landscape you'll discover caves, beaches, hills ancient woodlands and more. Here are ten ways to experience the natural wonders of Colonsay.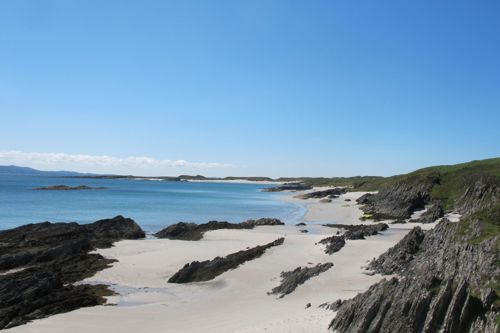 Blissful beaches
Colonsay is home to some of the best beaches on the west coast of Scotland. The sandy beach at Kiloran is the jewel in the crown. Sitting in a horseshoe-shaped bay, this large expanse of sand is sometimes pounded by Atlantic breakers making it a popular spot with surfers. You'll find plenty of other lovely sandy bays lapped by turquoise waters all around the coastline. The deserted sandy beach at Loch Staosnaig, also known as Queen's Bay, is another stunning spot. When staying at Colonsay Holiday, you're only a short walking distance to many of these beaches.
A glorious garden
Make your way to Colonsay House Gardens, home to one of the finest collections of rhododendrons in Scotland. It's a spectacular sight when they're in full bloom. The gardens, mainly dating from the 1930s, range over 20 acres and are home to a wide variety of other trees and shrub. The Garden Café is a great spot for lunch.
Cracking caves
Seek out the caves at the north end of Kiloran Bay. They're relatively accessible and easy to explore. A visit to the New Cave at the southern end of the beach will require a bit more planning. Also known as Uamh Ur and the Crystal Spring Cavern, this is a large three chambered cave.
Birds a plenty
The dramatic cliffs on the western coast of Colonsay are home to colonies of seabirds, including fulmars, guillemots, razorbills, kittiwakes and shags. In the summer, listen out for the corncrake, one of Britain's rarest birds. Walk to Tràigh Bàn (white strand) at Balnahard and you're likely to see and hear chough on the way. You might even spot a golden eagle.
Visit Oronsay
Colonsay's tiny neighbour Oronsay is managed by the RSPB as a nature reserve, using low-intensity farming methods to create homes for a wide range of rare species. Choughs and corncrakes both make their home here. Birds such as skylarks, twites, lapwings, redshanks and ringed plovers all thrive on Oronsay, as do rare marsh-fritillary butterflies. Around 3,500 barnacle geese visit in the winter. You can walk to Oronsay from Colonsay at low tide. Check the tidal timetables before setting off.
Sensational sealife
Keep your eyes peeled as you explore the coastline for Colonsay's sealife. There are a number of seal colonies off shore and you may even spot an otter. The peaceful Ardskenish peninsula in the south west of the island is a great place to see seals and other wildlife.
Bag the MacPhies
Discover the MacPhies of Colonsay and Oronsay! A MacPhie is defined as a point over 300ft on the islands and there are 22 of them which can be bagged in a single 20-mile walk. It's a great way to explore the islands and see the flora and fauna close up. And did we mention the views?
High point
Head up to Carnan Eoin, Colonsay's highest point at 143m. From Kiloran Bay it's a 2.5-mile walk. From the summit the views are spectacular. You also get a good view of a whale sculpture created on land below.
Busy bees
Colonsay is one of the last places in Europe where the Native Black Bee can be found; it is now protected with reserve status by the Scottish Government to prevent cross-breeding. The bees feed on nectar from Colonsay's wildflowers and the herbs that cover the machair. You can buy Isle of Colonsay Wildflower Honey from Colonsay Pantry.
Flower power
See Colonsay's incredible flower and plant life. The list of indigenous island plants is long and includes more than 30 species of fern. Rare plants such as Sea Samphire and Marsh Helleborine are found. In spring you'll see swathes of bluebells and primroses and in summer you can see heath orchids, wild roses, honeysuckle, fuscia yellow irises and heather.
One of the best ways to experience Colonsay's wildlife and nature is by walking. Take a look at these walking routes on Visit Colonsay for some inspiration.