Discover the Ardgarten Cycle Circuit - by a local
Fraser Smith lives in Dunoon and spends most of his free time enjoying the great outdoors exploring the hills, lochs and shoreline of Cowal. He's been known to make a summit and return in time for work at 9am. He writes about it all in his blog www.explorecowal.com. In his posts he'll share his knowledge about cycling, walking, kayaking and wild camping in Cowal.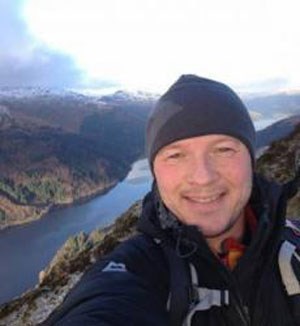 Image: Local Fraser Smith
Join Fraser on his Ardgarten Cycling Adventure
This is a great long-distance route on forestry roads and single track that has everything: stunning views, a visit to remote lochan and an optional detour to a bothy.
The 24-mile loop is know for its sustained climbs and rewarding views, which take in the Rest and Be Thankful, Loch Long and Loch Goil. The route can be started at any point along the way, but I'd advise you to do it in a clockwise direction.
Starting off from Lochgoilhead, after passing through the village you take a forestry road at the foot of Gleann Mor. The gradual climb out of the glen rises above the B828 main road and leads to the base of Ben Donich. Views over to the 'Rest' and surrounding hills are the reward for the exertion.
Descending to Ardgarten provides great views and strategically placed benches provide vantage points. The official trail heads right down to the car park at Ardgarten (the Forestry Commission Scotland's official start/stop point), then climbs again out towards Coilessan. To negate the need for the loss in altitude, the trail marked as Cat Craig loop can be taken; this eventually ties in at Coilessan and onto Loch Long.
The added bonus of this route, is a diversion (three miles all in) to Mark Cottage Bothy. This open bothy maintained by the Mountain Bothy Association (MBA) is open to all. You'll find two rooms, one with an open fire the other providing sleeping accommodation. Whether stopping for a break or an overnight stay, it's worth the diversion.
Back on track, the next stop is Corran Lochan, a small, remote lochan surrounded by the towering hills.
The route switches from forestry road to single track as it winds through the remote countryside. With some short ascents followed by longer descents heading back to Lochgoilhead, this section is known as the Duke's Path or Pass. The descent through the woodland to Lochgoilhead will give your legs a well earned rest.
After all that you'll be ready for some refreshements, which are available in Lochgoilhead at the end of the trek.
While this route is promoted as a cycle trail, it'd make a great walk.... especially with a bothy overnighter!