Why you'll never forget lifting the veil on Argyll & the Isles wedding venues
Weddings are special occasions, and a special occasion surely deserves a special location. Argyll and the Isles fit that particular bill to a tee. The unique landscape of Argyll & the Isles provides a stunning backdrop to the big day, from dramatic mountains to breathtakingly beautiful beaches, and romantic sunsets to shimmering seas. Everything is here for an unforgettable wedding day, with a wide choice of wonderful venues and accommodation, locally sourced food, and warm Highland hospitality. Whether you're looking for a laid-back Scottish beach wedding or a lavish Scottish castle wedding, Argyll and the Isles is an idyllic place to tie the knot. Here we 'unveil' some of Argyll's top wedding venues.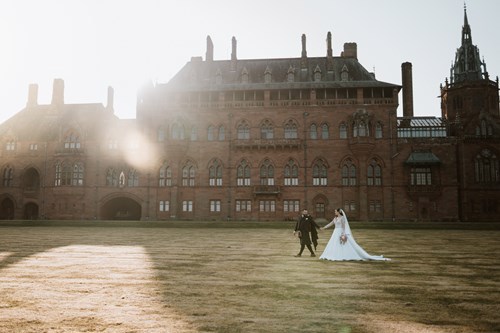 Are you dreaming of a grand Scottish Castle Wedding? Image credit: Chic Photo
A Scottish Castle Wedding
Argyll is home to some truly spectacular castles and historic houses that make magnificent wedding venues. Mount Stuart on the island of Bute must be one of the most remarkable. Mount Stuart a stunning Victorian Gothic Mansion, set in 300 acres of beautiful gardens and grounds, is the perfect venue for weddings, big and small. It is hard to imagine a more unforgettable setting whether you are planning an intimate gathering or an extravagant, romantic wedding.
The historic home of the Marquess of Bute, Mount Stuart boasts its very own Marble Chapel, suitable for all types of ceremonies. The Chapel, constructed from the finest white Italian marble is a truly romantic and unforgettable place to celebrate that most special of days. The Marble Hall, situated in the heart of the house provides the perfect backdrop to enjoy your first meal as newlyweds. The Hall which soars to a height of 80ft with the ceiling emblazoned with the stars of the nights sky, creates a truly unique atmosphere for you and your guests to enjoy whilst dining and dancing the night away.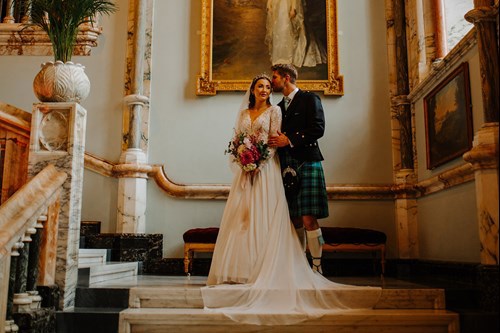 Make your special day even more special by the beautiful backdrop of Mount Stuart. Image Credit: Mad House Weddings
Scottish castles are hugely romantic and none more so than Barcaldine Castle near Oban on Argyll's west coast. It's a splendid small luxury wedding venue. Ceremonies take place in the Great Hall, with its large open fireplace and breathtaking views across Loch Creran and up to Glencoe.
Duart Castle on the island of Mull is perhaps the most striking castle wedding venue of all in Argyll. Limited dates are offered each year, so saying 'I Do' at Duart Castle would certainly be a very exclusive event!
Torrisdale Castle on the Kintyre peninsula is another special wedding venue, as is Balinakill Country House.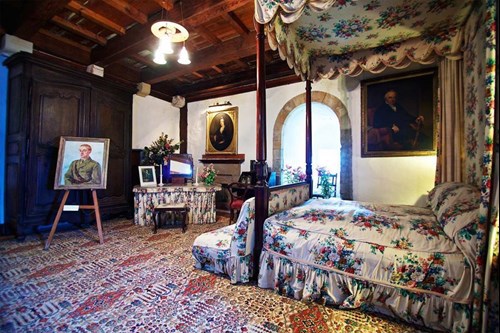 A truly special honeymoon suite awaits you at Duart Castle. Image Credit: Duart Castle
Historic Wedding Venues: Step Back in Time
Imagine getting married at Iona Abbey, the birthplace of Christianity in Scotland. Founded by St Columba and his Irish followers in AD 563, it's one of Scotland's most historic and sacred sites. Venues include the Abbey Church, a breathtaking building with high ceilings and fine medieval features, Micheal Chapel and St Oran's Chapel, an intimate, ornate building at the gateway to the Abbey. It's also the oldest of all intact buildings on Iona. Iona itself is a gem of an island, renowned for its tranquillity, natural beauty and spirituality.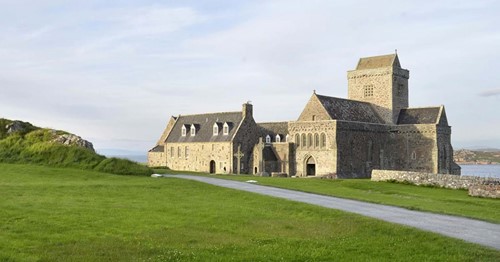 Outside Iona Abbey, Credit: Historic Environment Scotland
Tarbert Castle in Kintyre is another historic castle ruin where you can get married. Tarbert Castle is located on the southern shore of East Loch Tarbert and offers stunning views over the coastal village and surrounding woodlands. Rebuild by King of Scots, Robert the Bruce in 1323, the castle ruin is the perfect wedding venue for all this looking for a proper Scottish ceremony.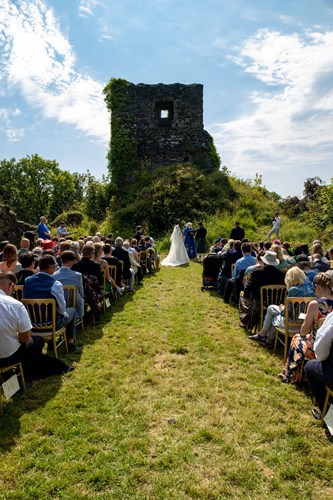 Another great castle for weddings: The Toward Castle ruin in the Cowal Peninsula.
Wedding Venues with a View
Want to make an entrance that's hard to forget, with breathtaking views of the sea? Loch Melfort Hotel can arrange just that, by arriving by boat, helicopter and even a digger, if that's more your style. Don't worry they also do simple entrances too. Regardless of the entrance, you will enjoy a wedding venue filled with beautiful gardens and stunning views looking out into the sea and highland landscape.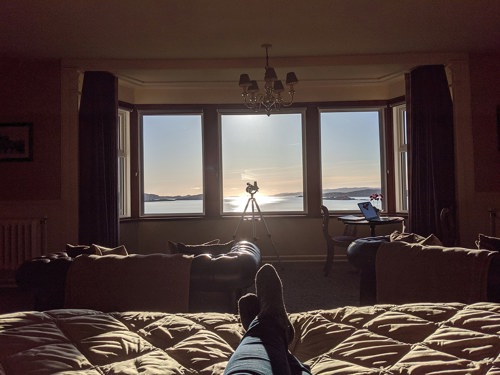 Enjoy the stunning views from Loch Melfort Hotel after your big day. 
Another wedding venue with a view is the Portsonachan Hotel, which sits on the banks on the south side of Loch Awe. For something super modern, try Portavadie. This stunning contemporary development sits right on the waterfront, with views over Loch Fyne and the marina. There's a whole range of accommodations for your guests, as well as a luxurious spa and leisure facilities. The view of Arran from the outdoor infinity pool is pretty unbeatable.
In Dunoon, the Whistlefield Inn has everything you want from a traditional Scottish drover's inn: Beautiful surrounding landscapes, shore views over Loch Eck, the bar with cosy log burner and Rosie the coo. It is the perfect wedding venue for intimate family weddings. Bringing your four-legged friend as special guest? No worries at all, the Whistlefdield Inn can put you up in one of their dog-friendly rooms!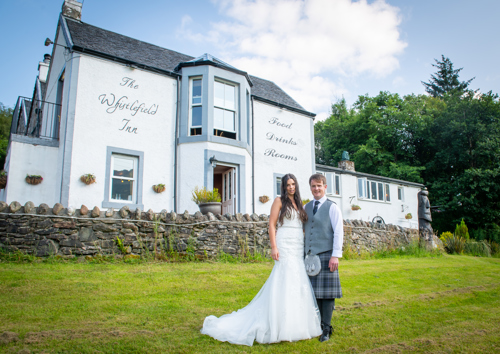 Celebrate your intimate family wedding at the Whistlefield Inn.
Natural beauty
It's not just the beaches that are beautiful in Argyll & the Isles. Ancient woodlands, tranquil lochs and rugged hills all make for stunning natural wedding locations. Ardkinglas Estate on the Cowal peninsula is a secluded and tranquil setting. The historic house is approached through woodland, with sweeping terraced lawns opening out onto the shores of Loch Fyne.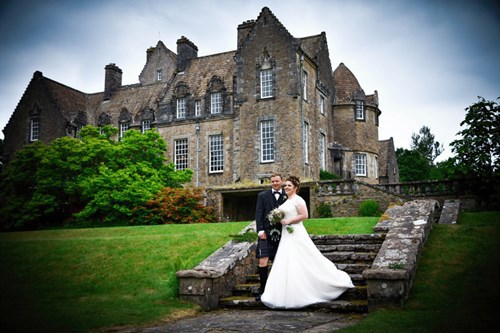 Wedding at Ardkinglas Estate, Credit: Ardkinglas Estate
Crear Weddings near Kilberry is another beautiful wedding venue. Crear Studio at the centre of the house has a 60-foot glass wall with views of the Paps of Jura, bringing the outside in whatever the weather. Relax in the lead up to your big day, knowing that the team at Crear Weddings takes care of everything: Award-winning food and flowers, accommodations for all guest and stunning views!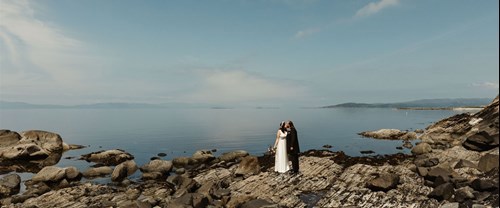 Crear Weddings is known as one of the most scenic places to get married - in the world! Image credit: Crear Weddings
The must needed Wedding extras
Kate at Northern Lights Cakery takes pride in attention to detail and loves working closely with clients to come up with stunning, one of a kind cake designs for your special day on Cowal Peninsula. There is a range of delicious flavours and designs to choose from, but if you can't find the flavour you want, Kate is more than happy to discuss your needs for your special day.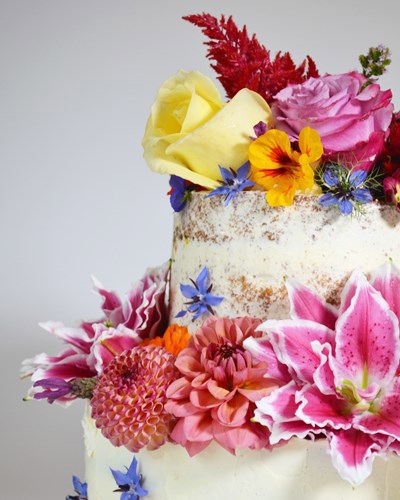 Wedding Cake made by Northern Lights Cakery, Credit: Northern Lights Cakery
It's not just a cake which is needed to celebrate your special day, you need to capture these moments on camera. The perfect photographer is hard to come by, however, both Kevin McGarry Studio Photography and Ben Shakespeare Photography are here to capture your big day, and are highly recommended by many.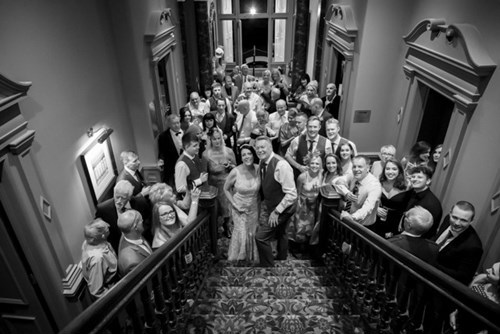 Wedding Captured by Kevin, Credit: Kevin McGarry Photography
Whichever wedding venue you choose, your Argyll & the Isles wedding is guaranteed to be an unforgettable one.