Discover Argyll & the Isles this Valentine's Day
By Robin McKelvie
When I think of romance I don't think of mass produced chocolates and ruinously overpriced cards. I think of lingering looks over long seafood lunches, of bracing strolls along empty beaches, and of cosy drams enjoyed in a hideaway where the modern world with all its stresses and strains seems very far away. I think too of brooding mountains and mists easing across cobalt waters, with stags and otters by the water's edge as I wake with my wife. In short, I think of escaping to Argyll & the Isles. Here are five romantic experiences that you can enjoy in this most heart stirring corners of Scotland.
Share oysters in Argyll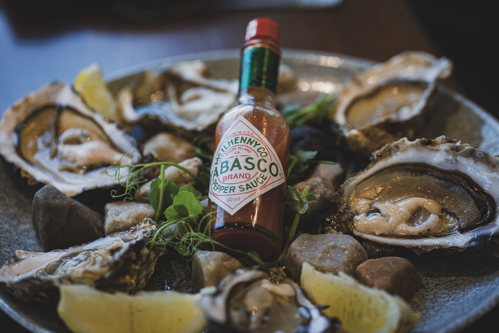 Enjoy the freshest Oysters at the Pierhouse Hotel near Oban. Image: Pierhouse Hotel
Where else, but where it all started down by the water's edge in Cairndow? This is the original and best version of the Loch Fyne restaurant phenomenon for me. The Loch Fyne Oyster Bar really know their shellfish and the restaurant peers out toward the eponymous loch where the oysters are still grown: they really could not be fresher. I prefer to tuck into oysters freshly shucked with maybe a touch of classic mignonette (red wine and shallot vinegar). But they are a creative bunch here so you can also enjoy them on ice with a tangy mint vinegar. Or go for hot oysters to rank up the romance, served with anchovy and parmesan, or a chilli, lime and tomato concasse with cheddar cheese. For the full hog you can savour deep fried crispy Angel Oysters in a Panko crumb and horseradish mayonnaise. Don't forget you can snare some fresh oysters to sneak off with you, along with an oyster knife to (safely, please) impress your loved one with later.
Stroll the sands on Colonsay

Spend a romantic afternoon on the quiet beaches of Colonsay. Image credit: Robin McKelvie
There is nothing quite like wandering along a sandy beach, just the two of you, the breeze in your hair and warmth in your hearts no matter the weather. Throw in a ferry trip and romance soars to Capulet and Montague proportions. Ease out of Oban – or Islay – and head for this wee island, which I look at as a sort of 'Inner Hebrides in Miniature' with many of the best bits tucked within an easily navigable whole. The best beach on Colonsay is Kiloran Bay out on the more remote west side of the island. You'll never forget your first sight of Kiloran Bay as the white sands unfurl for a mile ahead of you. Green hills provide a breath-taking natural amphitheatre for the drama of your romance. There is a wee bench to sit at too and watch the world and its cares drift slowly by. You can swim here if the conditions are right, before heading off to warm up with a towel, then a blanket and a big giggle-filled hug.
Forget Paris and head to Oban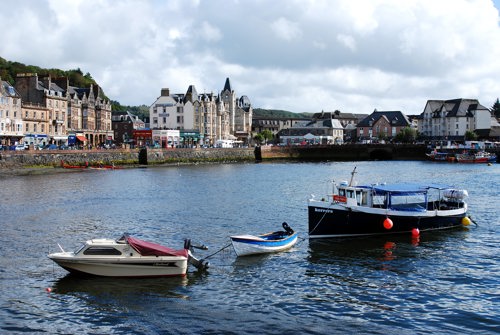 Discover the many romantic spots in Oban.
Ok, so strolling the Left bank has its charms, but you won't see the rugged beauty of Kerrera from Paris, nor the majestic mountains of Mull. And you won't be able to tuck into seafood as fresh in the French capital, nor nearly as great value, as that you'll find in abundance at John Ogden's green and white stall down on the ferry pier. I love that you'll be welcomed in the queue with a free wee bowl of steamed mussels. You are, of course, ordering the grandest seafood platter for two, brimming with boat-fresh lobster, scallops, langoustines and prawns. Afterwards, check into the Oban Bay Hotel, where your room peers out over that bay. I've seen otters from my room here. If you can tear yourselves away from the view get some fresh air with a wee yomp up to McCaig's Folly. The views out to a swathe of Hebridean isles are sublime and you'll hold hands without even noticing as you admire the isles. Dinner is at the hotel. How about a fillet of Buccleuch beef cooked over the charcoal of a top-notch Josper Grill? The next day they serve oysters for breakfast if you need a top up.
Why not stay in a castle near Oban? There are a few things more romantic than staying in a castle. Barcaline Castle near Oban is the perfect romantic getaway for a special occasion. Set against breathtaking views of the snow-capped mountains of Glencoe, the luxurious B&B castle is ideal for couples seeking a romantic break in the Scottish countryside.
Portavadie

Long gone are the days when this was just an – admittedly superb – marina. Portavadie today is a destination in its own right, a seriously appealing escape for couples perched right on the southern fringes of the Cowal Peninsula. You can be as hidden as you like here. Book a swish apartment in the heart of the action with views across Loch Fyne to Kintyre, but I'd rather check into one of their secluded retreats designed for couples. The Hideaway is blessed with an outdoor hot tub and wood-burning stove, while Tighnamara is an away from it all romantic eco-retreat on the shores of Loch Fyne. Wake to a spectacular view of the waters and look out for seals and dolphins. A wood-burning stove and a proper pour deux bath crank up the romance. Re-join the rest of the world with a dip in Portavadie's outdoor infinity pool, or one of the brace of outdoor hot tubs right on the loch shores. A treatment in the spa is de rigueur at Portavadie, before dinner in the Marina Restaurant & Bar. They serve my favourite halibut dish in Scotland here – beautifully cooked Gigha halibut fillet crusted with nuts and topped with a just the right side of creamy sauce. Divine. Afterwards wander under the stars back to heaven.
Beautiful Bute

Discover the beautiful Isle of Bute this Spring. Image credit: Robin McKelvie
This Firth of Clyde isle has always been bathed in swathes of romance for me. I used to catch the ferry over most school holidays to work on my dad's fading yacht out at Ardmaleish. Today there is still something deeply stirring about heading back 'doon the watter'. Rothesay itself is ideal for a short break with waterfront hotels, cafes and restaurants. Its Victorian resort charm has been boosted in recent years with investment going in, not least to the exciting Bute Yard project, which opens in summer 2023. This partnership between the Bute family and the Isle of Bute Distillery will have a flurry of food and drink venues, as well as live music and events in the heart of Rothesay. You can already visit Isle of Bute Distillery before tucking into Rothesay Bay langoustines in a waterfront restaurant. The West Island Way awaits for couples looking to hike together amongst some of the finest scenery you'll find anywhere, the kind of scenery that helps makes Argyll and Bure Scotland's destination for romance.
Whatever you do, we hope you enjoy celebrating Valentine's Day in Argyll & the Isles!​