Discover gin, rum and beer from Islay & Jura
Islay is rightly famed for its smoky single malt whiskies, with no less than eight distilleries (and one on neighbouring Jura) producing some of the most popular and unique whiskies in the world. But whisky isn't the only drink produced on the island; craft beer and craft gin are made here too. If you're not a fan of whisky, or you just fancy a bit of variety, make sure you try Deer Island rum - the first rum distilled on Jura - or have a classic G&T with Islay Gin. Slàinte!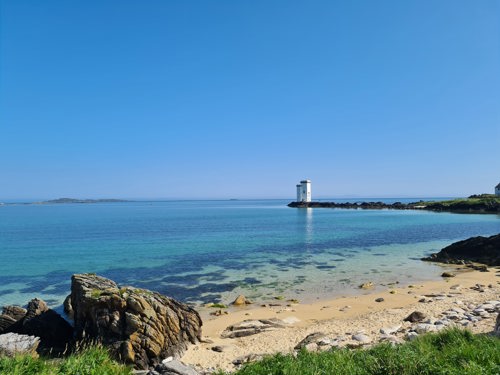 Go for the gin!
Isle of Islay Gin
Hand-crafted on the Isle of Islay, the Isle of Islay Gin Distillery is the first and only company solely dedicated to producing Gin on the Hebridean Isle of Islay. The inspiration for their unique blend of botanicals stemmed from the abundance of wild Islay Heather, Islay Gorse and the wild deer that roam the island.
The visitor centre is open throughout the week for you to buy the local spirit and learn more about its fascinating heritage.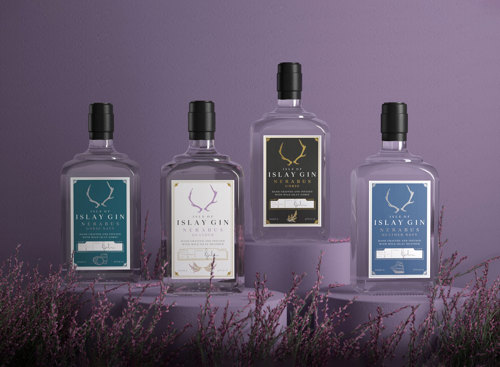 The Botanist Gin
The resurrection of Bruichladdich distillery on Islay is one of the whisky industry's great stories. Brought back from semi-dereliction in 2001, it began to make whisky the old-fashioned way, using the artisanal skills of local people and much of the old machinery that had been installed when the distillery was built back in 1881. As well as producing distinctive whiskies, Bruichladdich then released The Botanist, Islay's first gin. And what a gin it is! It takes its name from the botanicals used in its production and the local foragers who collect them. Nine classic gin botanicals (juniper berries, angelica root, cassia bark, cinnamon bark, coriander seed, lemon peel, orange peel, liquorice root and orris root) are used along with 22 others that are found on the island.
Lussa Gin
"We're not Gin Lovers - We're adventurers". Lussa Gin is an expression of the wild landscape on the Isle of Jura, situated off Scotland's west coast. For the local business that means growing, gathering and distilling fifteen zesty and aromatic botanicals so we can pack as much local flavour into every bottle as we can.

At cooler temperatures you can actually see the botanical oils as a faint haze in the bottle – if you're lucky, you'll see a flash of them when you add tonic. Because every batch is hand made using a traditional still, the temperature where the oils show themselves will vary. What never varies is the care we take in growing, gathering and distilling Lussa Gin at the north end of our breathtaking, windswept isle.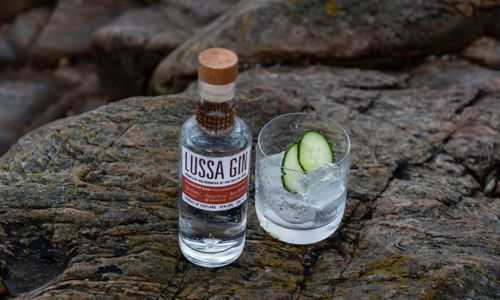 Try the local rum!
Deer Island Rum
Jura has always been home to more deer than people. Which is how it got its name:'Diùra translates to Deer Island… which is where the story really starts. The handcrafted spiced is produced directly on the Isle of Jura, making it the very first of its kind.
Drop by the wee distillery at The Pier Garage on Jura to try some of Deer Island Rum's exceptional spirits.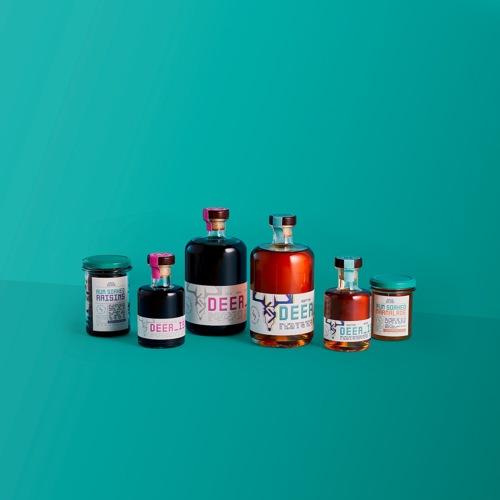 Bring on the beer!
Islay Ales was set up in 2003 by Paul Capper, Walter Schobert and Paul Hathaway who decided that an island with eight whisky distilleries producing some of the most famous whiskies in the world needed a brewery! They now brew eight beers on a regular basis, as well as some limited editions for special events including the Islay Festival of Music and Malt. Make sure you try Black Rock Ale, CAMRA's Scottish Champion Real Ale in a Bottle Gold Medal winner in 2009 and Single Malt Ale, CAMRA's Scottish Champion Real Ale in a Bottle Gold Medal winner in 2010. On a sunny day you can't beat Saligo Ale, a golden beer whose taste brings to mind sandy beaches and sunshine. For a winter warmer, pour yourself a pint of Nerabus Ale, a ruby-coloured beer that has a spicy, black treacle flavour. And if you want a beer that's distinctly Islay, then order a pint of Kilchoman Dark or Kilchoman Pale. Both used malted barley direct from Kilchoman Distillery to give the beer a smoky, peaty taste, just like Islay's single malts.
Where to Try the Local Spirits
Islay & Jura's spirits are available in many of Islay's pubs, restaurants and hotels, including Port Charlotte Hotel, Port Askaig Hotel, Glenegedale House, The Harbour Inn, and the Machrie.
Eating out on Islay
You'll want some great local food to complement your local tipple of choice, be that whisky, gin or beer. On Islay, you're spoilt for choice. Islay's many farms and estates produce fantastic beef, lamb and game, while some of the best shellfish in Scotland is hauled from the Atlantic waters around Islay and Jura. Islay's many restaurants and pubs feature this fabulous local fare on their menus.
Getting to Islay
Get the CalMac ferry to Islay from Kennacraig on Kintyre, landing at Port Ellen (2 hours 20 minutes) or Port Askaig (from 1 hour 55 minutes). Alternatively, why not fly? Flybe runs a twice-daily 35-minute scheduled flight from Glasgow International Airport to Islay Glenegadale. The flight provides spectacular views over the islands and Kintyre.