Things to do with family in Argyll and Isles
Argyll & the Isles has a wide variety of family activities, for all the family to enjoy whilst visiting. Whether it's visiting attractions, taking a boat trip or exploring walking or cycling routes, there are plenty of opportunities to check things on your bucket list, whilst spending quality time with family. 
Walking
Get out and explore the beautiful Argyll landscape on foot this Easter. Hike up a hill, take a stroll through a forest or amble along a beach, there are plenty of walks for you to enjoy in Argyll & the Isles this Easter! How about walking along the Arrochar Alps and the Cobbler which offer breathtaking views and brilliant glimpses of wildlife. A stroll along the Crinan Canal is another delightful thing to do at Easter or why not visit Duchess Wood, a rich and diverse woodland with a variety of different plant and animal species, with a network of paths and bridges, this is a lovely place to visit and enjoy a fun-packed woodland stroll with all the family.
Mountain Biking & Cycling
With its vast areas of forest and mountains, Argyll & the Isles is the perfect place to go mountain biking & cycling with your family. There are thousands of miles of trails and forest tracks to explore. The Fire Tower Trail near Lochgilphead provides a fabulous 12 miles (19.5 km) of riding. There's a whole network of trails from Ardgartan that make for a great day out. The 11km Glenshellish Loop is a good introduction to off-road cycling and kids will enjoy splashing through a ford at the head of the glen! Why not explore some of our recommended cycle and trail routes, which shows routes suitable for families too!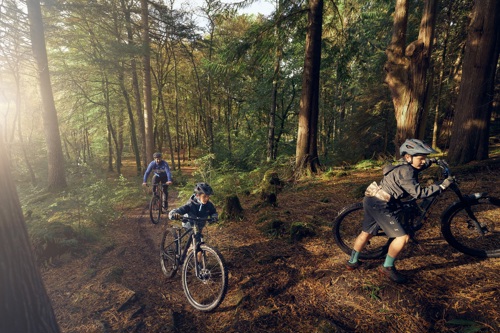 Family Cycling, Credit: KJ Photography
Explore the Kintyre 66
The Kintyre 66 (K66) is an exciting new route that will help you discover one of Scotland's most scenic regions, and what so inspired Sir Paul McCartney all those years ago. With its pristine natural setting, unique coastal character and rich history, you'll never run out of things to do in Kintyre and Gigha. Dine on the freshest seafood and savour some of the world's most famous Scotch whiskies, amazing wildlife and adventures to explore along the way. The Kintyre 66 follows a 66-mile loop around Kintyre on the A83 and B842 public roads, with 6 spurs allowing you to venture even further. Take the Atlantic road south with stunning views to Islay and Jura, and then up the edge of the Kilbrannan Sound overlooking Arran, or why not travel in the other direction, taking time to enjoy all the area has to offer—the choice is yours!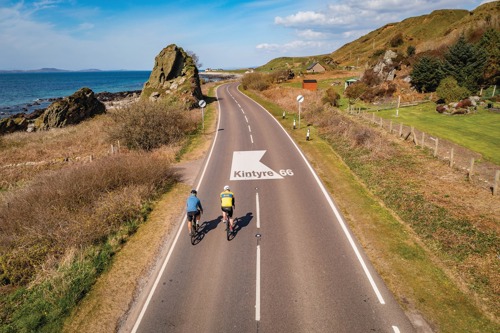 Kintyre 66, Credit: Kintyre 66
Glorious gardens of Argyll
Many of the glorious gardens of the Argyll & the Isles, open for the season during spring, making it the perfect place to visit during Easter. Enjoy magnificent displays of spring flowers in stunning settings, wildlife and hopefully some lovely weather. The gardens at Mount Stuart on the island of Bute look particularly gorgeous at this time of year, and there's an adventure playground too, brilliant to keep the children entertained. Benmore Botanic Gardens near Dunoon is another stunning spot to visit in spring. Ardkinglas Woodland Gardens offers a fun stroll, along the Gruffalo Trail, which is perfect to keep the kids amused, whilst spotting all the little fairy houses and enchanting things it has to offer!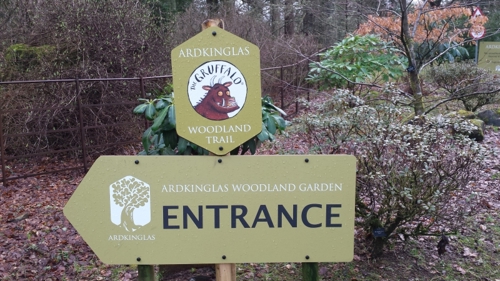 Ardkinglas Gruffalo Trail, Credit: Wild about Argyll
Explore Scotland's Adventure Coast on Horseback 
Cara and Nikki at Wilder Ways offer you an opportunity to take their experienced horses out on an exhilarating journey through some of Argylls lesser-known scenery. Wilder Ways cater for a range of different abilities from newbies looking to try something new to experienced horse riders looking for a new adventure. They even have the option for day treks, horseback archery and have the option to cater for an adventure catered to your needs, with adventures to order, including snacks to be eaten along the way. Perfect for all of the family to enjoy!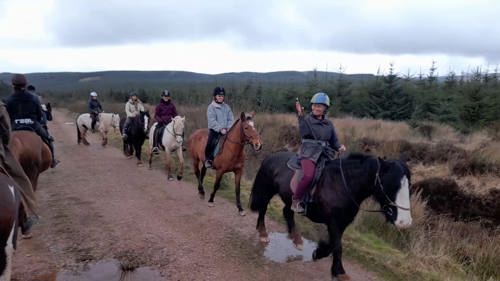 Wilder Ways horseback riding, Credit: Wilder Ways

Castles & History
Fancy heading to one of Argyll & the Isles castles or historic attractions, to learn more about the history of these historic sites, then why not check out Inveraray Castle and Inveraray Jail which makes for a great day out, as does Duart Castle on the island of Mull and Rothesay Castle on Bute. Discover the wonders of Kilmartin Glen, one of Scotland's richest prehistoric landscapes. You'll find standing stones, stones circles, cairns and decorated rocks. You can join a guided walk on Easter Day to find out more about this unique ancient landscape. And to get an insight into Scotland's rural history, head to Auchindrain Highland Township near Inveraray. Vividly imagine life in the old Highlands as you walk through the settlement and see how ordinary people lived and worked. Interested in history, and fancy a discount on visiting historical sites, why not check out the Historic Scotland membership.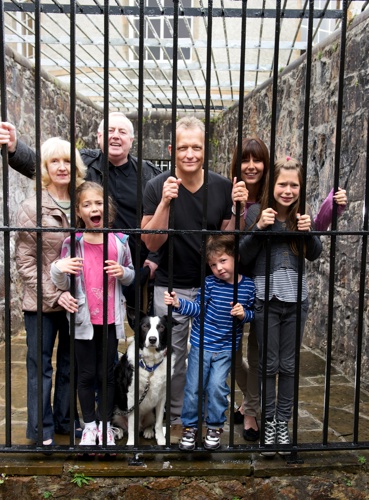 Family Day out at Inveraray Jail, Credit: Wild about Argyll

Wildlife
Argyll & the Isles is home to some incredible wildlife, including otters, red squirrels, basking sharks and beavers. How about heading to Barnluasgan in Knapdale to try and spot the shy beavers – or at least see evidence of their hard work crafting their homes. Look out for red squirrels, ospreys and eagles too. Loch Gruinart and The Oa RSPB reserves on Islay are brilliant for bird watching in spring and makes for a great pass time to spot a variety of different birds. There are many wildlife spots across Argyll & the Isles, maybe take a walk through some of the forest trails on offer and catch a glimpse of the wildlife.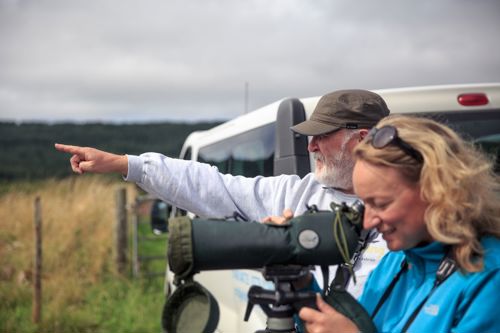 Bird Watching on Islay, Credit: Islay Outdoors
Places to Stay for the Whole Family
Argyll & the Isles is home to numerous family-friendly accommodations and holiday parks. 
Melfort Village
Melfort Village near Oban, for example, is a fantastic place to stay with the whole family. Whether it's marvelling at a breath-taking sunset, exploring rock-pools and skimming stones on the beach, taking long woodland walks with the family and dogs or just relaxing in the Restaurant after a wonderful meal - the opportunities are endless. 
Argyll Holidays Parks
Argyll Holidays has a selction of holiday parks all across Argyll, which offer adventure experiences and accommodation for the whole family. Whether you're looking for a self-catering cottage with a hot tub at Hunters Quay Holiday Village near Loch Lomond, a peaceful and relaxing escape to Loch Eck Caravan Park or an adventure-packed trip to the Drimsynie Holiday Village near Loch Lomond, Argyll Holidays has the right accommodation for your family trip!
Clan Cottages
Another fantastic self-catering accommodation near Oban. Clan Cottages is a family run business, offering five luxury self-catering holiday cottages, that will make you feel right at home. You will be in the midst of wildlife, beautiful mountains and breath-taking scenery which is guaranteed to leave you feeling truly peaceful, however, the town of Oban is a short 10 minutes drive away.