Top Five Hidden Gem Golf Courses in Argyll & the Isles
Scotland is known as the home of golf, so of course, you will find some of the most spectacular golf courses in the world here. You'll also find some of the rawest, original links-style courses, which give both professional and beginner golfers an amazing experience of the way the sport was back in the beginning. 
Golfing Scotland's Adventure Coast
If you're around Argyll and the Isles, there's an abundance of golf course gems for golfers for you to enjoy a round on – from an island course often named one of the best in Scotland to mainland courses surrounded by fresh sea air and the stunning scenery the Scottish Highlands are renowned for. Retired golfer and editor of GolfInfluence.com Jordan Fuller has picked out his top 5 courses in the area: 
The Machrie Hotel and Golf Links, Isle of Islay 
Islay may be known for its whisky more than anything else, but don't miss this excellent golfing opportunity if you're in the Inner Hebrides. Frequently named one of the best courses in Scotland, it's a flat, vast, and classic links course. You can see for miles around when you're on this course, and the remoteness gives you an open, freeing feeling. 
Don't let the flat look of the Machrie course lull you into a false sense of security. Each hole brings its own challenge, and the wind adds to it. It's also easy to get distracted by the beautiful views. 
The first three holes are straightforward and ease you into the gameplay of the course. From the fourth, the winding dunes begin to come into play, with exciting routing and a wide variety of holes to keep you guessing. 
Hole number nine seems to be an unofficial signature hole. The par-3 plays out towards the ocean, with fantastic views and enough challenge to be interesting to golfers of all abilities. Other holes that stand out include the eighth, a short par-4 with a 50-foot drop-off before the green, and the 17th, which includes a blind dogleg and a green shielded by sand dunes.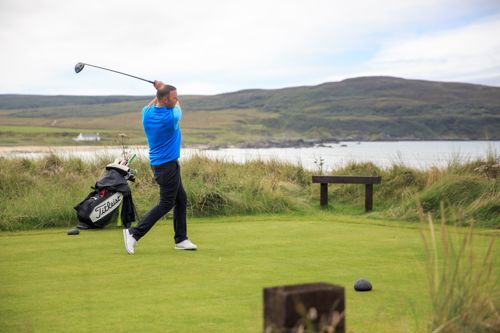 Golf at the Machrie
Ardfin, The Isle of Jura 
You know a golf course is going to be a good play and have spectacular views when your only way to get there is via boat or plane. Situated on the shores of Jura, Ardfin is a stunning, intimate, and remote golf course that is a must-play when in the area. 
It starts on a high, literally, with the first two holes playing along the top of a cliff 200 feet above the ocean. Keep in mind that with ocean courses comes wind, so make sure you have plenty of golf balls before you swing your driver for the first time. 
Here you'll find an eclectic but exciting mix of short, tight holes and generously-spaced fairways. One noticeable thing about Ardfin is the array of intimidating carries, which can be daunting for even experienced golfers. 
Notable holes include the par-4 third hole, which features a scarily narrow fairway; the par-5 fourth, which features a blind tee shot and a 180-degree bend; and the 16th, which demands accuracy off the tee but has some of the best views on the course. 
Ardfin is an unforgettable course. If you can only play one course while you're here, this should be the one—the memories will live on for many years to come!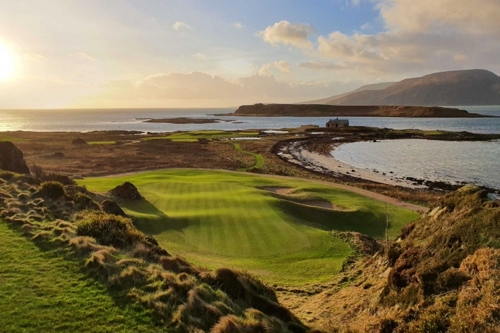 The Ardfin golf course
Glencruitten Golf Course, Oban 
Glencruitten is a unique course featuring ten par-3s, elevation changes throughout, and an eccentric layout that makes the course a fascinating experience for any golfer. Although it's a short course, at just 4,434 yards, it plays much longer thanks to the unusual array of holes and shots, including plenty of uphills. 
You'll be challenged from hole one, which is not only the longest on the course but features a hidden green that you need to reach by shooting through a funnelled corridor. The burn—water hazard—also comes into play on half the holes. 
Keep in mind that it's not an easy course to walk due to its many elevation changes and unique layout. The quirkiness of Glencruitten isn't for everyone, but if you're looking for something different and fun, you can't go wrong with a round here. 
The Carrick Golf Course, Loch Lomond
Carrick may be a challenging course for many reasons, but you can expect smooth, pristine fairways and fast, true greens that make putting fun. 
The first four holes play around a lake and are well-bunkered enough to be a challenging start to the round. You'll have to play over the water on the par-3 second hole, and the third hole features a tricky dogleg that offers a risk/reward scenario. 
You'll find the signature par-3 14th hole to be exciting, played from an elevated tee with lovely views out over the Loch. However, many golfers have raved more about the 13th, which plays through a dogleg to the highest, fir-surrounded green on the course. 
Machrihanish Golf Club, Campbeltown
Situated on the southern tip of the Mull of Kintyre, you'll get the full package at Machrihanish Golf Club - great golf and stunning views. With a true links feel accompanied by a salty ocean breeze, this course provides a fun round that will test every golfer's skills. 
The fairways are bumpy, tricky, and raw here, so come prepared for a true fight! You'll also find many blind shots, rippling approaches, and fast, true greens with unique designs that will test your putting skills. 
After a spectacular opening nine, with the beach coming into play on multiple holes, the back nine is a little more tame and flat. Machrihanish is absolutely worth a play.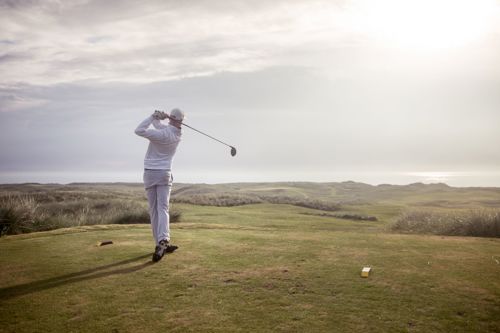 Conclusion 
Whether you live in Argyll and the Isles or you're simply visiting the area, you're guaranteed an unforgettable round no matter which course you choose to play. 
Aside from the spectacular scenery, you're always within a few miles of superb local food and drink. What better way to end a great round of golf than to sample some authentic Scottish cuisine and have a pint? 
About the Author
Jordan Fuller is a retired golfer and businessman. When he's not on the course working on his own game or mentoring others, he's researching and writing articles for his website, Golf Influence.