Spot wildlife whilst cycling in Argyll & the Isles
Pete Creech moved to Argyll 15 years ago. Last year, along with his wife Sue, he started the Crown House B&B in Ford. He is the coordinator at Blarbuie Woodlands, a mental health charity/social enterprise in Lochgilphead, and also finds time for some maintenance at Kilmartin Museum, the occasional roofing job and to volunteer for the Scottish Beaver Trial. A keen cyclist, walker, coastal rower, photographer and wildlife enthusiast he can usually be found attached to a bicycle.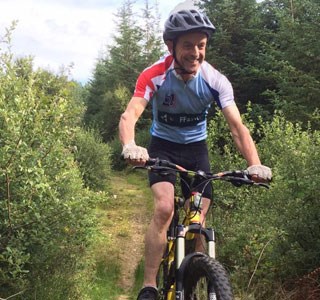 Image: Local Pete Creech
Pete's Top Cycling & Wildlife Spots
I'm not sure who was the most surprised, the pine martens or me. I was heading into a corner alongside Loch Awe while they were using the Armco as a convenient walkway. They both dived for the undergrowth, one of them giving vent to high-pitched yowl as it disappeared. I've seen many pine martens since, but my first encounter with these beautiful animals remains a favourite wildlife memory. I doubt I would have spotted them from a car, or even if walking, it was the bicycle's speed and silent approach that had afforded me this moment.
A subsequent encounter, two mornings in a row, with an otter at Island Add Bridge confirmed the bicycle's role in spotting wildlife.
Both of the above are red letter moments; meeting a red deer stag while travelling at speed downhill on Arran, with another cyclist close behind, was an altogether more hazardous experience. My feeling, hearing the squeal of brakes behind me as I tried to manoeuvre around the deer and not into the path of the bus coming up the hill, was that the bicycle's stealth approach can rebound!
Not exactly wildlife, but definitely a cycling experience, was being sneezed on by a cow at close range during a sportive last year. Top that Mr Packham!
The weather in Mid Argyll is glorious at present, the midges are yet to stir and the light in the mornings is reason enough to drag you out of bed. If I don't set out on a bike it is usually in the back of the car. It will take me along forestry tracks (where motorised vehicles are not permitted) enabling me to visit a number of locations in a morning. This is often to check the series of trail cameras that we maintain as part of our role within the Heart of Argyll Wildlife Organisation. A number of these are monitoring the activities of the Knapdale beavers while others are on trails favoured by badgers, deer and otters, near feeders for red squirrels and even a carrion cam high on a ridge, frequented by an outstanding pair of ravens.
Never the greatest fan of exercise just for the point of exercise, being distracted by wildlife allows me to merge both activities, the sum always being greater than the parts. I suppose cycling allows you to be part of nature through all the senses, something you will never experience while detached in a car.
Likewise watching wildlife, however spectacular through a television screen will never equal the pleasure of feeling, that just for a moment; you are given a privileged insight into a wild creature's life.
Sitting by a farm gate, recovering after negotiating some particularly rough terrain, my evening was transformed as two young hares loped along the track towards me and passed within an arm's span. The feeling of being both privileged to live in such a beautiful environment and humbled by that moment of trust will always remain.