5 places to find special trees in and around Argyll Forest Park
Argyll Forest Park covers much of Cowal, stretching from the Holy Loch at Dunoon to the jagged peaks of the Arrochar Alps. It's Britain's oldest Forest Park, established in 1935 to promote and encourage hill walking and forest recreation. As well as being a great place to go walking and mountain biking, it's also a fantastic destination if you're interested in trees. It's home to many unusual specimens, including the giant redwoods at Benmore. Cowal also has pockets of Atlantic oakwood, which are well worth exploring. If you'd like to branch out and discover some special trees, here's where you'll find them.
Benmore Botanic Garden
Benmore Botanic Garden sits seven miles north of Dunoon in Cowal. Its 49 Hectares/120 acres are home to a world-famous collection of flowering trees and shrubs. As you enter the garden the first thing you'll see is a towering avenue of Giant Redwoods. It's a truly phenomenal sight. Planted over 150 years ago, these giants of the tree world are now over 50 metres high. Stroll down the avenue and you might just spot some red squirrels too! The Chilean Rainforest Glade is also worth checking out.  Chile has nine native conifer species and all are represented at Benmore.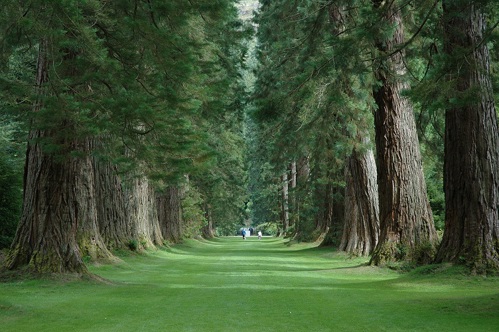 Puck's Glen
Just across the road from Benmore is the magical world of Puck's Glen. The paths and tree planting here were first envisioned by James Duncan, a sugar merchant, scientist and art-collector from Greenock, who owned the Benmore Estate in the 1870s. He wanted the glen to be a wild, magical place reminiscent of the mythological Puck from A Midsummer Night's Dream. Follow the Puck's Glen Gorge Walk, which winds its way up the dramatic rocky gorge with Douglas Firs towering above.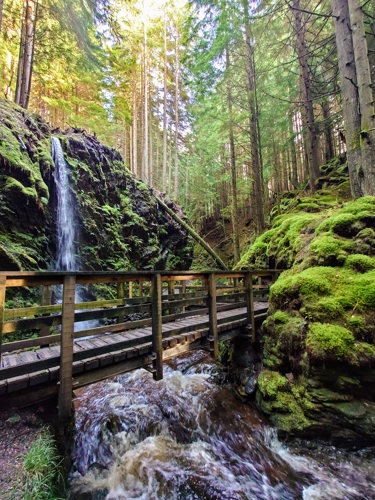 Kilmun Arboretum
Nearby is Kilmun Arboretum. In 1930 the Forestry Commission planted over 260 different tree species at Kilmun in large trial plots to see how suitable they might be for Scotland. Today Kilmun Arboretum is a tree collection of international note. Each species has been planted in a separate grove, so you can take a walk through small forests of silver firs, giant sequoia, coastal redwoods, Oregon maple, Chilean southern beech and more. There are three short walking routes, including the John Jackson Trail, named after a local forester, which provides a brief introduction to the exotic species of the arboretum.
Arkinglas
Ardkinglas Woodland Gardens sits at the head of Loch Fyne in Cairndow. It's a beautiful mountainside setting where you can wander through a huge collection of trees and shrubs. The growing conditions here lead to exceptional size and longevity of some trees. The lower Ardkinglas Woodland Garden, often referred to as The Pinetum, was initiated in around 1875 by the Callander family. This area now provides a home for a number of Champion Trees, the tallest or broadest of their species in Britain. The Champion Trees include 'the mightiest conifer in Europe,' a remarkable European Silver Fir (Abies alba) with a girth of nearly ten metres. Other champions in Ardkinglas Woodland Garden are: Patagonian Cypress, Hinoki Cypress, Western Red Cedar and the unusual Mountain Hemlock. The Abies Grandis was the tallest tree in Britain for a number of years, however it has now been overtaken.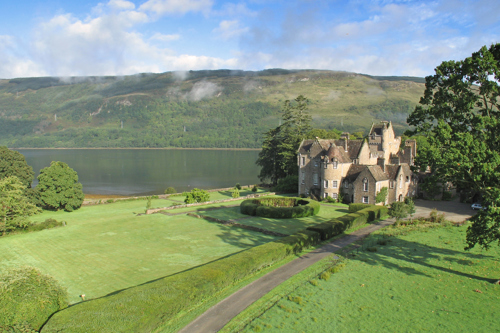 Atlantic oakwoods
There are also precious pockets of ancient Atlantic oakwoods hugging the coast of Cowal. These are the atmospheric oak woods of the Celtic upland fringes, where the mild, moist oceanic climate allows luxurious mats of mosses and lichens to grow. They're usually dominated by sessile oak, with birch, rowan, holly, willows and sometimes ash and alder also present. Glenan Wood on Argyll's Secret Coast is a wonderful example. Take a stroll through the atmospheric woodland and you'll see fabulous gnarled oaks, as well as plenty of wildlife.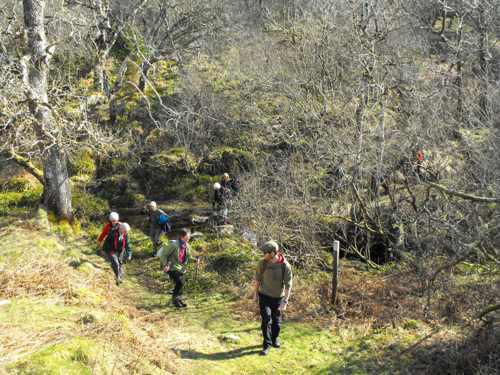 Find out more about Argyll Forest Park.