Looking for the best hiking in Scotland? Head to Argyll & the Isles!
Our stunning region beckons experienced hikers and novices alike with breathtaking landscapes, rugged coastlines, and an abundance of hiking trails waiting to be explored. From the rolling hills of Cowal to magnificent mountains in the Arrochar Alps and Loch Lomond National Park up to the untouched, rugged landscapes of the Inner Hebrides, Argyll & the Isles offers an array of hiking opportunities that cater to hikers of all levels. 
Whether you're a seasoned mountaineer or want to challenge yourself to a longer hike during your visit to the region, this blog summarises some of the best hiking trails Argyll & the Isles - and Scotland - has to offer. So, dust off those walking boots and head on one of these 7 hikes in Argyll & the Isles!
7 Long-Distance Hikes in Argyll & the Isles
1. The Arrochar Alps: The Cobbler
START: Succoth car park, Arrochar.
DISTANCE: 11km / 6.75 miles
APPROX. TIME: 4 - 6 hours
The peaks of the Arrochar Alps provide some of the best hiking in Scotland. And all this is just an hour away from Glasgow! One of the most famous hikes is the Cobbler, also known as Beinn Artair in Gaelic, which has the most distinctive outline of any mountain in the Southern Highlands. The popular shorter hillwalk is perfect for outdoor enthusiasts seeking both a challenging ascent and spectacular views.  
This distinctive mountain stands at 884 meters (2,900 feet) tall and its distinctive rock formation, resembling a cobbler at work, adds to its popularity. The most popular route up the Cobbler starts from the village of Succoth, just next to Arrochar, where there's a car park. Signs guide you to the edge of the forest and after that, you're on open hill ground. The path on the way up has been improved in recent years, making the ascent steep but manageable. As you ascend, you'll reach an initial plateau just before the true summit of the mountain, offering fantastic panoramic views of Loch Long, Loch Lomond, and the surrounding peaks. If you do want to climb out onto the rock pinnacle that marks the true summit of the mountain, some rock scrambling may be required, making this route a Grade 5. 
If you're bagging Munros (Scotland's mountains over 3,000 feet) then you'll find a good few peaks to tick off your list near Arrochar, including Ben Ime, the highest mountain in this mountain range, Ben Narnain, Ben Vane, Ben Vorlich, Ben Lomond and Ben Bhuidhe.

2. The West Island Way
START: Rothesay, Bute
DISTANCE: 40km / 25 miles
APPROX. TIME: 4 stages, 1(very long) or 2-3 days
If you're looking to go hiking in Scotland whilst also taking in some stunning coastal views, the West Island Way on the Isle of Bute is a fantastic option. Bute is only a short journey from Glasgow, making it a great short-trip getaway for your next hiking adventure.
Running the full length of the Isle of Bute for approximately 40km (25 miles), the trail begins and ends in the island's main town, Rothesay, where you'll find historical landmarks such as Rothesay Castle. As you venture along the West Island Way, you'll meander through ancient forests, follow coastal paths with stunning views, and encounter an array of wildlife, including red deer and seabirds.
The route is well marked and mostly off-road, including rocky coastline, beaches, farmland, moor and forest tracks. Only a few short sections follow the roadside but the roads are not busy and there is usually a grassy verge alongside. The thirty-mile trail divides naturally into 4 distinct stages, with the town of Port Bannatyne lying at its mid-point. Discover the stages here.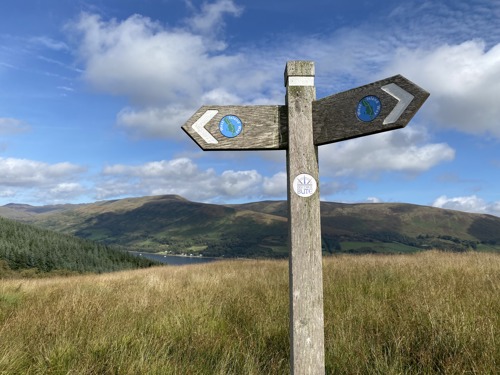 3. Glen Lochy: Ben Lui
START: Car park; Dalrigh on A82. Open start point.
END: Car park near Dalmally. Open end point.
DISTANCE:  10km / 6.25 miles
TIME: 5 - 7 hours
Standing at 1,130 meters (3,707 feet), Ben Lui (Scottish Gaelic: Beinn Laoigh) is one of the most iconic peaks in Argyll with excellent views easily identified from other summits due to its unique shape. We recommend you start your hike from the east, near the village Tyndrum, for a reason mentioned later on. 
Your ascent on grassy paths will take you past other Munros such as Beinn Dubhchraig and Ben Oss before you reach the impressive summit of Ben Lui. The reward for your efforts is a sweeping panorama that encompasses the surrounding Munros and a magnificent view of the lush glens and valleys of Argyll. 
The reason to do the route from the east to west: It ends with a superb run down through muck, forest and water - and finally  wade through the River Lochy to wash it all off at the day's end! You finish your hike at the car park near Dalmally where you've hopefully arranged a lift or left a bike to get back to Dalrigh.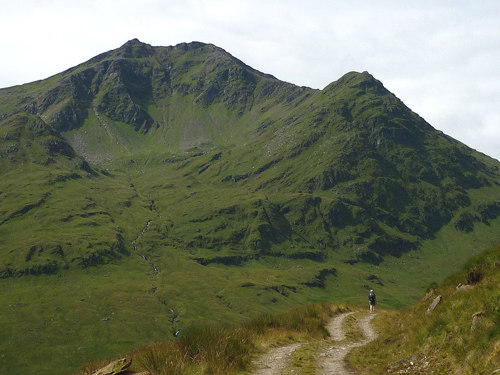 4. Isle of Mull: Ben More
START: Dhiseig village, Isle of Mull. Open start point.
DISTANCE: 9.25km / 5.75 mile
TIME: 5 - 6.5 hours
Standing at 966 meters (3,169 feet), Ben More is not only the highest peak on Mull but also one of the most iconic hikes in Scotland. The Gaelic name of the mountain, Beinn Mhòr, translates to "the great mountain", which is most definitely an accurate description! 
The hike typically commences near Dhiseig village, with a well-marked path leading you through heather-clad slopes and rocky terrain. As you ascend, the landscape transitions from lush woodlands to open moorland, providing stunning views of the island and its coastline. The final push to the summit involves some steep and rocky sections, but the reward is a breathtaking 360-degree view of Mull and its neighbouring islands Iona and Jura. You might even get lucky along the way and spot some of the island's wildlife, such as Mull's iconic eagles, red deer or other birds.
IMPORTANT NOTE: Aug - 20 Oct is deer stalking season. Phone the Benmore Estate (01680 300229) for more information. No stalking on Sundays.
5. Arrochar Alps: Ben Cruachan and Stob Daimh
START: Falls of Cruachan railway station car park. Open start point.
DISTANCE: 13.75km / 8.5 miles
TIME: 8 - 9 hours
For those up for a sturdy walk, Ben Cruachan, or Cruachan Beann in Gaelic, is often hailed as one of the finest hikes in Scotland. Standing at 1,126 meters (3,694 feet), Ben Cruachan is known as the "Hollow Mountain" for its unique dam-created reservoir hidden within. The hikes take you past streams and a number of waterfalls before the hillside route opens to views down onto the famous Loch Awe, the longest freshwater loch in Scotland. 
A fun fact: "Cruachan!" is the battle cry of Highland clans Campbell and MacIntyre.
The pointed peak of the Munro delivers fantastic satellite views of Scotland below. Nearby, Stob Daimh, at 998 meters (3,274 feet), offers a slightly easier ascent, though still challenging, and treats hikers to a stunning perspective of the surrounding peaks, lochs, and glens.  
For experienced Munro baggers, Stob Daimh and Ben Cruachan can be combined with an ascent of Beinn a'Chochuill and Beinn Eunaich.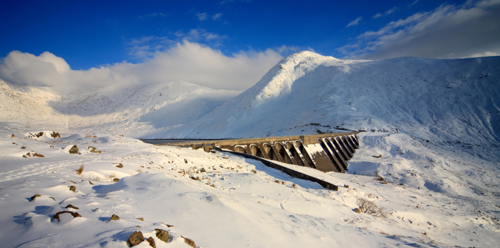 6. Arrochar Alps: Ben Vane, from Inveruglas
START: Inveruglas visitor centre. Open start point.
DISTANCE: 11km / 6.75 miles
TIME: 4.5 - 6.5 hours
Hiking Ben Vane in the Arrochar Alps is a rewarding adventure for those looking for a challenging yet accessible hike in Scotland. Standing at 915 meters (3,002 feet), Beinn Mheadhain - its Gaelic name - might be the smallest of the Munros in Argyll but makes up for its lack in height with real character. 
The hike begins at the Inveruglas Visitor Centre on the shores of Loch Lomond, taking you on a steep climb with Ben Vane looming in front of you, like a rough pyramid of rock and grass. The summit rewards hikers with a stunning panorama of Loch Sloy and the surrounding peaks of the Arrochar Alps. Despite its relatively modest height, Ben Vane provides a memorable experience for hikers, combining a physically demanding ascent with breathtaking Highland scenery, making it a fantastic choice for both experienced mountaineers and those looking to conquer their first Munro.
Learn more about this hike in a blog written by travel writer Kathi of Watch Me See here.
Image Credit: Watch Me See
7. Luss, Loch Lomond: Beinn Dubhchraig (Beinn Dubh)
START: Luss car park. Open start point.
DISTANCE: 11.5km / 7.25 miles
TIME: 3.5 - 5 hours
This slightly shorter hike starts in the charming village of Luss in Loch Lomond National Park, only a short drive from Glasgow. Beinn Dubhchraig, which means "mountain of the black rock" in Gaelic, stands at 657 meters (2,156 feet) and is a popular choice for hikers looking for a more accessible and family-friendly Munro.
As you ascend Beinn Dubh, you'll walk through enchanting woodlands and open grassy slopes, making it a scenic and relatively easy ascent. Once at the summit, you're rewarded with a breathtaking panoramic view of Loch Lomond and the Arrochar Alps. For your way back, you could either choose to simply walk back on the same route to Luss or complete a horseshoe circuit of some 12kms taking in another hilltop, Mid Hill, at 623m.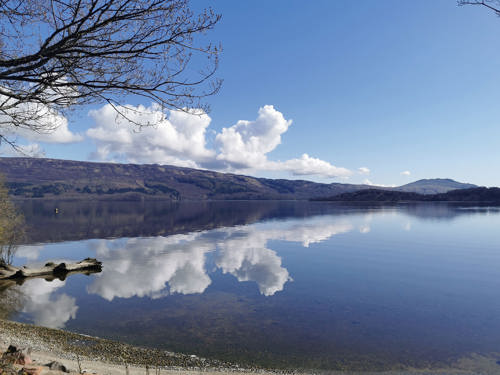 Image: Stay at Luss Campsite after your hike to wake up to these views.
Before you put on your hiking boots…
When hiking in Scotland, you'll often find yourself in locations such as working farms, estates and areas protected for their conservation value, and we encourage you to act responsibly and respect your surroundings. Respect. Protect. Enjoy.
Always ensure you are prepared; information and practical advice on how to stay safe can be found by reading about Safety and skills in the mountains from Mountaineering Scotland
Be aware that the owners of the land you are crossing might be engaged in deer management and other farming activities and you can help minimise the chance of disturbance. Read more about it in the Heading to the Hills practical guide.
Are you looking for a leisurely stroll through nature instead? If you want to simply stretch your legs and enjoy Argyll's stunning views, you can select one of our many short-distance walking trails. Why not invite family and friends to join you?