Discover Dunoon: 8 Things to Do in Dunoon
Head 'doon the watter' and discover Dunoon
Nestled amidst the picturesque landscapes of Cowal, Dunoon stands as a hidden gem waiting to be explored. This charming coastal town, with its rich history, stunning natural beauty, and welcoming community, is a wonderful destination for both weekend breaks and longer holidays. 
It also plays host to the Cowal Highland Gathering, one of the biggest Highland Games in the UK, and CowalFest, an annual walking festival, plus a mix of sports, music and family-focussed events. So in other words, Dunoon never gets boring! 
This guide sums up some of our favourite things to do, restaurants and accommodations in Dunoon. 
8 Things to Do in and around Dunoon
Dunoon is a popular choice for tourists and day-trippers from all around Scotland. Arriving at the ferry terminal in Dunoon, you get greeted by the Dunoon pier, instantly transporting you back to Victorian times. Head into town and discover an excellent selection of craft shops and galleries, including Bookpoint Dunoon, a quirky bookshop and cafe. Learn all about the history of feuding clans at the Castle House Museum, escape into nature with a visit to Benmore Gardens or head out on Dunoon's water with Wreckspeditions. Dunoon has it all!
There's a lot to do here, view our list of the top 8 things to do in Dunoon:
Glenfinart Walled Garden
Benmore Gardens
Puck's Glen
Argyll Forest Park
Head out with Wreckspeditions
Dine out in Dunoon
Let's take a closer look in and around Dunoon!
1. Castle House Museum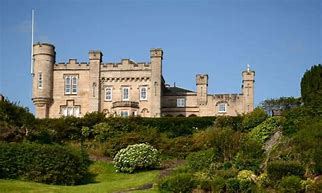 Do you want to learn more about the fascinating history of Dunoon and Argyll? Pay Castle House Museum a visit, near Dunoon Pier. Learn about the Neolithic settlers of Dunoon and Argyll, and the history of the mighty Dunoon Castle, and get lost in the tales of bravery and love when you see the lost artefacts that the Castle House Museum holds. It's a great thing to do in Dunoon on a rainy day or for the whole family!
Head to the Castle House Museum website to discover upcoming events, such as 'Night At The Museum' or the popular Victorian Christmas weekend.
2. Dunoon Burgh Hall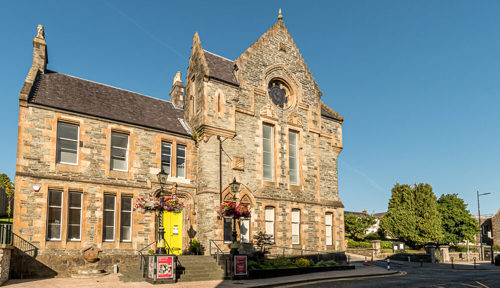 Located in the centre of Dunoon town, Dunoon Burgh Hall is considered the cultural hub for many in Cowal Peninsula and Dunoon. The stunning Burgh Hall is a fully accessible venue for exhibitions, performances and gatherings. Alongside a gallery and theatre, the venue offers creative workshop space, a garden and a cafe. 
Check out their website for upcoming events.
3. Glenfinart Walled Garden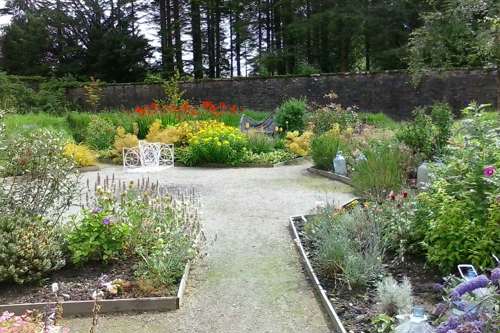 Image Credit: Visit Scotland
Visiting the Glenfinart Walled Garden near Dunoon is another great thing to do, especially if you're in the mood for a picnic on a sunny day. Located in the nearby village of Ardentinny, this little hidden gem is a tranquil spot away from the bustle of town. Take a stroll through blossoming orchids and fruit trees, with fresh fruit and vegetables available to buy to complement your journey.
4. Benmore Gardens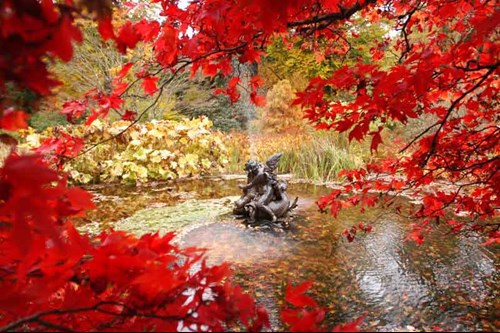 Benmore Gardens spans over 120 acres and is renowned for its diverse collection of plants from around the world. Strolling through the garden, you will encounter towering Giant Redwoods, woodlands full of bluebells and rare exotic species. If you're visiting in spring, you will be met with a blaze of colour as one of the world's finest collections of rhododendrons puts on the most spectacular display.
To get to the gardens from Dunoon, head on a scenic drive along the A815 road and soak in the breathtaking views of Loch Eck and the surrounding woodlands. West Coast Motors also runs a regular public bus from Dunoon town centre.
5. Puck's Glen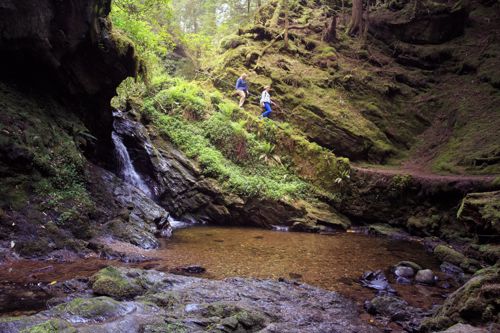 Puck's Glen is magical woodland near Dunoon and the perfect place for a walk – whatever the weather! Follow a magical trail that winds along a Victorian walkway up the dramatic rocky gorge that is said to be home to mischievous spirits. Keep an eye out for the mystical Ghillie Dhu!
To reach this magical woodland spot from Dunoon, head on a short drive northward, following the A815 road. There's a car park available. If you're using public transport, buses between Dunoon and Inveraray can stop at the entrance to Puck's Glen on request. A 1 mile trail links Puck's Glen with Benmore Botanic Gardens where there is an official bus stop. 
6. Argyll Forest Park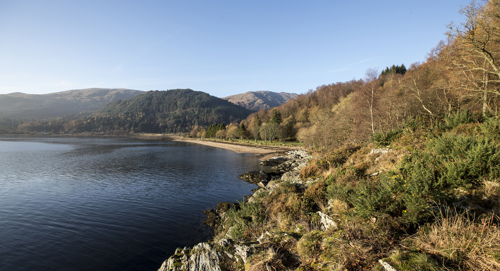 Argyll Forest Park stretches across much of Cowal where you'll find miles and miles of woodland along with hills, glens, moorland, tumbling rivers and waterfalls. It's Britain's oldest Forest Park, established in 1935 to promote and encourage hill walking and forest recreation. As well as being a great place to go walking, you'll find plenty of mountain biking tracks. 
You can find a selection of biking trails on the Action Argyll website.
7. Head out with Wreckspeditions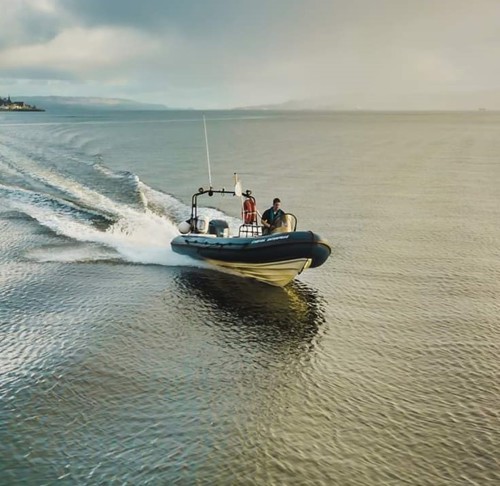 Wreckspeditions is your one-stop spot for exploring the landmarks of Dunoon that you can't access on land. Catering for up to 8 persons, they provide trips on their speedy "Starfish Enterprise" boat ranging in duration from as little as 30 minutes up to a full day. It doesn't matter whether you want to go fast or slow, whether you are after a story filled adventure or you just want a silent cruise - Wreckspeditions tailors their tours to your idea of adventure.
There are countless possibilities for adventures on the Clyde, and many personalised trips on offer such as gin distillery visits, deserted islands and much more. You can even dive and uncover the various underwater wrecks and ruins of the West Bay and the surrounding area, which is one journey you should not miss out on while visiting Dunoon.
8. Dine out in and around Dunoon
Just like anywhere in Argyll, Dunoon is a paradise for foodies with options that cater to all tastes whilst prioritising locally sourced ingredients. The 51st State in the heart of Dunoon town serves a mixture of Italian, American and Tex-Mex flavours, in the setting of a traditional American-themed diner. If you're looking for a quick lunch fix, visit Coast Coffee in Dunoon. This small take-away-only cafe at Dunoon Pier serves a variety of speciality drinks as well as wraps, toasties and bagels. 
Heading out of Dunoon towards Inveraray, you find The Whistlefield Inn. This traditional Scottish Inn serves hearty, locally sourced meals in a warm and inviting setting. There is also a selection of rooms available, so you can wake up to spectacular views over Loch Eck. And, for a touch of coastal charm, Blairmore Cafe is a must-visit, offering locally sourced food with spectacular waterfront views. 
Accommodation in Dunoon
If you're planning on staying in Dunoon, Douglas Park Guesthouse on the seafront in Dunoon is a great option. This 4-star B&B combines high-quality rooms with the personal west coast charm Argyll & the Isles are known for. Your host Kenneth will also be able to provide you with some top tips for the region and has a story or two up his sleeve.
On the outskirts of Dunoon, you'll find Hunters Quay Holiday Village, the perfect spot to stay for a longer getaway with the whole family. There's never a dull moment at the award-winning park, with all the activities and facilities you could wish for, for happy kids and happy families!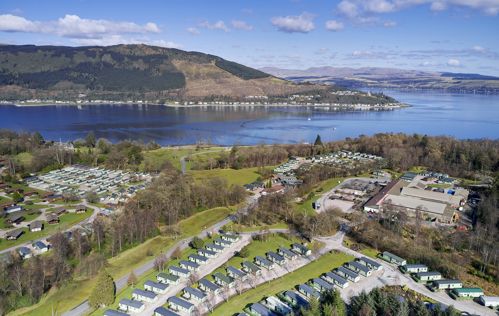 Getting to Dunoon
If you are travelling to Dunoon from Glasgow by car and ferry, it should take around an hour and a half to get there. You can also take the train or bus, like West Coast Motors, from Glasgow Central to Gourock and then take one of the Argyll ferries over to Dunoon's Terminal. We'd recommend bringing your bike to explore the region on two wheels rather than four!