Experience something different this Valentine's Day in Argyll & the Isles
Argyll & the Isles is the perfect place to celebrate Valentine's Day, from value-packed short trips to dreamy landscapes over luxurious spa getaways and adventurous activities, there are so many things to experience together this Valentine's Day! Escape the crowds, discover pristine beaches, walk-in ancient woodlands, sip on a peaty dram, feast on seafood, watch the sunset over the water and gaze in wonder at the Milky Way. Do something different this year and celebrate Valentine's Day, Argyll style!
Value Packed Short Trips this Valentine's Day
If you and your partner love the great outdoors, then Argyll & the Isles is for you. Argyll has unique outdoor experiences to offer, many of them within an hour's drive of Glasgow. Discover the Arrochar Alps or go mountain biking in Argyll Forest Park – the opportunities for sharing a Valentine's Day adventure are endless.
If you're on a budget, why not head to the Isle of Bute via public transport from Glasgow? Jump off the ferry in the bustling town of Rothesay and grab a coffee at Bute Coffee before picking up your rental bikes from Bike Bute to explore the island. Plan your weekend on Visit Bute.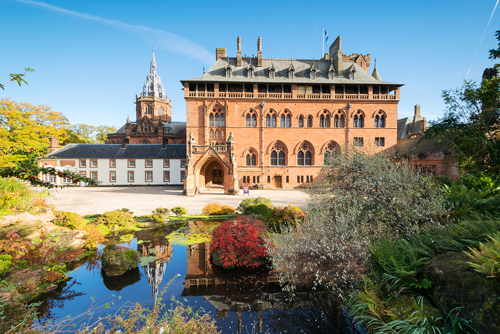 Head over to thew Isle of Bute for a romantic stroll through Mount Stuart's gardens.
Alternatively, you could venture into Loch Lomond National Park to take in the stunning scenery. Pack some snacks and discover spectacular walks that are off the beaten path with your significant other. If you're looking for a family-friendly Valentine's Day, head to the small village of Luss. Wander to the southern fringes of the village to get away from the crowds, crossing a wee bridge across the burn and exploring the forest and quieter sections of lochside scenery. If you're looking to stay the night, head to Luss Campsite for a budget-friendly stay.
Or how about discovering one of Argyll & the Isles' beautiful beaches? Pack a picnic, build a fire and enjoy a windswept stroll. You'll probably have the beach all to yourself! You can find a selection of fantastic beaches on our Beach Hunt Trail.

Head to the Arrochar Alps for an adventurous outdoor Valentine's Day - and make some lifelong memories together. Image: View from Ashfield House
Relax at a romantic Spa Getaway
If you want to unwind with your partner amid beautiful scenery, then how about treating your Valentine to a spa experience in Argyll? Whisk the one you love away this Valentine's Day to the bonnie banks of Loch Lomond for one of the most romantic hotel experiences in Scotland at the five-star hotel & spa Cameron House.
There are some wonderfully romantic hotels to choose from too, including Loch Melfort Hotel, a stunning retreat with views to the Sound of Jura and the Inner Hebrides beyond.
Or why not stay in a castle? There are a few things more romantic than staying in a castle. Barcaline Castle near Oban is the perfect romantic getaway for a special occasion. Set against breathtaking views of the snow-capped mountains of Glencoe, the luxurious B&B castle is ideal for couples seeking a romantic break in the Scottish countryside.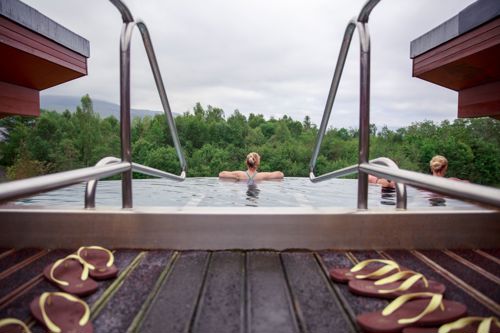 Surprise your Valentine with a romantic Spa getaway to Cameron House
Take your Valentine out for a Romantic Meal
You're spoiled for choice when it comes to romantic dining in Argyll. You'll find excellent eateries in stunning locations. The Colintraive is a wonderful small hotel and pub hidden away on Argyll's Secret Coast. Located on the edge of The Loch Lomond National Park, it is less than 2 hours from Glasgow. Take in the stunning sea views whilst tugging into their 3-course Valentine's Day menu, consisting out of the freshest local produce. Why not stay the night and head to the Blairmore for lunch the next day? The local café is famous amongst the local community for delicious homemade cakes, delicious local produce and fantastic views.
Argyll is renowned for its seafood, and what could be more romantic than sharing a bottle of wine and some of Scotland's freshest seafood? Why not try Loch Fyne Oyster Bar in Clachan, Cairndow, where the oyster bar provides a range of seafood dishes, soups and meat options, along with an array of sweet treats to finish. 
Not able to make it during the week? The Portsonachan Hotel offers their fantastic Valentine's Day evening menu all week. With stunning views over Loch Awe, this dinner will most certainly be unforgettable – even a few days late!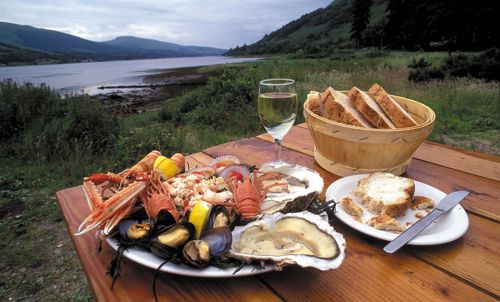 What's more romantic than a dinner with a fantastic view? Image: Loch Fyne Oyster Bar
Try Wild Swimming This Valentine's Day
Have you been thinking about trying open-water swimming? Argyll & the Isles is known for its incredible coastline, islands, and lochs, making it the ideal destination to try this popular sport. Make this Valentine's Day unforgettable as you and your special someone take the plunge with experienced wild swimming coach Bekah to keep you safe. For just £30 per pair, you can discover if taking a cold dip will ignite the flames of love! 
Experience Details
Location: Wee Ganavan, Oban. Duration: 30-45 minutes inc. pre and post-swim. Wetsuits are not essential. Reach out to Bekah directly to book your session via email, phone, or message.
Why not make a short getaway out of it? Head to Oban via train from Glasgow to discover the bustling coastal town, known as Scotland's Seafood Capital! Enjoy a fantastic tasting menu at Michelin-Star Restaurant Etive before heading back to one of Oban's many accommodations.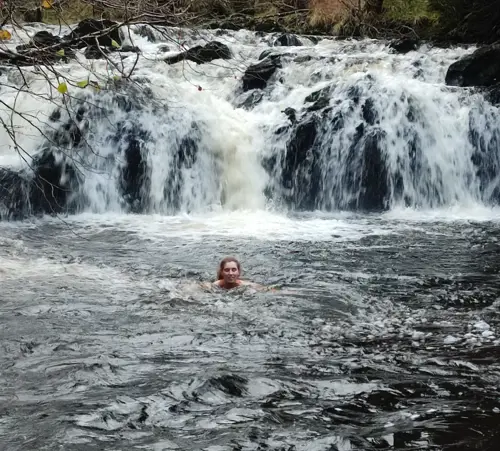 Try something new this Valentine's Day and go wild swimming. Image credit: Bekah's Oban Wild Swimming
Sweet Treats & Local Valentine's Day Presents
Looking to support local artists and producers when buying your Valentine's Day presents this year? Argyll & the Isles has a selection of fantastic artists, producers and shops that will make shopping for this year's Valentine's Day present much easier. The Mansefield Studio in the heart of Loch Lomond National Park is a contemporary craft gallery showcasing the work of independent designers and makers from Scotland.
Enjoy a Distillery Tasting this Valentine's Day
For something different, how about enjoying a whisky tasting experience together? Argyll has 14 world-class distilleries dotting its coastline. There's nothing quite like sampling the product right there in the region's historic distilleries and most offer guided tours ending with a large dram. Glen Scotia Distillery, Oban Distillery, Lagavulin Distillery and Caol Ila Distillery, are just a few of our whisky distilleries perfect for a day out of sampling whisky on their tours.
If gin is your preferred tipple, check out the Argyll & the Isles gin distillers including Kintyre Gin, Isle of Bute Gin, Lussa Gin and Wild Thyme Spirits. Many local craft gins & whisky are also available at selected shops for you to experiences at home. 
If you are interested in more information surrounding distilleries in Argyll & the Isles check out our Beer & Spirit Trail.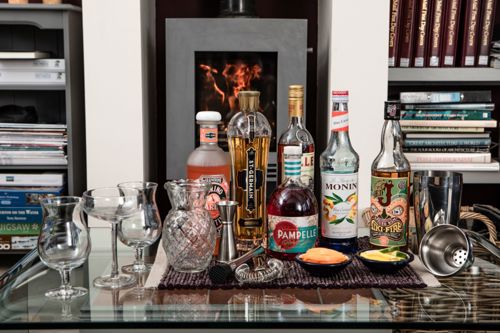 Enjoy a wee dram this Valentine's Day - either at a tasting experience or from the comfort of your own home. Image: Wild Thyme Spirits.
Whatever you do, we hope you enjoy celebrating Valentine's Day in Argyll & the Isles!​