5 Amazing Scottish Island Holidays to Get Away From It All
Argyll & the Isles is known across the UK for stunning coastlines, white beaches and exceptional wildlife. Whether you've only got a couple of days or a couple of weeks, head on an island-hopping holiday to experience our rich history, variety of wildlife, and excellent food and drink. Here are five amazing Scottish island-hopping getaways to provide you with some bucket list inspiration for your next holiday.
Islay, Jura & Colonsay
The three jewels of the sea, these Inner Hebridean islands will fill you with joy and enrich your well-being. The Isles of Islay, Jura and Colonsay all boast spectacular beaches and mesmerising wilderness. Home to a vast variety of birds and wildlife, big unblemished skies and, of course, world famous distilleries, these islands are surrounded by the Atlantic Ocean and will have you relaxing with the peace and quiet, tapping your toes to traditional music, tantalising your tongue with the local produce or delighting your ears with the sounds of nature – not least the elusive Corncrake.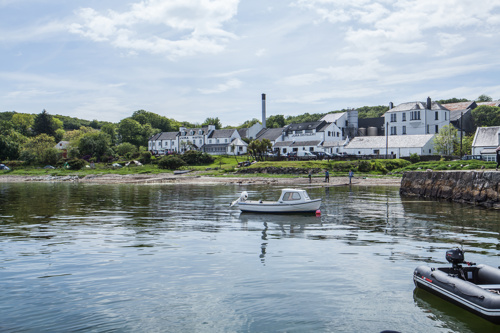 The Isle of Jura
Islay
Southernmost of the Inner Hebrides, Islay is famed for its smoky whiskies, overwintering geese and miles of sandy beaches. Also known as 'the Whisky Isle' visiting one of the many single malt distilleries on Islay is a must do when exploring the island. You can tick three iconic distilleries, Laphroaig, Lagavulin and Ardbeg, walking the three distillery pathways. To meet the locals, go on a sea adventure with Islay Sea Adventures, who offer wildlife boat tours around the island. From seabird spotting to sailing by the Gulf of Corryvreckan, the third largest whirlpool in the world, you'll enjoy some unique experiences. Fancy a game of golf? Experience the iconic Machrie Golf Links!
Places to Stay on Islay
There's a good supply and variety of accommodation on Islay all year round from bed and breakfasts to hotels to self-catering options. Some of our top recommendations would be: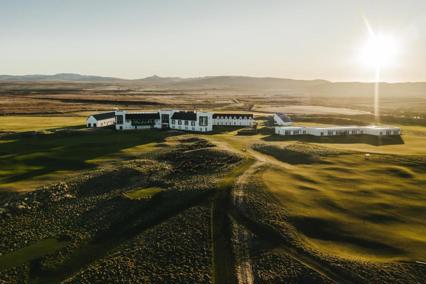 Jura
From Islay, it is a short trip to Jura, one of the wildest places in Scotland. Considered one of Scotland's last wildernesses with a population of around 200 outnumbered by over 5000 deer. George Orwell famously travelled here to find the peace and quiet he needed to complete his most famous work, 1984.
Colonsay
For lovers of wildlife and remoteness, Colonsay is one of the most remote inhabited islands in the Inner Hebrides and is of great interest for birds, the machair and archaeology. The island and neighbouring Oransay, accessible at low tide, havebeen inhabited since 7000 BC meaning there are many archaeological remains to explore and get a sense of life here in years gone by. Shop and eat local while you're there, with everything from award-winning oysters and island honey to gin and beer, and unique arts and crafts.
A stay at Colonsay Holidays will leave you with lifelong memories.
The Isle of Bute
The Isle of Bute is an island known for its wildlife, beautiful scenery and great beaches. Bute is also the most accessible of Argyll's islands, with a short 40 minute ferry crossing across the Firth of Clyde from Wemyss Bay and an even shorter 3 minute crossing at the top of the Island from Colintraive. Thanks to its quick accessibility, and its balmy climate with lots of palm trees, it has been a popular holiday spot to come 'doon the watter' for a week of fresh air and sunshine.
Being only 15 miles long, Bute is a lovely place to explore on foot or by bike. Hire an e-Bike with Fyne Bikes or bring your own bikes with you to explore the island independently. Head to the North side of Bute to experience ancient woodland, commercial forestry, moorland, a rocky coastline and a strong sense of remoteness. A large area is the Bute Community Forest which recently opened a set of Charcoal Huts for you to truly immerse yourself in the forest landscape overnight. Alternatively, stray at Boat House Super Suite in Rothensay to experience this bustling wee town.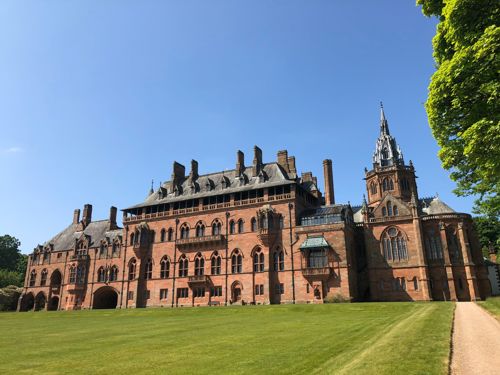 Mount Stuart
Mount Stuart is a must-visit whilst on the Isle of Bute. Mount Stuart is one of the world's most impressive neo-gothic mansions. Home to the Stuarts of Bute, descendants of the Royal House of Stuart, the flamboyant house and its 300 acres of gardens are often referred to as Bute's jewel in its crown.
Head to Visit Bute to discover more things to see and do on the Isle of Bute.
Coll & Tiree
Coll
Coll enjoys some of the highest sunshine hours in the UK per annum, so be sure to take a walk on the secluded beaches, marvel at the fantastic wildlife and enjoy a dram or two in the friendly Coll Hotel. Located far from the obscuring haze of light pollution, Coll has some of the darkest skies in Europe and offers fantastic star gazing opportunities, such as Coll and the Cosmos - an astronomical adventure. Even on a rainy day, Coll's community centre, An Cridhe, offers a great space to relax, read or play sports, alongside the locals, making all visitors feel welcome.
Places to Stay on Coll
Depending on your preferences, stay at the award-winning Coll Hotel or Tigh na Mara Guesthouse for an all-around cosy stay. If you're travelling on a budget, the Coll Bunkhouse offers fantastic rooms for affordable prices.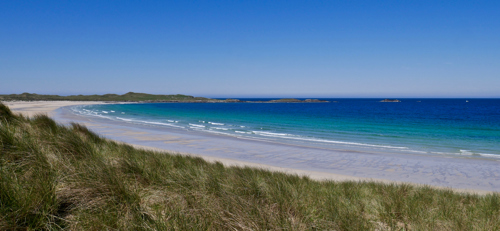 Tiree
Known as the 'sunshine Isle', Tiree is home to some of the best beaches in Scotland. If you seek tranquillity, freedom of space, and clean pure air, the Isle of Tiree has it all. Though only 12 miles long and 3 miles wide, the sky and sea stretch from horizon to horizon. With no woodland and only three sizeable hills on an otherwise flat landscape, there is nothing to obscure the view. There is something of a fascination for all visitors, young and old. The beautiful beaches provide miles of potential sandcastles, gently sloping paddling pools, and windsurfing for the more adventurous.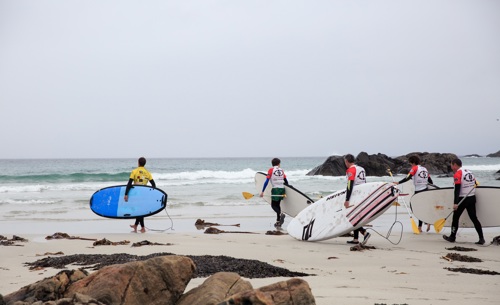 Mull & Iona
Mull and Iona together provide breathtaking landscapes and coastlines. Add some rare wildlife, delicious local food and drink, inspirational culture and lots of outdoor activities for an unforgettable island experience. Short on time? Head on the three-island tour with West Coast tours from Oban to explore the Isles of Mull, Iona and Staffa within one day.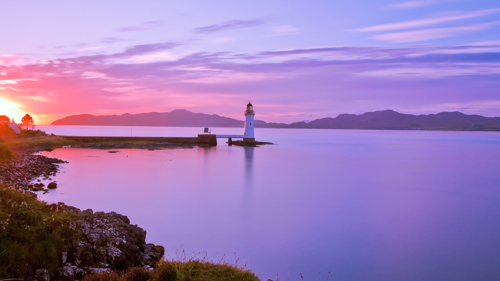 Isle of Mull
Mull is an island of delightful contrasts, not only in its landscape and unique natural history but also in archaeology, culture and history. The northwest of the island feels remote and wild, with the chance of spotting whales or dolphins from the coastline. Picturesque Tobermory has specialist shops, excellent eateries and visitor attractions with colourful houses circling the pretty harbour.  In the southwest of the island, The Ross of Mull is famed for its outstanding coastline of shell-sand beaches peppered with outcrops of pink granite. Explore the islands through the Mull & Iona Wild Isles, the Food Trail and Mull and Iona Art Trail.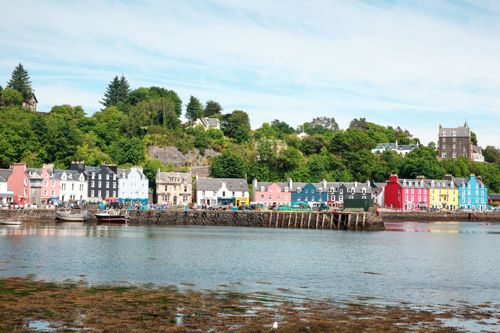 Isle of Iona
This tiny island sitting less than a mile from the southwest tip of Mull is famed for its serenity, tranquillity and beauty. The unique history of Saint Columba and Iona Abbey makes Iona a place of pilgrimage, but the island also has a rich cultural heritage which inspires creative people to live, work and visit. Despite its size, Iona is a thriving, welcoming community with shops, eateries, outdoor activities and events.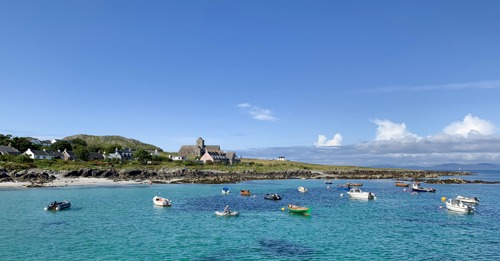 Isle of Gigha
Unhurried, unspoiled and unforgettable. Explore Kintyre and Gigha to experience a place like no other. The beautiful Kintyre peninsula is swept by the warm Gulf Stream and is one the sunniest and driest areas on the west coast of mainland Britain. If you're seeking a true sense of tranquillity, Gigha is the place for you.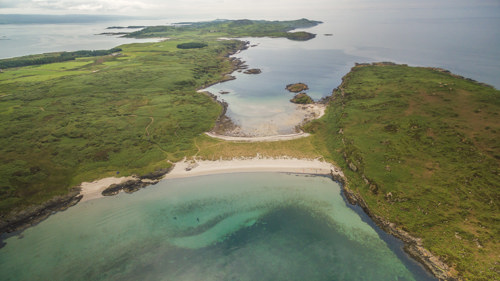 The community-owned Hebridean island of Gigha is just a short three mile ferry from Tayinloan. It basks in higher than average sunshine hours with exotic gardens, bleached white beaches and vast clear skies. When you visit you'll understand why it was named 'God's Isle' by the Vikings. The Isle of Gigha Campsite is the perfect base for your island explorations, which newly built facilities and stunning coastal views to wake up to.