How to be more sustainable whilst travelling Scotland
Did you know that the travel and tourism industry makes up 8% of the world's carbon emissions? Making travel and tourism a significant contributor to climate change, which can affect the future of tourism, people, wildlife, and the planet? It doesn't have to sound so daunting as there are many things we can do as tourists, that can help reduce our carbon footprint.
Use more efficient Transport
We all know that transport is one of the biggest carbon polluters in the world. Therefore, it is important to think more consciously about the way we travel. Many forms of travelling may include air travel and driving- which makes up the largest part of tourism's carbon footprint, but some modes of transport can be a lot more efficient and cleaner, which makes it important to substitute less clean and efficient ways of travel for cleaner and more efficient modes of transport.
Why not try swapping driving to your destination for coach travel, West Coast Motors provide a range of different routes around Argyll & the Isles from Glasgow, or why not travel by train with Scotrail to your destination. This allows any keen traveller to take their eye off the road and absorb the stunning scenery along their travels.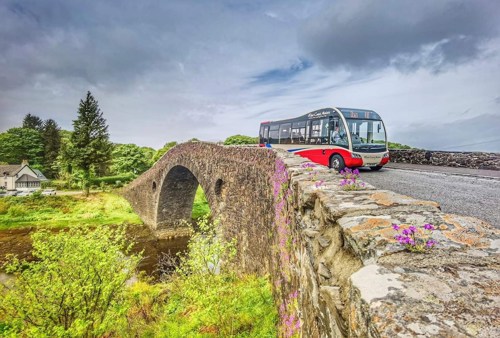 Cross the Bridge over the Atlantic by bus!
In Destination: Where two wheels heels are often better than four!
When in destination, don't forget you can still take local buses and trains to destinations, or the good old-fashioned way of walking, but for those slightly longer journeys there is a range of local providers who provide cycling bikes and E-bikes for those looking to seek viewpoints uphill without being restless. Fyne Futures on Bute provide a range of E-bikes for hire, be sure to check them out!
Don't forget bringing your bike is most welcome in most accommodations around Argyll & the Isles (Just be sure to ask beforehand!). Scotrail's highland Explorer Carriage, CalMac and Western Ferries are also happy to accommodate bikes whilst travelling!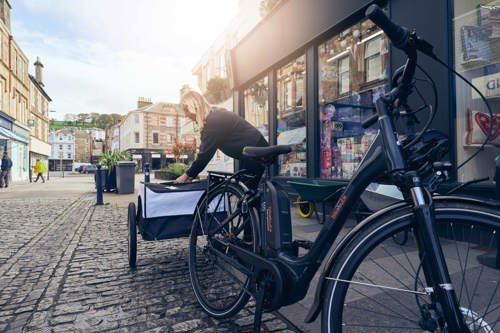 The Isle of Bute is better explored with two wheels instead of four!
Slow your trip down, stay longer & see more!
We all know that in today's world, things are a lot more fast-paced than they use to be, and we have more responsibilities to deal with, but it is important to take time away from stressful environments to enjoy yourself and the world around you. Try not to over-load your trip, by trying to see everything you want before you leave. There are always opportunities to come back and re-visit the places you never managed to see. Enjoy the location you are in without the stress of moving on to the next without missing the hidden gems each destination in Argyll & the Isles it has to offer.
Instead find an ideal location in the centre of your destination to stay, whilst commuting via bus, walk or cycling to get to these locations to explore- this allows any traveller to immerse themselves in the culture, meeting the locals, and iconic attractions which surround your location, making for a more fulfilled trip. It has great benefits for the environment too, as it reduces the amount of carbon footprint generated by travelling from destination to destination, whilst supporting local businesses by spending more time in the area.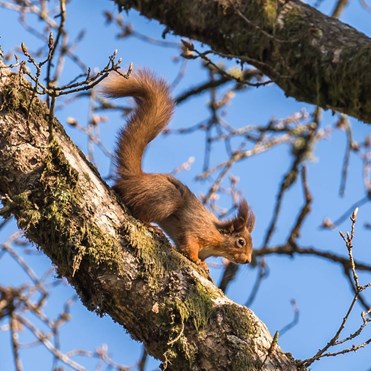 Red Squirrel spotted in Cormonachan Community Woodlands by Loch Goil, Credit: @seelochlomond
Accommodation and operators
It is important to realise as a tourist, you are helping to support local businesses and operators within the area. Lots of accommodation, food, and tour providers have become more sustainable over the years- to help decrease the carbon footprint and found that there was a new market of sustainably conscience travellers who look for providers who are eco-friendly and sustainable in the way they conduct their business. It is important to look for information that is going to support sustainability within a business, do they have alternative and more sustainable uses for plastic? Use local produce in meals? Do they promote sustainable travel? And so forth…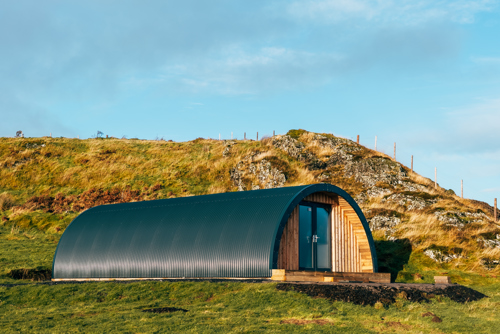 Luxury Nature Cabins on the tranquil Isle of Luing, Credit: WildLuing
Sustainable Accommodations
There are many ways in which businesses promote sustainability, this can be from the type of accommodation they provide, such as Loch Riddon Bothy, which provides a beautifully isolated eco-cabin overlooking Loch Riddon. The likes of Garragh Mhor B&B and Knipoch Hotel near Oban, provide delicious vegan and sustainably sourced breakfasts, helping to decrease the carbon footprint created, by farming. Food providers within Argyll & the Isles tend to offer sustainably sourced meals from local food providers- to eliminate transport fuel emissions, and many tour providers ensure they provide eco-friendly tours, whilst promoting responsible interactions with nature and wildlife.
A few niche businesses such as Heathery Heights are perfect for exploring wildlife and nature by foot, perfect for those seeking slow adventure. Whereas, Basking Shark Scotland and Beagle cruises, are both activity tour providers who are passionate about running activities which have little impact on the marine environment. So be sure to get the most out of your holiday, using sustainable providers!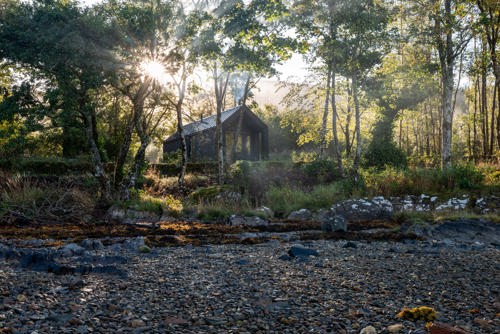 Want to escape it all? The Kabn Company, located on the shores of Loch Fyne, is the perfect escape from the distractions of everyday life.
Be respectful of communities
When visiting different destinations, it is sometimes forgotten that we are visiting the local's home. It is important to be respectful of those who live within these locations, and for those who operate here. Small, remote locations are sometimes not used to the overwhelming number of tourists, which has since occurred due to stay-cations during the covid-19 pandemic. It is important to be mindful of this when visiting the area. Especially when visiting little hidden gems nearby.
Be sure to check ahead of your trip the best route of transport, and available parking options, or better still, take public transport, cycle, or walk to these locations, making it a full day out. There can often be a lot of debate around wild camping in such areas, but if tourists are respectful of the environment around them, keep the surrounding environment clean and how it was found- there is usually no issue. Be sure to check out the safety outdoors and Scottish Outdoor Access Code to find out more about the leave-no-trace policy. Wild camping can be one of the best experiences you can have in Scotland, but only if we work together to ensure the environment is cared for!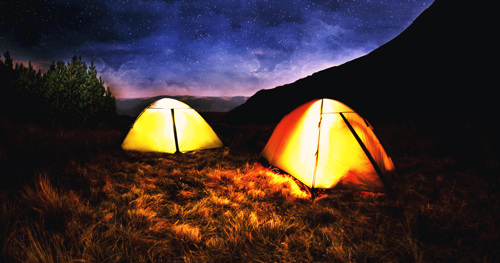 Wild Camping in Argyll, Credit: Wild about Argyll
Go off the beaten track
Nobody likes over-crowding or trying to squeeze through the mounds of tourists to see an iconic attraction or location, this is typically known as 'over-tourism'. Travellers are becoming more aware of visiting tourist-packed locations and are looking for hidden gems and experiences with these attractions. Luckily, Argyll & the Isles is a remote part of Scotland, which has a lot to be discovered, steer away from the hustle and bustle of Glasgow and Edinburgh and move toward the West Coast of Scotland, where you will find an array of hidden gems on Scotland's Adventure Coast.
Don't worry there is still iconic attractions here, such as Hill House in Helensburgh, Duart Castle on Mull, the breath-taking Loch Awe, along with many castles, beaches, undiscovered woodland walks, and dark skies where you can capture a clear view of stars and northern lights. Visiting remote areas will reduce the burden of over-visiting, footpath erosion and littering. It also provides for a more authentic and relaxed trip, where you can enjoy the sights around.
Check out the Coastal Adventures on the Above and Below Trail by Kathi at Watchmesee, who gives you insight to the amazing trails found off the beaten track!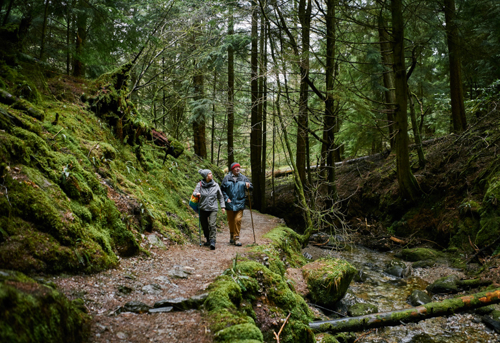 Mystical Pucks Glen is a hidden gem in Cowal, Credit: Wild about Argyll
Visit parks and protected areas
Argyll & the Isles is no stranger to protected wildlife parks, woodlands, marine areas, and historic environments. These areas are often donation funded, can be run by volunteers and are there to ensure the local surrounding are kept in immaculate condition to ensure wildlife, nature, and marine habitats are kept safe to ensure the survival of wildlife. Forestry and Land Scotland take pride in preserving the local woodlands and developing biking trails and walks for everyone to explore, whilst ensuring the wildlife is protected. These forest walks make for some of the best photo opportunities Scotland has to offer in terms of spotting Red Squirrels, red deer, and various birds. Perfect for eager birdwatchers, as many of the locations offer birdwatching sheds for those to take shelter and spot a few unique birds gliding through the air.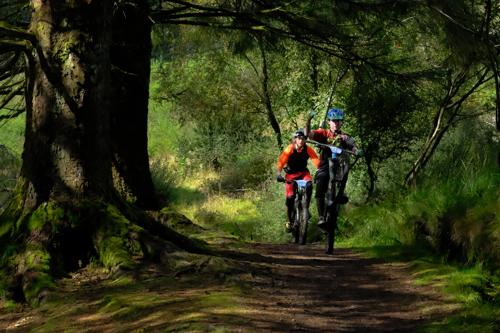 Forest Cycling in Cowal.
Discover the History & Heritage of Argyll
Historic Environment Scotland's focus is to protect the old historic environment within Scotland. This is done by receiving donations from visitors to ensure castles and heritage centres are restored and protected to the best of their ability. With climate change causing a range of adverse weathers, Historic Environment Scotland is helping to limit the impact of climate change by continuing to monitor and research the effects of climate change on the historic environment, work towards zero waste operations, and provide visitors with the right facilities and infrastructure to lessen the environmental impact of visits, therefore helping to preserve Scotland's history along the way. You can help by visiting these locations, donating to the cause, or buying a membership from Historic Environment Scotland that gives you access to a range of locations around Scotland. 
Find out more about things to See and Do in Argyll & the Isles!