Why seafood lovers need to discover the Seafood Trail on Kintyre and Gigha
Kintyre is Argyll's long finger of land that stretches south towards Ireland. This beautiful peninsula has a wonderfully diverse coastline, with the Atlantic to the west, Kilbrannan Sound to the east and West Loch Tarbert and Loch Fyne to the north. You'll find secret coves, sandy bays, idyllic islands and natural harbours all along its shores. You'll also find heaps of scrumptious seafood. Some of Scotland's best seafood is caught locally and there's a huge choice of eateries across Kintyre specialising in nature's bountiful marine harvest. If you're a seafood lover then follow this trail around Kintyre and Gigha to sample sensational 'fruits de mer' in stunning locations.
Seafood at the West Coast of Kintyre
The west coast of Kintyre is fringed by deserted sandy beaches which are often pounded by Atlantic breakers, while the east coast is more gentle with protected bays. You can explore both sides by following the B842 down the east coast and picking up the A83 to loop back up the west coast. You'll also pass the ferry terminals for Gigha and Islay, so it's easy to add an island to your seafood adventure.
Stop 1: Tarbert
Start your Kintyre and Gigha seafood trail in Tarbert, the gateway to Kintyre. It's a picturesque village, with shops, hotels and art galleries clustering around the natural harbour. It's home to a fishing fleet that lands high-quality fish and shellfish. From quayside to the kitchen is just a matter of metres before it's served up in the local pubs and restaurants. You can't get fresher than that! Starfish Restaurant is one of the most popular seafood restaurants in Tarbert, with delicious fish and shellfish on the menu. Or if you fancy buying some seafood for later, you can get fresh scallops, mussels, lobsters, crabs, langoustines and clams from Prentice Seafoods next to the Tarbert Ferry slip. As you head out of Tarbert on the A83 towards Campbeltown, check out West Loch Hotel. This water-side hotel is another popular spot with foodies and has lots of local seafood on the menu, including Gigha Halibut. Why not work up an appetite with a spot of paddleboarding with Kayak Majik at West Loch Shores?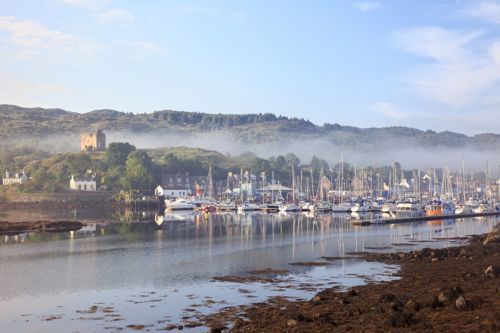 Stop 2: Skipness 
A little further along, turn left onto the B8001 and head along the coast to Skipness via Claonaig. During the summer, you can tuck into fresh seafood at the Skipness Seafood Cabin at Skipness Holiday Cottages. This is a casual affair, with fabulous seafood platters, bowls of mussels and plates of smoked salmon served up in the garden next to Skipness Castle. On a sunny day, it can feel like there's no better place in the world to indulge your seafood palate! Afterwards, explore Skipness Castle and enjoy wonderful views across the Kilbrannan Sound to Arran. Just next to the castle is the new Skipness Smokehouse and Shop where you can buy smoked salmon, Loch Fyne Kippers and smoked fish pâté produced in small batches in the smokehouse.
Stop 3: Carradale & Campbeltown
From here, follow the road back to Claonaig, pick up the B842 and head south along the east coast of Kintyre. It's a stunning drive. At Carradale you'll discover Carradales, a luxury Guest House serving delicious evening meals. You'll find plenty of local seafood on the menu. Take a walk along nearby Carradale Bay, a huge stretch of white sand with stunning views.
Carry on along the B842 to Campbeltown. You'll pass the new Kintyre Gin Distillery and Shop at Torrisdale where you could pop in for a quick tour. Campbeltown is full of great places to eat, but if you're looking for local seafood, try Ardshiel Hotel in the centre of town. The local seafood platter is delicious, as is the haddock and chips! There's a lovely pub garden for al fresco dining. If you fancy some seafood to take home, pop into Kintyre Larder, which stocks local produce including produce from the Kintyre Smokehouse.
Head north out of Campbeltown on the A83 until you hit Bellochantuy, home to the Argyll Hotel. The beachside location is truly breathtaking. You can eat in the conservatory restaurant or, on a sunny day, out on the terrace which leads directly onto the white sands of Bellochantuy Bay. The view from the conservatory across the Atlantic to the islands of Islay, Jura and Gigha are just stunning. 
Stop 4: The Isle of Gigha
Now it's time to catch the ferry to Gigha, which leaves from Tayinloan. The main attractions on Gigha are the white sandy beaches and the fabulous local seafood. It doesn't get much better than The Boathouse Café Bar at Ardminish Bay. This gorgeous restaurant sits right on a sandy beach and serves up exceptional local seafood. You'll need to book ahead to get a table! How does Gigha clam chowder sound? You can also try Gigha Halibut, which is organically reared on the island, and Gigha Oysters, which are grown in the clean waters around the island. The Gigha Hotel is a fantastic place to feast on local seafood too.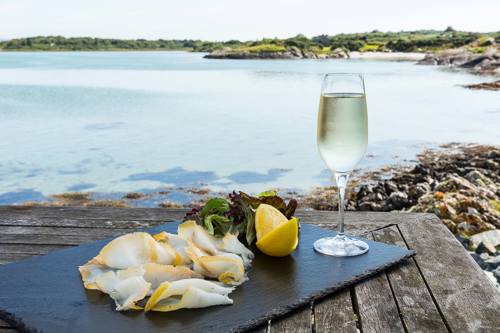 Don't miss these stops when heading home!
Continue along the A83 and you'll return to Tarbert. From here you can discover even more great seafood by catching the CalMac ferry across Loch Fyne to Portavadie, where Portavadie hotel serves delicious seafood or driving north through Kilmartin to Crinan and then onto Oban, known as Scotland's Seafood Capital.